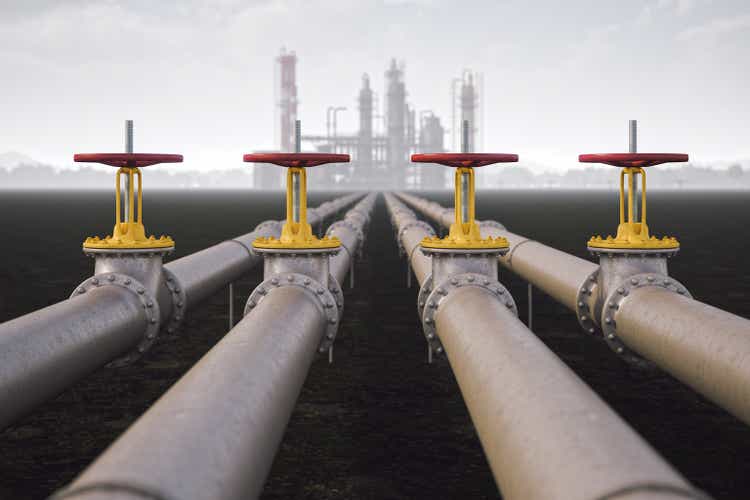 Article Thesis
Due to recession fears and other macro troubles, oil prices have slumped to a 15-month low, which has also resulted in oil-related equities pulling back rapidly. And yet, the longer-term outlook for oil markets and oil-producing companies is far from bad. While investors can expect volatility in the near term, many oil equities could be rewarding investments over the longer term, I believe.
What Happened?
Oil prices surged in the first half of 2022 on the back of the ongoing Russia-Ukraine war, but have pulled back since then due to recession worries: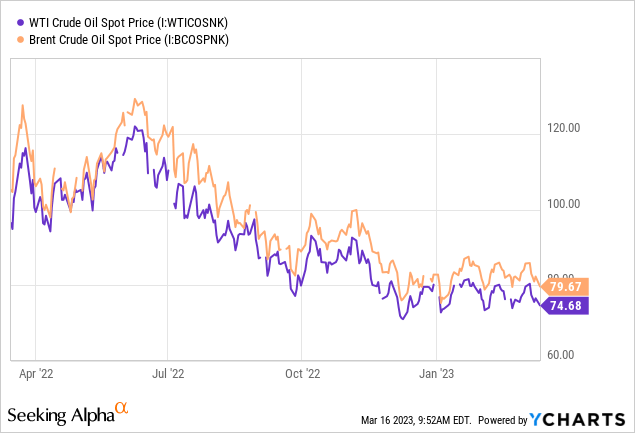 While this trend of declining crude oil prices has been in place since the summer of 2022, it recently accelerated. On Wednesday, oil prices slumped by 5% during a single day, which resulted in heavy losses for the oil industry overall. The Energy Select Sector SPDR ETF (NYSEARCA:XLE) declined by 6% during a single day, and many of the major energy companies in the U.S. and globally declined by similar or even higher amounts. Oil prices hit a 15-month low on Wednesday, despite ongoing supply disruptions tied to the Russia-Ukraine war and despite economic reopening in China.
This recent violent slump was driven by growing fears about a potential crisis that might be unfolding in the near term. Bank closures in the U.S. and tightening financial conditions have increased worries that the economy could enter a rough time, and a potential recession could hurt global oil demand. Investors are jittery and have been moving to safety, selling off all kinds of cyclicals, including energy, while moving funds into treasuries — that's why treasury yields have dropped significantly in recent days, as those safe-haven assets were bid up.
But it seems questionable whether those massive fears by the market are justified — after all, some macro data suggests that the economy is not in a bad spot so far. The number of jobless claims, for example, has dropped to just 192,000, down 20,000. This does not suggest that the economy is in a very tough spot today. Instead, the low jobless claims suggest that workers are still needed and that employment opportunities exist, indicating that the economy is expanding. While some major tech companies have laid off employees, which has received a lot of attention, it does not look like this is a broad trend across the entire economy.
We can thus summarize that the market is pricing oil and many oil-related equities as if a major economic downturn was certain or very likely, while actual economic conditions are not too bad. Inflation remains an issue as it pressures the margins of some companies and as it hurts consumers, but the economy is expanding and workers/employees are in high demand. That does not really suggest that oil demand will fall off a cliff, I believe.
What's The Outlook For Oil Markets?
While oil markets, like other markets, are heavily influenced by psychological factors in the near term, supply and demand movements for the actual physical good will ultimately decide where oil prices are headed. Looking at recent data, it does not look like oil prices should continue to head lower, as oil markets are pretty tight already.
The Organization of Petroleum Exporting Countries, or OPEC, forecasts that oil demand will grow by 2.3 million barrels per day, or more than 2%, this year. Driving factors for that are the ongoing recovery from the pandemic, the ending of harsh lockdown measures in China, and economic growth in many countries around the globe. Especially China's economic reopening, which started towards the end of 2022, is a major driver in the foreseeable future. Energy demand for the production and transportation of goods will grow, and consumers are also moving more, by auto and by aircraft.
While some argue that the age of oil has ended or is ending soon, it does not look like this will hold true for the world as a whole. While oil demand may peak soon in some developed countries where many consumers already have a vehicle and where electrification of heating and vehicles can result in oil being replaced for some use cases, at least to some degree, that likely does not hold true in many other countries. In China, India, and other fast-growing emerging and developing countries, the middle class is growing fast and consumers want to spend more as their living standard increases. It is unlikely that consumers in these countries will only buy EVs going forward, especially in cases where it is the first vehicle they purchase overall. Instead, cheaper and more accessible ICE-powered vehicles are primarily bought, and since the required infrastructure for electric vehicles ("EVs") is not available everywhere, this will likely not change. Growing middle classes also want to travel, which is why demand for air travel is growing fast in these countries, which, again, is driving oil demand, as electricity-powered air travel is not existent.
But oil prices could, in the long run, not only benefit from these demand drivers, but also from supply issues. Many oil companies have, either due to a strategic free cash flow focus or due to outside pressures from governments, regulators, activist investors, and so on decided that they will not pursue production growth aggressively. Instead, many oil companies are relatively happy keeping their production more or less flat while generating vast free cash flows (due to spending less on capital expenditures), which allows for deleveraging and hefty shareholder return programs. Problems when it comes to the supply of materials needed on oilfields, and even manpower, accelerate this trend further, which is why it does not look like oil production will explode upwards anytime soon. With oil prices having pulled back well below $100 per barrel in recent months, energy companies will likely be even less interested in chasing growth.
Supply will also come under pressure in Russia, due to economic sanctions related to the war in Ukraine. Russia's oil industry needs Western technology, tools, parts, etc. for keeping its assets working in the long run. Since Russia can't access these any longer, it is expected that supply from Russia will drift lower over the coming years. While this will most likely not be abrupt and drastic, even a production decline of just 5 to 10 percentage points per year would have a pretty large impact in the long run, as Russia is one of the largest oil producers so far. OPEC believes that Russian oil supply will drop by around 900,000 barrels per day this year alone, which is equal to the total supply of smaller OPEC members such as Algeria. If sanctions don't end in the near term, additional production declines in 2024 and beyond seem like a realistic scenario.
What Does It Mean For Oil Stocks?
Relative to the prices seen not too long ago, many oil equities have pulled back quite a lot: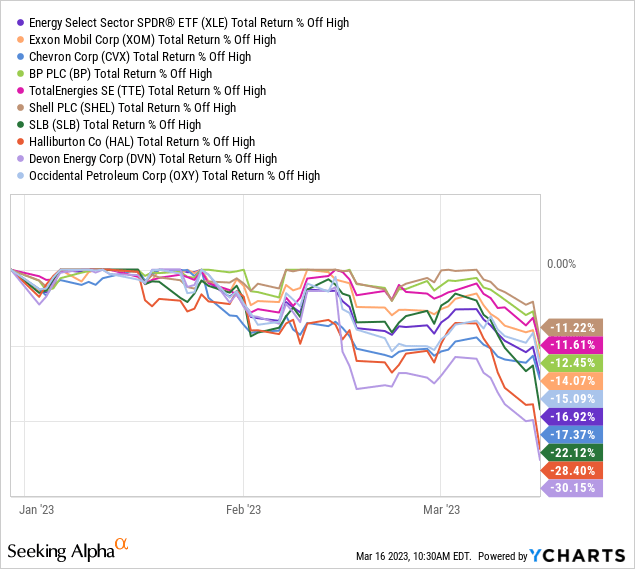 The energy sector ETF has pulled back 17% from this year's highs, while individual oil companies have seen much larger pullbacks in some cases. Devon Energy (DVN), Halliburton (HAL), Schlumberger (SLB), and even oil giant Chevron (CVX) have pulled back up to 30% from their respective highs seen earlier this year. Other energy stocks have outperformed the broad energy ETF, but are still down heavily from recent highs, such as supermajors Shell (SHEL), TotalEnergies (TTE), BP (BP), and Exxon Mobil (XOM). Warren Buffett's favorite Occidental Petroleum (OXY), in which Berkshire Hathaway (BRK.A)(BRK.B) owns a 23% stake, is down 15% as well from recent highs. Buffett has used this opportunity to add to his position — which can be seen as a sign that the Oracle from Omaha sees the current oil price (and oil equity) slump as a buying opportunity.
Does the price slump mean that these stocks are attractive today? From a valuation and dividend yield perspective, many energy equities are indeed attractively priced, I believe: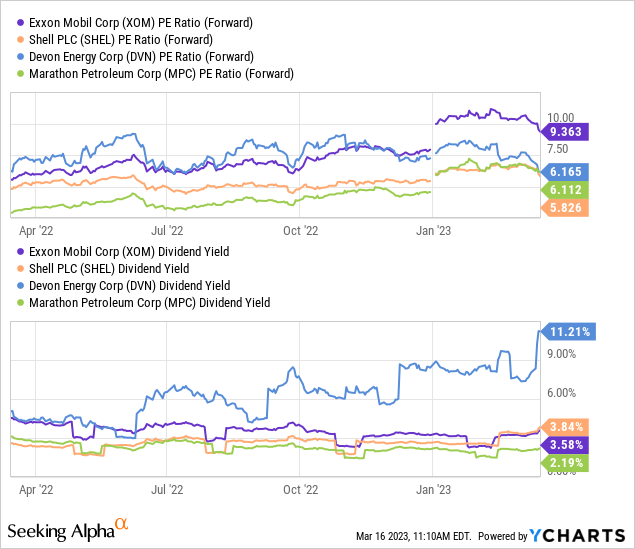 Supermajor Exxon Mobil, with great assets in Guyana and a fortress balance sheet, trades at 9.4x this year's earnings and offers a yield of 3.6%. That is not the lowest valuation in the industry, but still rather attractive. Its European peer Shell is even cheaper, trading for just 6x net profits and offering a higher yield, but some would argue that political risks are higher relative to the US. Devon Energy, a U.S.-based upstream-focused, less diversified energy player, trades for just 6x net profit as well and offers a pretty high yield on a trailing basis, although future dividends could be lower. Even refiners such as Marathon Petroleum (MPC) are cheap, as the company trades with a 16% earnings yield today.
Takeaway
Oil prices have pulled back violently this week on macro fears, despite the fact that actual economic numbers, such as unemployment, look for, at least for now. Oil demand should grow meaningfully this year, mainly thanks to China's economic reopening and due to growth in high-growth countries. At the same time, global supply is not growing much, due to political and regulatory headwinds in the West and due to falling output in Russia.
Overall, I thus believe that there is a good chance that oil prices will eventually head higher from here, although they could of course remain volatile in the near term as the market worries about what the fallout from recent bank closures might look like.
Many oil equities are attractively priced and offer sizeable shareholder payouts, which is why I am bullish on several players in this currently unloved industry.
Editor's Note: This article discusses one or more securities that do not trade on a major U.S. exchange. Please be aware of the risks associated with these stocks.


2023-03-16 16:02:18