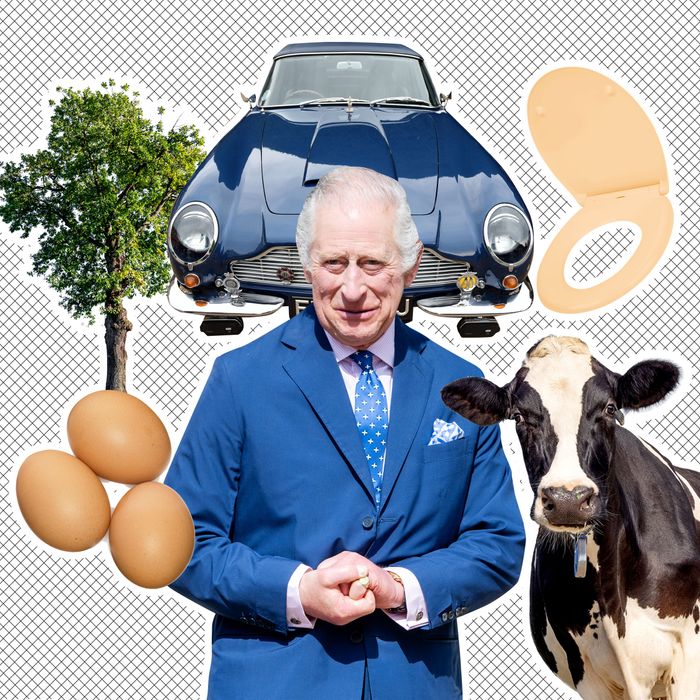 He loves eggs and trees and powering his Aston Martin on cheese.
Photo-Illustration: by The Cut; Photos: Getty Images
I am not British, but the sense I am getting from reading British news in the lead-up to King Charles's coronation is that the nation could be more excited about its new king. There is a gray cloud of apathy hanging over what is usually a once-in-a-lifetime occasion, with an estimated 64 percent of Brits purporting to care either "not at all" or "not much" about Saturday's main event. Aside from the knot of fervent supporters camped out near the processional route in central London, it seems some are more excited about getting a bank holiday than about getting a new sovereign. "With the queen, she was fab and glamorous to some people," a U.K. publicist recently told Rolling Stone, but "Charles doesn't add anything." Personally? I'm not quite sure that's true. We are talking about a complex and highly idiosyncratic guy here, one who has spent the decades-long wait for his hereditary promotion honing a set of quirks perhaps unrivaled by any modern monarch. Did you know, for example, that the new king's handwriting looks like lots of little spiders scrabbling across the page? That he only likes one type of toilet paper, and that he feeds his sports car old cheese stuff? Would it help you to care more about the coronation if you did?
Please, read on for more fun facts about King Charles III.
Searching for eggs.
Photo: Getty Images/Getty Images
Charles's reputed love of eggs has come up frequently in the weeks leading up to his coronation, because he chose a quiche for his signature dish. Isn't that fairly French?, you are scoffing, though quiche is medieval German in origin. For his part, Charles "loves anything with eggs and cheese," according to a chef who purports to have baked quiche for him "many times." What other types of eggs does Charles enjoy? He likes baked eggs and boiled eggs, and actually, there was a rumor going around that he ordered his staff to soft-boil him seven eggs each morning, from which he would pick the winner and fuck all the rest. According to NPR, the rumor was so pernicious that Charles saw fit to address it on the royal website, insisting in the FAQ that he has never made such a demand "at breakfast or any other time." But his former private chef, Mervyn Wycherley, has gone on the record about the king's allegedly specific preparation demands, saying, "His eggs had to be boiled for exactly four minutes. It was never anything other than a four-minute egg. I always kept three pans boiling — just to be safe." A former housekeeper has also claimed that after a day of hunting, Charles will sometimes invite the rest of the group back to his for an eggs-and-whiskey party, something only a certified egg freak would do.
A second reason why Buckingham Palace is trying to make coronation quiche happen is that it evokes another of Charles's great loves: seasonal herbs and vegetables fresh from the garden. In this case, we are talking tarragon and spinach and broad (read: fava) beans, the last of which you don't often see in quiche. But sorry, jerks, the coronation comes mid-broad-bean season in the U.K., and Charles's diet runs heavy on veg sourced from his estate — so heavy that he will allegedly ship boxes of produce some 600 miles to travel with him on royal tours, rather than eating whatever's local. One of many ways in which this man is a bundle of contradictions.
Readers who get their Charles news primarily from the Cut may be wondering how we got this many paragraphs into his complete biography without mentioning Tampongate, so allow me to rectify: When Queen Consort Camilla was not Charles's wife but his longtime mistress, he once privately declared that he would accept reincarnation as a tampon if it meant he got to "live inside [her] trousers" and be with her all the time. You could say that, in addition to eggs and the veg, he is also a freak for Camilla.
An important caveat on that last point is that he was married to Princess Diana at the time Tampongate took place and was unfaithful for many years. He went so far as to admit that in a 1994 BBC interview, a moment of honesty that blew up in his face. Diana had affairs, too, but she hadn't acknowledged them in a televised sit-down — plus, she was widely beloved. That is probably the main reason why his popularity remained so low for so long.
Soap operas, that is. He gave a surprise shout-out to the long-running drama Emmerdale at the National Television Awards in October, when he was already king. Tellingly, I think, he admitted to having watched the show since it was called Emmerdale Farm, which it hasn't been since 1989. According to Euronews, he has also watched Poldark, a historical drama that I would nonetheless classify as a soap, and 2016's The Night Manager, which I would call a high-budget crime soap featuring Tom Hiddleston. Charles apparently liked it "very much."
Are you getting excited yet?
Photo: Chris Jackson/Getty Images
One challenge Charles faces as king is keeping his thoughts to himself: Monarchs aren't supposed to air their personal opinions nor attempt to influence policy, but our guy really seems to enjoy doing both. According to Sally Bedell Smith, a biographer and acquaintance of Charles, he has a curious and "capacious mind," a "talent as a consummate diplomat," an "independent spirit," and a love of learning that make him something of a know-it-all, "keenly sensitive to violations of protocol" and dismissive of viewpoints that run contrary to his own. There are probably quite a few public servants who could attest to all that: A long-running practice of spamming high-ranking ministers with his thoughts on, criticisms of, and suggestions for their governing earned him accusations of "lobbying at the highest level of politics," per The Guardian, a few years back. A few of the causes Charles took up: overpopulation of badgers; expanded availability of herbal medicines; better equipment for British forces in Iraq; supermarkets' poor treatment of farmers; the best design for new hospitals (he offered his own assistance).
Many of these notes went straight to then–Prime Minister Tony Blair, though Charles once wrote Environment Minister Elliot Morley to express his hope that "illegal fishing of the Patagonian toothfish will be high up on your list of priorities because until that trade is stopped, there is little hope for the poor old albatross, for which I shall continue to campaign …"
The cache of letters that revealed said meddling have been nicknamed the "black spider memos" because of the king's signature script: thin, spindly, cramped cursive.
See? Spiders!
Photo: Dan Kitwood/Getty Images
Or some Welsh; he is not fluent, but did take lessons at Aberystwyth University ahead of his investiture as prince of Wales in 1969. He made some statements in Welsh during that speech, and again in his speech to the Welsh Parliament shortly after he became king.
It's called Poundbury, and it is a strange soup of traditional architectural styles. But even though some critics have dismissed the Dorset project as a "feudal Disneyland" or a modern-day version of Marie Antoinette's Hameau de la Reine at Trianon, it is actually said to be a fairly nice place to live, rigid rules aside. (No TV antennae, no satellite dishes, no painting one's home a new color without His Majesty's permission.)
Just the bit surrounding the U.K., as is the sovereign's privilege, but still.
Video evidence:
This according to biographer Christopher Andersen, who explains, "He wants what he wants when he wants it." This quirk has also been reported by royal expert Tina Brown, who says he also brings his two Scottish landscape paintings and an orthopedic bed with him on trips. To that list, Andersen adds Charles's childhood teddy bear, a personal chef (Charles has denied this), and a special ice-cube tray. All of which to say …
Exhibit A: He allegedly needs the special ice-cube tray because he cannot stand the "clinking sound that square cubes make" and therefore requires a different, more melodious shape.
Exhibit B: He is said to pack his preferred soft plush toilet paper with him, too, which you can test-drive here.
Also according to Andersen, Charles has a "volcanic temper" and is "very capable of flying into rages." Andersen attributes some of the king's supposed disposition to his upbringing, with an "aloof" mother (she had a big job, to be fair) and a father who "was a bully" to him and "made him cry in front of other people." Whatever the source, his outbursts have been well documented: Andersen writes that, after accidentally dropping a cuff link down a drain, Charles once pulled the sink off the wall to which it had been mounted, then grabbed his valet by the throat in his fury. Andersen adds that Charles once threw a bootjack at Diana during an argument, narrowly missing her, while Brown alleged in The Diana Chronicles that Charles had thrown furniture out windows in arguments with his late wife. All of that is hearsay, but then there are the more recent temper tantrums over faulty pens, both of which occurred in the early days of his reign, and both of which were captured on video. He was grieving at the time, but fussiness does seem to be a pattern.
Already in the 1970s, Charles was speaking out about the dangers of pollution. He was paying attention to things like sustainable farming and bees and conservation, ideas that were generally received as woo-woo. "At the beginning, everyone thought he was crackers," royal expert Penny Junor told the Washington Post in 2021. "He's been saying these things for 50 years, but world has caught up to Charles, hasn't it? He's certainly not a crank now." Indeed, he is the owner of one of the largest and most successful organic-food brands in the U.K.: Duchy Originals, sold exclusively at Waitrose. He has installed solar panels on several of the royal residences. He leans heavily on his garden when it comes to his own diet, which he describes as "climatarian." (He eats vegan a few days per week and favors plant-based foods.) Still, he prefers to fly private — even when making short trips within the U.K. So while he was an early champion of climate issues, his privilege appears to get in the way of his principles sometimes.
Or, more exactly, cheesy by-product: He has converted his vintage Aston Martin to run on "surplus English white wine and whey from the cheese process," biofuel that — as The Guardian reports — could actually "do more harm than good" if it were adopted on a wide scale. I don't think we need to worry about that, though.
Photo: WPA Pool/Getty Images
The former according to the New York Times, which reports that Charles believes the music makes for a more soothing milking process. He has also asked pop star Katy Perry to sing to his plants, in keeping with his habit of whispering sweet nothings to encourage their growth and shaking a limb. In The Sun's opinion, his practices have actually been "VINDICATED" by none other than Sir David Attenborough, whose BBC series The Green Planet apparently demonstrated that "we don't engage with plants enough," per Attenborough, and nowhere near as much as plants engage with one another. I don't know. I didn't watch it.
According to courtiers and confirmed by his staff.
Last summer, it got out that Charles accepted three cash payments of €1 million each from Sheikh Hamad bin Jassim bin Jaber Al Thani, formerly the prime minister of Qatar, on behalf of his charity. When I say "accepted," I mean personally, in bags: "One time the money was stuffed into plastic shopping bags from the luxury Chelsea grocer and department store Fortnum & Mason, which holds a royal charter from the prince," the Daily Beast reported. "Another time the money was in a suitcase, and the third time it was in a holdall," which is to say a duffel.
He is Charles Philip Arthur George Mountbatten-Windsor, or King Charles III, by the Grace of God, of the United Kingdom of Great Britain and Northern Ireland and of Her other Realms and Territories Queen, Head of the Commonwealth, Defender of the Faith.




2023-05-05 20:33:18