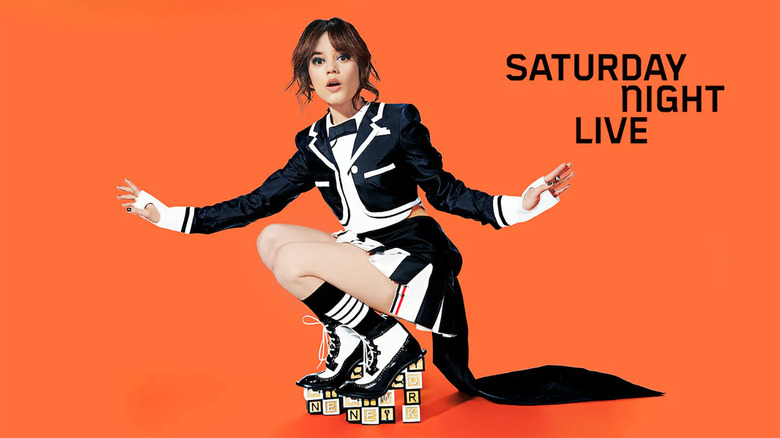 NBC
It's been a rough couple of weeks for "Saturday Night Live" fans. Not only did Woody Harrelson really drop the ball with his Five Timers Club appearance a couple weeks ago, but NFL player Travis Kelce was more than a little rough around the edges last weekend. Thankfully, "SNL" closed out its latest trio of back-to-back episodes with a real banger.
Jenna Ortega made her hosting debut on "Saturday Night Live," after riding a major wave of fame that includes being one of the new characters in the "Scream" slasher franchise and taking the titular role in the "Addams Family" spin-off series "Wednesday" on Netflix. Many of her roles veer into darker territory, even with "Wednesday" having a macabre sense of humor, so it was nice to see Ortega with high energy to spare and a willingness to cut loose and really shatter the image that many have of her from her film and TV roles. The good news is that the cast, writers, and crew of "SNL" matched that energy and created an episode that was pretty damn good. 
Let's take a look at some of the highs and lows of Jenna Ortega's hosting debut on "SNL."
What was the best sketch of the night?
Waffle House – At first, it seems like this sketch is going to give us a parody of a series on The CW, with the visual style of "Riverdale" and the melodrama of "Dawson's Creek." But that's merely the table setting for something much funnier. Though it feels a little late after that viral Waffle House video with the mystifying chair block took the web by storm at the beginning of the year, the brawls of this late night diner are evergreen territory. Therefore, it's quite hilarious to see an epic Waffle House fight break out in the background of a dramatic scene played extremely seriously by Jenna Ortega and Marcello Hernandez. Between Mikey Day's shirtless, dreadlocked trash bro, Punkie Johnson rolling up in a wheelchair (and that wheelchair being seen rolling away without her in it), and Molly Kearney bodyslamming people left and right, this was full of great physical comedy, perfectly timed cuts and background shots, and it was just orchestrated masterfully. 
How was the rest of the episode?
The Parent Trap – Coming in close behind the Waffle House sketch, we have this throwback to Lindsay Lohan's remake of "The Parent Trap" from 1998. Strangely enough, Jenna Ortega was born four years after this movie hit theaters, but that makes her the perfect age to play a young teen star playing dual roles in yet another remake of the classic Disney title. However, since she has to play against herself, she needs a double to say the lines of her twin sister, and that responsibility falls upon her "Wednesday" co-star Fred Armisen. This reminded my a little bit of the pizza rolls commercial gone wrong from back when Zac Efron hosted back in 2009, which also included Fred Armisen ruining the production. Having a guy in his 50s stand-in for Jenna Ortega is funny in itself, but Fred Armisen always brings a bit of comedy magic to these kind of rolls, and it was tremendously funny. 
Jingle Pitch – Giving us a proper 10-to-1 sketch, we have Andrew Dismukes and James Austin Johnson providing us with a musical bit that reminded me of the "Roundball Rock" sketch from back in 2013, where Jason Sudeikis and Tim Robinson were pitching a new theme song for the NBA. But in this case, it's the funky tunes being used to make a messy phone number for a legal firm into a catchy jingle that bring the laughs. Dismukes is the standout here, and the way he belts out that phone number is exquisite. Johnson makes for a great back-up, bringing his own brand of "cool" to the proceedings. This is a formula "SNL" has used plenty of times before, but it doesn't always work this well, and but we're glad it soared with flying colors this week. 
Exorcism – You know all those exorcism movies where a priest is trying to remove a demon from a helpless girl? Well, what if the upstairs neighbors didn't want to deal with that kind of ruckus? Ego Nwodim isn't about to deal with a noisy exorcism, so she takes it upon herself to scare the hellish demon out of Jenna Ortega. There's a part of me that wishes this sketch brought back Nwodim's character, Lisa from Temecula, especially since the character voices were fairly similar. But it might work better to have an older woman in this role who isn't willing to up with any hellish nonsense. The entrance of Kenan Thompson gives this an additional boost, and I must say, that head sculpt of him at the end was rather impressive, even if it's clearly fake. 
Oscars Red Carpet – They can't all be winners, but when something like this is the worst sketch of the night, then you know that this was a good episode of "SNL." Despite being the worst sketch of the night, this wasn't anywhere near as bad as some of the sketches from the aforementioned episodes hosted by Woody Harrelson and Travis Kelce. The funniest parts of this sketch came from the mocking of the actual Oscars red carpet show format and habits, but the celebrity impressions themselves left something to be desired. The one exception was Chloe Fineman's solid Jamie Lee Curtis impression, but otherwise, this was a lukewarm sketch that could have used some more time in oven. We're just glad we didn't have to deal with any political cold opens this week.
How was Jenna Ortega as an SNL host?
After two weeks of dismal hosting attempts, Jenna Ortega was a breath of fresh air. Though it took Ortega a couple minutes to warm up and seem less nervous, she eventually felt comfortable and was off to the races. Ortega is just 20 years old, and it's wild to see a career flashback to her child acting days where a commercial was shot in genuine widescreen, high-definition format. That's how young Ortega is! I don't remember the last time that happened. But it was such a cute career note, and turning it into a horror joke was a nice touch, as was the guest appearance by Fred Armisen. 
Thankfully, Ortega proved herself to be charismatic and game for a variety of characters throughout the night. She wasn't always the funny focal point of the sketch, but she was still an impressive host, especially for being so young and having far less comedic experience as an adult. But Ortega does have plenty of childhood comedy experience, including at Nickelodeon, so she wasn't totally out of her element. I'd be more than happy to see Ortega come back for another hosting stint.
Another wonderful Weekend Update
Meanwhile, Weekend Update continues to keep things loose and fun, especially when it comes to Michael Che and Colin Jost sharing some laughs and giving each other a hard time. Maybe they've realized how much better every edition of Weekend Update is when they bring this kind of camaraderie to the desk. They were the saving grace of the preceding episodes in this latest trio, and they brought that momentum into this episode. But for me, it was the guests at the desk that made this edition top notch.
Tennessee Lt. Gov. Randy McNally on Gay Instagram Thirst Traps – Molly Kearney has struggled a little bit to standout among the new featured players, though they have had a few spotlight moments in their debut season. Thankfully, they got another one with this timely bit involving Tennessee Lt. Gov. Randy McNally, who came under scrutiny from his own Republican party for liking and commenting on the Instagram profiles of gay men. Kearney's portrayal of McNally is adorably horny, and that mustache makes the entire performance even better. I hope Kearney can fall into more roles like this. They have the potential to be a chameleon kind of performer on the show, they just need the right characters to play.
James Austin Johnson's Random Celebrity Impressions – Finally, even though this felt like a bit that was use to fill just a few minutes of screentime, these micro-impressions are so creative and amusing that I could have watched Johnson do this for at least 10 minutes. Johnson truly has a gift, and I could see him making "SNL" his home for years to come, perhaps becoming a modern day Dana Carvey. 
That's all from "SNL" for now, but we'll be back after "Abbott Elementary" star and creator Quinta Brunson hosts the show on April 1. No fooling!


2023-03-12 20:55:00