The Pixel 8 Pro. Just look at the gloriously flat display.

OnLeak's Pixel 8 render. The corners are rounder, it's 0.1-inches smaller, and that's it.

The rear camera bar has a new circle under the LED flash.
Google's Pixel line has been subject to a huge amount of leaks over the past few days: The Pixel 8, Pixel 8 Pro, Pixel 7a, and even the Pixel Fold have all made the news rounds, somehow all at once. This is going to take a while.
We'll start with the Pixel 8 Pro, which has a set of renders from OnLeaks and Smartprix. It feels like these get leaked earlier and earlier every year, but this phone should be out sometime in Q4. The biggest change in the new renders from last year: a flat display! The smartphone industry might finally be giving up on the pointless gimmick of curved smartphone displays.
We have been railing against curved smartphone displays for nine years now. Samsung, the world's leading smartphone display manufacturer, figured out years ago that it could bend an OLED panel, making the left and right sides of the display curve downward and wrap around the phone body. Samsung never actually considered whether this was a good idea, though, and curved displays only bring a host of negatives to your phone design. A curved display distorts the image of your apps, videos, and photos, which were all meant to be displayed on a flat surface. In many lighting conditions, the curve captures a ton of glare, making it hard to see anything that's actually in that area. The curve also makes it a lot easier to accidentally touch the curved parts of the screen, which will generally stop the touchscreen from working.
While this was introduced by Samsung, Android OEM groupthink meant every manufacturer quickly adopted these distorted displays for their flagship phones. Most Android apps deal with the problem by just having really big side margins, so they can stay away from the distorted area of the screen. The lone smartphone holdout has been Apple.
After nine years, though, Android users finally have hope: The Google Pixel 8 Pro. The new renders show a beautifully flat display with no distortions. It looks incredible. In our review, the curved display was one of our biggest (although still minor) complaints about the Pixel 7 Pro, especially since Google also showed what could have been with the cheaper Pixel 7. The last bullet point in the conclusion is "Google's best-designed phone is actually the cheaper Pixel 7, which has a flat screen and matte aluminum finish," and Google is knocking out one of those big complaints. (As for the easily scratched mirror finish on the "Pro" version, you won't get that kind of detail from a prerelease render.)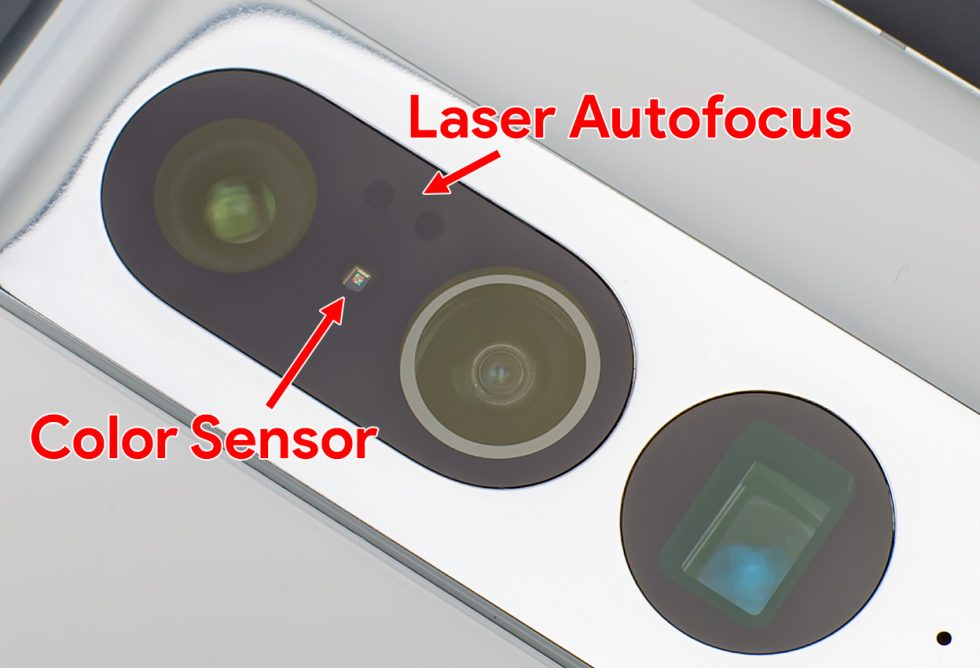 Other changes include a new layout on the aluminum camera bar. The Pixel 7 Pro had two separate pieces of camera glass—one big oval covered the first two cameras, and then a separate individual circle covered the zoom lens. The Pixel 8 Pro has one big oval that covers all three lenses. Interestingly, there is a new sensor cutout under the LED flash, and the report from Smartprix doesn't know what the cutout is for. These renders are usually from CAD drawings given to accessory manufacturers, so while you get the shape and location of the major components, function is usually left up to guesswork.
We can guess, though, and we'll take the conservative route and say the cutout probably isn't anything new. Android manufacturers feel obliged to change the camera block design every year for marketing purposes, so Google moving the sensors around for no reason at all would be pretty normal. The Pixel 7 Pro has two sensors in the main camera block right now: a color sensor and a laser autofocus sensor. Google always likes to have the color sensor right next to the main camera lens, so if I had to guess, I'd say the laser autofocus arrangement was just being moved to under the LED flash.
If you want to go wild with speculation, the other possibilities are endless. The iPhone has a freaking LiDAR sensor for AR usage, and no Android phone has ever matched that. That's strange since we're well past the usual two-year period it takes Android OEMs to copy whatever Apple is doing, but I feel like if there was a viable vendor out there, one of the faster-moving Chinese OEMs like Oppo or Xiaomi would have jumped on that first. Less dramatic options are a macro camera—though Google already uses the wide-angle lens for that—or a depth sensor, but Google likes to rely on AI for depth perception. It's probably just autofocus.
The Smartprix report says the phone measures 162.6×76.5×8.7 mm—those numbers are all within 0.3 mm of last year—and the screen is the usual 6.7 inches. The display corners are all reportedly rounder.
In other news, OnLeaks also has a set of renders for the cheaper Pixel 8. This phone also has a rounder corner design and a display that is 6.2-inches, or 0.1-inches smaller than last year. (The display was originally reported to be a very small 5.8 inches, but OnLeaks later corrected that to a more normal 6.2 inches.) The body measures "150.5×70.8×8.9 mm" versus last year's 155.6×73.2×8.7 mm.
We're not done yet. Would you believe that somebody got ahold of the unreleased Pixel 7a yesterday? A Vietnamese site called Zing News (some Pixel phones are manufactured in Vietnam) has live pictures of Google's upcoming unreleased mid-ranger. It looks just like OnLeaks' renders from four months ago, which is why we keep covering these—OnLeaks is super accurate! It also looks just like the Pixel 6a but with the Pixel 7's solid-colored camera bar. We're working through a layer of Google Translate here, but the site describes the camera bar as "metal" with a matte finish, just like the Pixel 7. The back of the Pixel 6a was plastic, so a materials downgrade in the camera bar wouldn't be a huge surprise, but it sounds like Google is sticking with aluminum.
One more before we go: I hesitate to say the "F" word, but WinFuture is claiming the Pixel Fold—Google's legendary, constantly delayed foldable smartphone—could hit the market as early as June. The site cites a retail listing that has the phone at 1,700 euro, or about $1,794. Google has tried to build a foldable for several years now but never makes it to market, so we'll see. The Pixel 7a leak is a good example of how this normally plays out: It should have a similar release date and prototypes of the phone already fully leaked and in the wild—that's what we would expect from the imminent launch of a foldable—but it hasn't really happened yet. There is this one dubious reddit post with Bigfoot-quality pictures of what the poster claims is a Pixel Fold on the NYC subway, but we're hoping for something more concrete than that, like it being left in a bar or something.
Anyway Google I/O 2023 is officially May 10, so expect a lot of hardware announcements there. Last year Google really went for it and, after the expected Pixel 6a announcement, went ahead and announced the entire holiday slate and the tablet being released in 2023. So who knows how far in advance the company will share its hardware plans this year.




2023-03-15 18:38:26