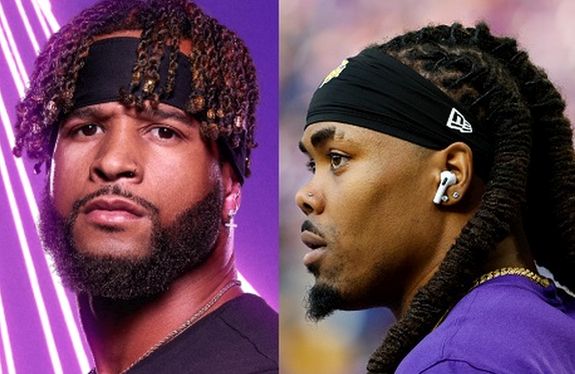 Nelson Thomas says he's happy to be alive after getting into a serious auto accident earlier this month, and the star of The Challenge says he only made it out due to the actions of NFL player K.J. Osborn and three others, who pulled Nelson out of his burning car on March 5.
On Tuesday, Nelson took to Instagram to thank K.J. and his friends for saving his life. He also posted photos of some of the gnarly injuries he sustained in the crash, which happened in Austin, Texas. (News of K.J. and his friends rescuing a man from the burning car broke last week; however, it was unknown until Tuesday that the man they saved was Nelson.)
"I was involved in a car accident. I want to thank kJ: @kj_osborn_ @nfl @vikings for being on the scene and filming my rescue. I am forever grateful to Abdulmejied Hairedin: @_abdu6435, Rita: @Afri_qveen, and Arthur: @Arthur_1er. For pulling me out of a burning vehicle, risking their own lives to save mine," Nelson wrote.
"Words can't explain how grateful I am to be alive. God is truly great and he has you in his hands no matter who you are. I'm in high spirits and getting stronger. This will be a long road to recovery but to my fans, friends and family please keep me in your prayers."
In the video taken by a bystander, the car can be seen on the side of the highway with the front half blazing with flames.
"Grab him, grab him!" one of the rescuers screamed.
"Can you move your legs?" the same person asked Nelson. 
Two people are shown pulling Nelly T. out of the passenger side of the car. After some struggle, they were able to get 'The Challenge' vet away from the burning vehicle.
In his Instagram post, Nelson shared a snap of his bruised and swollen leg bearing several stitches. He shared another photo of his right forearm sporting long sutures going halfway up his arm and a deep cut on his inner ankle.
A week before Nelson announced his accident, K.J.– who plays wide receiver for the Minnesota Vikings– spoke about saving a man's life. He described being in the back seat of his car when the Uber driver started yelling. The football player looked up to see Nelson's car crashed into a pillar, ablaze. 
"At that moment, I was thinking the worst. I didn't think this guy was alive," K.J. recalled. The Uber driver wanted to call the police, but K.J.'s first thought was, "We gotta go save this guy." 
After getting closer to the flames, K.J. feared the car would blow up. However, Nelson was able to inch closer to the passenger side and K.J. managed to pull him out of the car a few yards away. The police and firefighters arrived shortly afterward and told the rescuers that they had saved Nelson's life.
KJ posted photos of Nelson's wrecked car to Instagram last week, writing in the caption, "Most of the time the saying goes 'wrong place wrong time.' But this time I believe God had me, us, at the right place at the exact right time. Last night myself and these 3 absolute hero's helped save a mans life by rescuing him from a vehicle up in flames after a bad crash. A situation I'd never imagine being apart of in a million years. I'll leave you with this. God is real. And His LOVE is real. He will send his angels to be camped around you and provide you with his grace and mercy."
One of the other men who helped save Nelson's life posted to Instagram Stories on Tuesday.
"God is good," the man– named Arthur–wrote. "The moment I saw that car catching fire…I saw it like a movie. I thought [Nelson] was already gone. Oh God, you exist I swear. Your faithful orphan will always be your servant. We are praying for your recovery."
Scuba Nelly's 'Challenge' crew shared their good wishes for his speedy recovery.
"Omg I'm so sorry! I hope you heal up quickly," his 'World Championship" castmate Tori Deal wrote. 
'The Challenge' vet Wes Bergmann replied, "Jesus Nelson this is terrible. I'm so sorry and am confident you'll breeze through this healing process."
Nelly's 'Ride or Die' Nurys Mateo shared, "You're always in my prayers and even more now! Praying for a speedy recovery but you're one of the strongest people I know so I know you got this. Love you ROD."
It seems K.J. and Nelson are now bonded forever from the heroic rescue.
NFL player @KJ_Osborn helped rescue a man from a burning car with his Uber driver and two other good samaritans.

"To be able to act on it with the other three heroes… I never imagined myself being a part of in a million years."

Thanks @CNN / @andersoncooper for sharing! pic.twitter.com/gmksCaEYoI

— Uber (@Uber) March 9, 2023
"Locked In. Can't wait to see you back up and doing what you love!" the football player wrote in the comment section of Nelson's post.
RELATED STORY: 'The Challenge: Ride or Dies' Champs Talk About Their Unique Friendship & the "No-Brainer" Decision They Made Regarding Their $1 Million Prize
(Photos: David Berding/Getty Images; MTV; Instagram)




2023-03-15 00:53:01