However many years it's been since you signed up for the summer reading contest at your local children's library (just me?), summer reading still has a special sort of feeling. Summer reading promises discovery, adventure, and pleasure—though whether it actually delivers all of that depends on what you choose (and how much time by the pool you have). In case you need a little help curating your stack, here are a few of the novels coming out this summer that the Literary Hub staff has read and loved so far.
Kathryn Bromwich, At the Edge of the Woods
Two Dollar Radio, June 6
In this mesmerizing novel, a woman moves to a cabin in the woods, on a mountain at the edge of a town filled with people who regard her with increasing suspicion. Why? Slowly, we discover that she is on the run from a terrible marriage, her absence intended as a punishment—and perhaps not only for her husband.
Much of the book is concerned with Laura's immediate experiences of the landscape, which creates a lulling effect, but as in the wilderness, one cannot let themselves become unwary; the beautiful descriptions are soon punctuated by a sharp sense of menace as Laura's reality begins to deteriorate. This is an unsettling fever dream of a book that I will be thinking about for a long time.  –Emily Temple, managing editor
Deborah Levy, August Blue
FSG, June 6
Deborah Levy wrapped up her "Living Autobiography" series (The Cost of Living, Things I Don't Want to Know, Real Estate) and is writing hazy, surreal works of fiction again. I was struck by many things about this novel, starting off with the cover, which is so textured and timeless it only made me confused as to why we don't get to see covers this compelling more often. It conjures the text in its grace, color, and abstractness, the writing just as light on the surface, complex in its meaning.
The novel is about Elsa, a celebrated pianist, who is facing a career turning point: she just walked off stage mid-performance in Vienna at the height of her fame. Lost and searching, she dyes her hair blue and sets off traveling. One day she glimpses her doppelganger at a market in Athens, and so begins a shadowy trip through Europe as she sees her double everywhere she goes.
The novel delves into questions about identity, what we owe and to whom, and whether our paths are ever really chosen, or laid down for us by circumstance. Levy makes a metaphor of twinhood and doppelgangers to illustrate our alternate lives, she recycles phrases throughout the book in a kind of prayer of repetition, and she leaves us with absences, and gifts, and mirrors. It's a lovely and spare portrayal of coming to terms with the truth of our lives, our specific oneness.  –Julia Hass, contributing editor
S. A. Cosby, All the Sinners Bleed 
Flatiron, June 6
S.A. Cosby does Thomas Harris!! And proves that the serial killer novel is back with his cleverly plotted and socially relevant take on the hunt for a monstrous killer. Cosby goes Southern Gothic with the backstory, focusing on the sins of society and how indifference and prejudice are the true culprits behind the most terrible acts. In true Cosby fashion, the novel manages to touch on all manner of hot button topics.
The novel begins with a school shooting, where a white police officer kills the shooter: a Black man who was a former student at the school, and who claims his victim, a popular teacher, was hiding a terrible secret. When the town sheriff, the first Black man elected to the post in the small Southern town, begins to investigate the teacher's horrific acts, the townspeople are deeply resistant to the truth, and meanwhile, he's got a showdown coming between right-wingers determined to protect a Confederate monument and the protestors who want it gone. A fast-paced book that will also have you asking deep questions about the nature of faith, All the Sinners Bleed is bound to be one of my favorite books of the year.  –Molly Odintz, CrimeReads senior editor
Claire Fuller, The Memory of Animals
Tin House, June 6
A quiet post-apocalyptic pandemic novel (if there can be such a thing) where the horrors wrought by a civilization-destroying virus (Covid-esque, but with a final variant that causes comas and death) lurk in the shadowy edges, Claire Fuller's fifth is the story of Neffy, a disgraced former marine biologist who volunteers for an experimental vaccine trial in the early days of the virus. When Neffy wakes up, a week after Zero Day, the world outside the facility has descended into chaos, and only four other twentysomething volunteers remain.
As they attempt to process their captivity, and the dwindling prospect of rescue, Neffy, as the only vaccinated (and, hopefully, immune) volunteer becomes the repository of their desperate hope. One of the volunteers, a coder named Leon, has developed a technology that allows users to revisit their memories, and it's into this tech that Neffy withdraws, searching for comfort and meaning in the vivid hues of the past.
There's a haunted elegance to Fuller's vision of a fallen world, with the shell-shocked, muted day-to-day routine of the locked-down facility serving a striking contrast to the sensuous realm of memory. Oh, and the book is studded through with letters to an octopus, which is not something you'll find in your common or garden pandemic novel.  –Dan Sheehan, Book Marks editor-in-chief
Julia Fine, Maddalena and the Dark
Flatiron, June 13
A slow-burn gothic novel set among the canals and music halls and mansions of 18th century Venice. This is the kind of book that will make you lose track of your surroundings as you sink into its enchanted salt marshes.
In the wake of a family scandal, the titular Maddalena—the only daughter of a noble Venetian family—has been sent to live at a renowned all-girls music school. There, she meets the talented but lonely violinist Luisa, and the girls immediately fall into the kind of intense, charged friendship that only exists between teenage girls. The relationship becomes more dangerous as Maddalena and Luisa begin making deals with the darkness that lives in the waters of Venice.
I'm a sucker for books about magic and darkness, gothic novels, books about the relationships between teenage girls, books set in Venice, and books that are mostly vibes, so it feels like this novel was basically written for me. The girlies in the know will understand when I say this book reminded me of The Thief Lord (Cornelia Funke, 1999). If you're not a girly in the know, just trust that Maddalena and the Dark is an atmospheric banger of a novel.  –McKayla Coyle, publishing coordinator
Jessie Gaynor, The Glow
Random House, June 20
Full disclosure: Jessie Gaynor is an editor at Literary Hub, which means that I have been personally privy to her sharp wit and slantwise observations for some time. And now you can be too, via her very funny debut novel.
At the beginning of The Glow, Jane, an increasingly desperate and self-sabotaging young publicist in New York City, stumbles across the Instagram account of a bizarre wellness retreat—complete with that most important of things, a Charismatic (read: Very Hot) Leader with perfect skin named Cass—and in an effort to save her career, heads off to try to nab Cass as a client.
Gaynor's humor is deadpan and piercing, the world she lambasts particular and oh-so-familiar, and there is One Particular Scene that will stick in your memory forever—but my favorite thing about the novel is that it doesn't at all go where you think it's going to go, and instead winds up being much more contemplative and subtle than most of the books to which it will inevitably be compared. It's the perfect summer read for literary people who still want great skin.  –ET
Lorrie Moore, I Am Homeless If This Is Not My Home
Knopf, June 20
Lorrie Moore's new novel is stranger than someone overly familiar with her work might expect—the undead girlfriend, alive but in the early stages of decomposition, and the Civil War-era letters interspersed throughout, for example—but IAHITINMY has all the hallmarks of her work: sentence-level fireworks, a wry humor, and poignant, emotional depth.
Finn, a high school history teacher, is suspended (he thinks the moon landing was faked and has questions about various historical assassins). So he takes a road trip from Tennessee to New York to visit his brother Max, who is dying of pancreatic cancer. When he leaves Max, he gets even closer to death, learning his ex-girlfriend Lily has died by suicide. Then, in a turn that is an absolute shock but not a spoiler, Finn picks Lily up from the cemetery and takes a road trip with her and her decomposing body so she can go to a "body farm" and die, again, and donate her body to science.
Is it an allegory? Is it real? It doesn't matter. Exploring sibling love, death, and longing, it's a novel with big questions, no answers, and it's absolutely brilliant.  –Emily Firetog, deputy editor
K Patrick, Mrs. S
Europa Editions, June 20
I was hypnotized by this ecstatic, erotic debut, written, it seems, in such a way as to remove everything possible (exposition, backstory, mundane descriptions, dialogue tags) to get closer to an experience of pure want. Of course it is set in a boarding school, one of those pits of desire, populated by The Girls, and of course it is about a forbidden love affair, between a temporary aide known only as "Miss" and the headmaster's wife, the titular Mrs. S. It is the first contemporary novel I have read in recent memory that I feel tempted to compare to Virginia Woolf, if only for the elasticity of time and the primacy of internal churn to create drama and dissonance. (But there's rather more sex.)  –ET
Clémence Michallon, The Quiet Tenant
Knopf, June 20
I have been yelling a one-sentence plot of The Quiet Tenant at everyone I know. "It's about a man, a beloved figure in his community, who loses his wife of many years, and finds he must downsize-–finding a new home for himself, his preteen daughter, and the woman he has imprisoned in his shed!" Yes! I know! It's about a kidnapper of women and serial killer who hides in plain sight, told from the perspective of three women who know him: Rachel, the victim he has spared for so long, Cecilia, his thirteen-year-old daughter, and Emily, a restaurant owner in their new town who develops a crush on him. I'm screaming.  –Olivia Rutigliano, CrimeReads associate editor
Connie Willis, The Road to Roswell
Del Rey, June 27
Ahh, summer, the season of weddings—or in Francie's case, the season to hurry off to Roswell to talk her flighty college roommate out of her hastily planned (and terribly gauche) UFO-themed wedding. But before she can make any headway, Francie gets abducted by an alien, whom she nicknames Indy after Indiana Jones (there's a reason for this, having to do with Indy's anatomy—he's sort of like a sentient tumbleweed with highly elastic "limbs").
Indy continues to round up a cast of amusing characters on his borrowed RV to a destination unknown, learning to communicate with his captives/friends by watching classic Westerns. Yes, there's a lot going on here, but that's Connie Willis for you, and in my mind she can (and will) do whatever she wants. A plotty road trip novel/rom-com for your summer vacation.  –Eliza Smith, special projects editor
Ana Menéndez, The Apartment
Counterpoint, June 27
Menedez finds a perfect setting for her ambitious crossroads-of-humanity story: an apartment building in South Miami Beach, an old deco structure from a seemingly bygone era, hanging on and packed full of human striving, conflict, and desperation. The tenants are from all over the world: fitting enough for a Miami that has become, in so many ways, a city of expats and exiles and people stuck between two lives, two places.
A mysterious new tenant in the building is the cause for some speculation and mystery, but the novel really finds itself in the rich, textured, sometimes intersecting stories of all those people who have put themselves into close quarters and found, not exactly a community, but a shared ground for longing and remembrance.  –Dwyer Murphy, CrimeReads editor-in-chief
Nicole Flattery, Nothing Special
Bloomsbury, July 11
A novel set Andy Warhol's grubby-but-glamorous (at least ostensibly) Factory in which Drella himself barely features, where hedonistic parties are drowned out by the furious clack of typewriter keys, and where Edie Sedgwick and Ondine become tertiary players in the story of two forgotten schoolgirls, Flattery's coming-of-age debut novel is a bold and brilliant examination of an iconic—and ultimately hollow—movement from the vantage point of its most invisible cogs.
Mae is a disaffected seventeen-year-old New Yorker, searching for an escape from the tedium of school and the claustrophobia of home life, who finds, or believes she finds, purpose in the two-person typist pool of Warhol's celebrity petri dish (a "doll house, with girls arranged everywhere"). Each day, for eight hours straight, as lithe models lounge nearby, postmortem-ing the previous night's bacchanal, Mae and another too-odd-for-the-spotlight runaway named Shelly transcribe every word or a mammoth recording that will eventually become Warhol's experimental "novel," a, A Novel (1968). The quest for meaning, for immortality, for an antidote to their societal alienation, in this obliterative work is what bonds Shelly and Mae to one another to the bitter end.
I was entranced by this novel. The subversive approach to a familiar modern mythos, the cool-but-crackling dialogue, the knotty psychological portrait of its rescued-and-reimagined protagonist. Between this brava debut, and her weirdly-compelling 2020 collection Show Them a Good Time, Flattery has already established herself one of the most talented and intriguing writers at work in Ireland today.  –DS
Daniel Hornsby, Sucker
Anchor Books, July 11
Let Daniel Hornsby invite you into the chum-tank for a rollicking Silicon Valley tech satire in his novel Sucker. Charles Grossheart is a failson with past dreams of punk music production who has stumbled into the orbit of Olivia, an Elizabeth Holmes tech-type who has a "pet forest" in her company's headquarters, and is working on a project to solve cancer, or mortality, or humanity generally, walking around charismatically with her bald head in remission, swathed in layers of sweaters: her signature look. Needless to say, the motivations at work are darker than at first they seem; this is a parable of vampire capitalism with a room full of deformed monkeys to answer to.
Most importantly, it's very funny—more Total Recall than Neuromancer, with nods to David Graeber and Joshua Ferris—and Hornsby has a knack for pillorying the vast industries of bullshit that dominate America c. 2023. "I just think the obsession with climate change is so shortsighted," says one tech-poseur, and perhaps the most damning part of the book is the way poets are folded into the disruption process and housed in a corporate Art Barn. Let Hornsby set us free!  –Janet Manley, contributing editor
Sarah Rose Etter, Ripe
Scribner, July 11
Millennial, anti-capitalist malaise-lit isn't exactly new at this point, but Ripe, while all of those things, manages to skewer workplace politics and the vacuousness of modern existence in a way that makes it feel like a fresh subject. Cassie works in the classic dead-eyed field of technology in Silicon Valley, each day spent working for a morally-vacant company, each day increasingly severing herself from her true personhood, cleaving herself into two beings: the fake, cheery self at work, and the real self, who does cocaine every night by the light of the refrigerator and feels a black hole devouring herself from her center.
Sarah Rose Etter captures the cruel facts of San Francisco well: the dystopia that that eden-like setting has turned into. As Cassie watches the sun set over the water from the train, pink and light and heavenly, a man asks her for a dollar and she refuses. Maybe Etter's not saying anything radical, but every reminder of the daily cruelties of life in this city (not that it's just there), and our own complicity in it, is sickening. There's more to come, more we can't look away from: things at work take an illegal turn, an unplanned pregnancy occurs, suddenly everything feels very delicate, like one wrong move could shatter the illusion of a life, and the truth is, it probably can.  –JH
Ruth Madievsky, All-Night Pharmacy
Catapult, July 11
All-Night Pharmacy feels like reading the diary of your most off-the-rails friend— the one who's so unpredictable that it's almost frightening to be around her, but so fun and endearing that you would never leave her side. The friend who you're always surprised to hear from on Monday because you were certain she died over the weekend.
The book begins with our unnamed narrator following her older sister, Debbie, into a divey LA bar, and from there the novel unravels at a breakneck pace, flying nonstop down a steep street until the final page. Along the way, Debbie goes missing, our narrator falls into a pill addiction, our narrator is helped out of her pill addiction with the help of a hot psychic, gay things happen (yes, with the hot psychic), trips to the former Soviet Union are taken, an iguana is begrudgingly adopted, family trauma is unearthed, and the bonds of sisterhood are questioned.
The book covers about a year in our narrator's life as she navigates sobriety, queerness, trauma, healing, and family. It doesn't shy away from the difficult moments, the unexpected moments, the sexy moments. It's a book about how hard it is to be a person, how it feels to navigate a life.  –MC
Caleb Azumah Nelson, Small Worlds
Grove Atlantic, July 18
Azumah Nelson's follow up to Open Water, his multi-award-winning 2021 debut, is an ode to the West African immigrant community in London, a coming-of-age tale of young love and yearning, and a quietly powerful meditation on intergenerational conflict and trauma. Stephen, a first-generation Londoner born to Ghanaian parents, is a budding trumpeter in deep (and lyrical) love with his orphan bandmate Del, with the transporting power of music and dance, with the little moments of wonder he sees each day in his Peckham community.
Over the course of three summers, we follow Stephen from London to Accra and back again as he deals with the consequences of a major life pivot, and the rift it opens between himself and his more traditionally minded father. Small Worlds is an achingly tender, exquisitely rendered portrait of a truly beautiful soul.  –DS
Silvia Moreno-Garcia, Silver Nitrate
Del Rey, July 18
Both of Silvia Moreno-Garcia's parents worked in radio, so perhaps that's part of the inspiration behind this bonkers ode to sound engineering and the (literally magical) power of the human voice. Silver Nitrate features a sound editor and a has-been actor as they befriend an elderly icon from the Golden Age of Mexican cinema, only to find themselves drawn into a vast conspiracy to harness the magic of the silver screen and bring an occult-obsessed Nazi back from the dead. This book has everything, and I could not recommend it enough!  –MO
Colson Whitehead, Crook Manifesto
Doubleday, July 18
Pulitzer Prize winner Whitehead continues his journey through the history of modern New York City, this time taking on the 1970s, as the cast of characters from Harlem Shuffle get swept up in political action, civil unrest, corrupt policing, the rise of Blaxploitation culture, and more. It's a rich backdrop for Whitehead's powerful human dramas, and he paints a vivid portrait of people moving between the straight and the crooked world, just trying to get by.  –DM
Dwyer Murphy, The Stolen Coast
Viking, July 18
Look, if it's a heist novel, I'm probably going to read it. But if it's a heist novel set on the New England coast featuring retired spies, disenchanted lawyers, and diamond thieves, I'm probably going to enjoy it. If it's a novel featuring all those things and it's written by Dwyer Murphy, I'm probably going to love it.
Now, you might be thinking, "Dwyer Murphy is your boss" and yes that is true. But I would not have volunteered to endorse this book if I weren't also such a fan. His previous novel, An Honest Living, a literary Chinatown-inspired PI mystery about rare books set in fading, post-millennium New York City, was an absolute delight. I'd say I tore through it, but that's too aggressive a description for what is one of the most tranquil reading experiences I've ever had.
Dwyer's prose is direct and straightforward, but with an air of the fanciful. He is a watercolorist when it comes to genre and style—the allusions and frameworks are all visible, but he doesn't lay them on thick. He lets everything softly, gently blend together—a bit wistfully, a bit meditatively. His heroes are wandering thinkers, navigating bustling modern worlds and finding romance in them, too. I can't think of a better combination for Dwyer's stylings than a heist novel set along the misty, craggy seaside. In short, I cannot wait for The Stolen Coast. –OR
Edan Lepucki, Time's Mouth
Counterpoint, August 1
Another Northern California novel, different than the gray, tech-centric San Francisco works of today—this one covers a lot of ground, starting with the gritty hippie years, conjuring the grainy nostalgia paired with an undercurrent of violence that those years held, spanning forward to the 80s, back again to the late 50s.
Time, in this novel, is a slippery thing, both in the writing, and in the plot. For Ursa time is tangible, something with edges, something to be pulled and entered. When she feels a certain tingling, she knows she is ready to reenter the years of her life, the past that the rest of us feel is solidly behind us. Her gift comes to her suddenly, and as she strengthens it, she gains a following of women who are pulled to her magnetism, her cult-like figure.
When her son, Ray, is older, he and his pregnant lover run away from Ursa and the control she expends over the women and children of her flock. The novel progresses to tell of Ray's daughter, Opal, and the gift she also possesses—time, and its secrets, will all be revealed, dangerous and dark and glittering. For fans of Matrix and The Girls, Time's Mouth is a mesmerizing and confident novel about power, desire, and the depths of our bonds.  –JH
Ben Purkert, The Men Can't Be Saved
Overlook Press, August 1
Sometimes I wonder if the men know that us non-men are talking about them. Ben Purkert's witty novel The Men Can't Be Saved, about a down-and-out copywriter with one good tagline, suggests yes, they do. Seth, the blustery, intoxicated ad-man wannabe, is fired from his job and suffers a crisis of identity, but never feels completely convinced any of it is really his fault ("Was I really so bad?"), still managing to devalue the women he encounters (of his mother: "What had she ever made except me?") as he spirals into getting high on prescription drugs and attending Kabbalah. Seth might be a numpty with words, but Ben Purkert sure knows what he's doing. One of many novels grappling with the alienating forces of the attention economy, it's also a cathartic workplace read.  –JM
Ann Patchett, Tom Lake
Harper, August 1
Who is better, more nuanced, or more surprising on matters of love and family than Patchett? In her newest novel, Tom Lake, she begins with the return of three daughters to the family home in Michigan, spring 2020, an auspicious time. The daughters want a story from their mother: the story of her long-ago romance with a now famous actor with whom she was involved in earlier days. Patchett takes us on that heady voyage into the past, with a delicately observed story that is also constantly shifting the ground beneath our feet.
In Patchett's novels, there's always a strange mix of registers and reactions, something like dread or foreboding, balanced against a joyful effervescence that pushes us headlong toward whatever is coming next. She also remains a master of the set piece, creating unforgettable moments in time for her tumultuous families.  –DM
Lydia Kiesling, Mobility
Crooked Media Reads, August 1
I wouldn't have imagined a petronovel was the obvious next step for Kiesling, whose debut The Golden State is beloved among those who were looking for early motherhood to get a worthy literary treatment, but the execution of this satire-turned-tragedy about the international strata of NGO/foreign policy/oil and gas technocrats running this planet makes it feel like a natural and necessary next step for a writer exploring the strings between one generation and the next.
Modeled on Upton Sinclair's Oil!, Mobility follows Bunny, a diplomatic brat, from her adolescence on her dad's posting in Baku, Azerbaijan, where she first encounters the oil choads and NGO hangers-on of the U.S. foreign policy apparatus, to an aimless but privileged adulthood working as an admin then girlboss with the "renewables" arm of an oil and gas consultancy in Texas—throughout the novel, her hands are on the hyperobject of anthropogenic decline, as were her parents' before that.
Momentum speeds as the pages turn; characters live lavishly on student loans they will later have to repay; they profit off the price of an oil barrel, but "[are] not accustomed to thinking of themselves as people who had responsibilities to be bad or good." Bunny's family breaks apart, she readopts her birth name Elizabeth at the same time as oil companies rebrand and "pivot," the climate crisis lapping at the door, but late turns in the plot aren't enough to stave off an ending I promise will take the wind out of your sails. Genuinely a brilliant book, the best piece of motherhood literature I've read this year, and a perfectly urgent summer read for a 110-degree day.  –JM
Guadalupe Nettel, tr. Rosalind Harvey, Still Born
Bloomsbury, August 8
To call Guadalupe Nettel's Still Born a novel about motherhood—or even, more accurately, maternal ambivalence—feels too simple, but it's a factual enough place to start. Our narrator, Laura, is so opposed to having children that she tries to convince her friends that "procreating [is] a hopeless mistake." She feels she has an ally in Alina, another career-driven, arts-focused woman in Mexico City—until Alina announces that she's pregnant.
A rare medical condition predicts that Alina's child will not survive, and Laura finds herself in an unexpected position, hoping against hope that her friend becomes a mother after all. Meanwhile, Laura grows close with a young neighbor boy and his mother, who's contending with her own demons. It's immediately apparent why Valeria Luiselli calls Nettel "one of the leading lights in contemporary Latin American literature." I can't wait to read the rest of her works in translation. –ES
Ia Genberg, tr. Kira Josefsson, The Details
HarperVia, August 8
It's difficult to describe the experience of reading Ia Genberg's English language debut (winner of the August Prize, Sweden's most prestigious book award) beyond saying that it resembles a fever dream—which is appropriate, given that the narrator herself is in bed with a rising fever, as she recalls four important people from her past: Johanna, an ex-girlfriend, now famous; Niki, a friend who disappeared; Alejandro, a former lover; and Birgitte, her daughter. Genberg's prose is a feat of characterization, a triumph of lending language and profundity to observations of daily life. At a tight 150 pages, I didn't read it so much as subconsciously absorb it.  –ES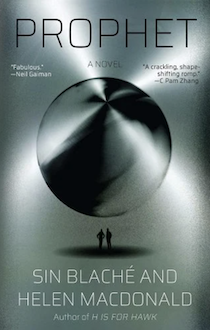 Helen Macdonald and Sin Blaché, Prophet
Grove Atlantic, August 8
I had heard Prophet (accurately) described as a genre mash-up, blending the best of techno-noir, dystopian sci-fi, and espionage procedural (with a dash of queer romance). And while it is all those things, at its heart Helen Macdonald and Sin Blaché's tightly wound (yet somehow tender?) mystery-sci-fi-thriller is a philosophical novel. And not because it inserts page-long disquistions into its characters' mouths on the dangers of nostalgia or the elusiveness of truth but rather because it instigates in its readers uncomfortable explorations of those very territories (well, at least in this reader).
How, you ask?
At the risk of spoilers, the plot follows an unlikely pair of security service lifers as they team up to investigate the sudden appearance of a classic American diner in an English field. As more such odd manifestations occur (along with an unseemly death or two) the duo soon discovers a strange substance behind it all that induces in people a nostalgia so intense that it instantiates in the physical world.
And if that's not far enough into irreality for you, one of the investigators—Rao, a hard-living adrenaline junkie and periodic MI6 operative—is blessed/cursed with the ability to divine the truth of things, both figuratively and literally. Rao is joined by Adam, who is as repressed and straightlaced as his partner is chaotic, and who uses Rao like a human divining rod to guide them through the ever-thickening mystery of "Prophet," the aforementioned substance.
In the hands of most writers, Rao's special talent would come across as just another gimmicky super power, but Macdonald and Blaché treat Rao's black and white relationship to truth with wary ambivalence, understanding that what might seem to most like a blessing is, in practice, a curse. For what is life without mystery? And at what point does nostalgia grow so strong it derails our lives?  –Jonny Diamond, Lit Hub editor-in-chief
Paul Murray, The Bee Sting
FSG, August 15
Trust Paul Murray to make 650 pages feel too short. Seriously. Murray—best known for his wonderful 2010 novel Skippy Dies—has returned with a wildly entertaining, completely convincing, and deeply moving family saga, told with such deft management of time and mystery and perspective that I defy anyone not to get completely swept away by it. There's no way to properly describe it so that you understand, except that in it Murray unspools the lives of four relatively ordinary people with such brilliant specificity and extravagant empathy, in cool-water prose mixed with his trademark wry darkness, that it's difficult to let them go at the end.
Speaking of the end: my sincere apologies for the following, but……. fuck!!!!!!! That's all I have to say about that until you've read it yourself, after which my DMs are open to discuss. Again: fuck! Best ending of the year?  –ET
Hilary Leichter, Terrace Story
Ecco, August 29
Terrace Story is an expansion on Hilary Leichter's National Magazine Award-winning short story of the same name, which was published in Harper's in 2020; I remember loving it then, but re-encountering it now, after having a baby, I found it even more devastating. But that story is only the beginning of this novel, in which Leichter follows her idea—of a door that seems to lead to a magical terrace in Annie and Edward's otherwise cramped apartment, but only when Annie's coworker Stephanie is over—to its logical conclusion, and then far beyond. What more could happen? I thought at the end of the first chapter, but it turns out: whole worlds and lifetimes unfurled in just 200 pages. This is an intelligent and sneakily moving book, perfect for afternoons when you wish you were nowhere other than where you are. –ET


2023-05-24 09:00:51