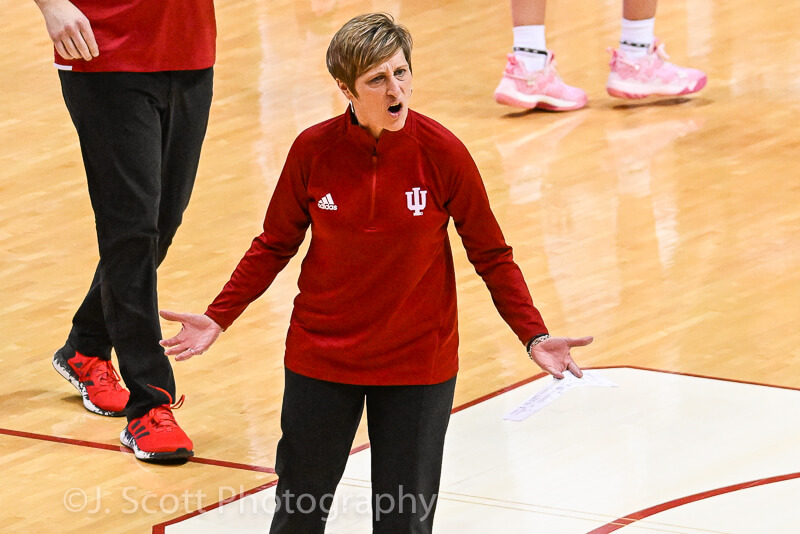 Sunday evening, Indiana women's basketball gathered in the seats of Simon Skjodt Assembly Hall, waiting for the jumbotron to display what they had been vying for all season long: the ever-coveted No. 1 seed.
The Hoosiers had a good idea they would see what they were hoping for — they never moved from a No. 1 seed in all of ESPN's projected brackets for the 2023 NCAA tournament. But that didn't make it any less exciting when the screen confirmed their expectations.
"To actually see it on the big screen, actually see that number one next to our name, it's something that looking back on it I might not have thought was possible," Grace Berger said. "It's really special — like I say all the time — just to see where we came from when I first got here in 2018 to where we are now. It's definitely one of those moments where it kind of feels surreal."
In a scenario only fitting for the historic regular season the Hoosiers had, they earned a No. 1 seed in the NCAA tournament for the first time in program history. But despite their unprecedented levels of success, Teri Moren and her crew know they have a lot to improve on, and they believe they have yet to reach their full potential.
After falling to Ohio State in the semifinal of the Big Ten tournament last Saturday, Indiana returned to Bloomington for some much-needed rest and recovery. After the loss, Moren said members of the team — including Mackenzie Holmes — were not playing at 100 percent. So while the failure to reach the Big Ten tournament championship was undoubtedly disappointing, the extra rest days may have been just what Indiana needed.
"It's been a great week for us because we've been able to sort of shut down a bit mentally and physically, and rest up," Moren said. "We have practiced, but it's been kind of a weird week just because we've been really prepping for no one."
Now, Indiana at least has an idea of who its opponents will be in the first two rounds in Bloomington. Assembly Hall will also host a First Four matchup of Tennessee Tech versus Monmouth on Thursday at 9 p.m. ET.
Indiana will play the winner of that game at 11:30 a.m. ET Saturday, and, with a win, would face the winner of Oklahoma State and Miami (FL) Monday.
Here's a look at each of Indiana's potential opponents in the first two rounds:
No. 16 Tennessee Tech
Tennessee Tech is back in the NCAA tournament for the first time in 23 years after winning the Ohio Valley Conference championship. The Trojans beat No. 1 seed Little Rock 56-54 in a defensive affair to take their 10th conference title.
Tennessee Tech went 13-5 in the OVC, and finished with an overall record of 22-9. The Trojans haven't lost a game since Feb. 16.
They are led by Maaliya Owens and Jada Guinn, who average 14.7 and 10.4 points per game, respectively. Owens is 24th in the NCAA in 3-pointers per game with 2.77, shooting at a 40.7 percent clip. Guinn leads the team with almost four assists per game.
As a team, Tennessee Tech is 42nd in the NCAA in assists per game with 15.7. It averages 69 points, 34 rebounds and eight steals per game. 3-point shooting, when shots fall, can be dangerous; the Trojans average 6.5 per game.
No. 16 Monmouth
Monmouth, like Tennessee Tech, is riding the high of winning its conference championship into the NCAA tournament. As the No. 7 seed, the Hawks won their first-ever Colonial Athletic Association championship after playing four games in four days and beating the top three seeds.
Monmouth beat Towson 80-55 to clinch a spot in the NCAA tournament. This year marks the first time since 1983 Monmouth will appear in the NCAA tournament.
With an overall record of 18-15, the Hawks average 64 points and 7.6 3-pointers per game. They are led by Bri Tinsley and Ariana Vanderhoop, the only two players to average double figures. Tinsely leads the team in 3-pointers with 2.15 per game, and averaged 15 points per game in the conference tournament. The Hawks also have solid bench production; all but one player averages at least 11 minutes per game.
No. 8 Oklahoma State
If Indiana faces off with Oklahoma State, the largest storyline will no doubt be the Garzon sisters: Indiana's star freshman Yarden Garzon and Oklahoma State's Lior Garzon.
The elder Garzon — a junior — transferred from Villanova after two seasons, and has become a reliable player for the Cowgirls this season. She leads the team in 3-pointers, averaging 2.4 per game, and shoots them at a 40.9 percent mark for 28th best in the NCAA. Garzon is not a consistent starter, but has played in every game and averages 10.9 points per game for second-best on the team.
Oklahoma State has surpassed many expectations this season just by reaching the NCAA tournament; the Cowgirls were predicted to finish ninth in the Big 12. Instead, they finished fourth and made it to the conference tournament semifinals before falling to Texas.
Notable games include wins over Baylor and Texas and tight losses to Oklahoma. With a 21-11 record, Oklahoma State returns to the national stage for the first time since 2021, where it was also an No. 8 seed, making it to the second round before losing to Stanford.
No. 9 Miami (FL)
The Hurricanes have an impressive regular season resumé, beating a host of ranked teams — North Carolina, Florida State and Virginia Tech — and competing with Michigan and Notre Dame.
Miami lost to Virginia Tech, now a No. 1 seed in the NCAA tournament, in the Atlantic Coast Conference semifinals, but has since flushed that game and is solely focused on its second tournament appearance in a row. Miami reached the second round of the NCAA tournament in 2022 before losing to South Carolina. This year marks the Hurricanes' 16th overall tournament appearance.
The 'Canes are led by senior Haley Cavinder, who averages 12.6 points per game and makes about 40 percent of her 3-pointers. But it's not just Cavinder who is a threat — graduate student Destiny Harden is both a scoring and rebounding threat with 12 points and 5.8 rebounds per game. Miami is an older, experienced team.
As a No. 1 seed, Indiana is clearly the favorite for the first weekend of games. But competition will likely be fierce, as each team has something to prove — as all teams do this time of year.
Filed to:


2023-03-14 12:37:34