Nvidia's announcement of the GeForce RTX 4060 series last week broke the pricing trend set by every other RTX 4000-series card released so far: The 4060 Ti is launching at the same price as its predecessor, and the 4060 is actually getting a small price cut.
But these cards also continued a trend that we noted in our RTX 4070 review—compared to past generations, the performance upgrade just isn't as impressive. The $400 RTX 3060 Ti could match or beat a $700 RTX 2080 Super from the previous generation. The 4060 Ti… well, it can definitely beat a 3060 Ti.
It's a very capable mid-range graphics card that's great at 1080p and can often stretch to 1440p. It gives you more performance and lower power consumption at the same price you'd pay for a 3060 Ti yesterday. And it does all of the Ada Lovelace architecture's special tricks, like DLSS Frame Generation and hardware-accelerated AV1 video encoding. But it doesn't bring last generation's high-end performance down to a more reasonable price the way older Nvidia cards have.
The RTX 4060 Ti
| | RTX 4090 | RTX 4080 | RTX 4070 Ti | RTX 4070 | RTX 4060 Ti | RTX 4060 | RTX 3060 Ti | RTX 3060 |
| --- | --- | --- | --- | --- | --- | --- | --- | --- |
| CUDA Cores | 16,384 | 9,728 | 7,680 | 5,888 | 4,352 | 3,840? | 4,864 | 3,584 |
| Boost Clock | 2,520 MHz | 2,505 MHz | 2,610 MHz | 2,475 MHz | 2,535 MHz | ? | 1,665 MHz | 1,777 MHz |
| Memory Bus Width | 384-bit | 256-bit | 192-bit | 192-bit | 128-bit | 128-bit | 256-bit | 192-bit |
| Memory Clock | 1,313 MHz | 1,400 MHz | 1,313 MHz | 1,313 MHz | 2,250 MHz | ? | 1,750 MHz | 1,875 MHz |
| Memory size | 24GB GDDR6X | 16GB GDDR6X | 12GB GDDR6X | 12GB GDDR6X | 8GB or 16GB GDDR6 | 8GB GDDR6 | 8GB GDDR6 | 12GB GDDR6 |
| TGP | 450 W | 320 W | 285 W | 200 W | 160 W | 115 W | 200 W | 170 W |
The RTX 4060 Ti is a very different card from the RTX 3060 Ti, and it's unique within the 4000-series lineup so far as the only GPU to come with fewer CUDA cores than the card it's replacing. Even the regular 4060 has a couple hundred more than the RTX 3060. The memory bus width also takes a big step down, from 256-bit to 128-bit. Narrowed memory buses are a consistent feature across most of the lineup, but 50 percent is still a big cut.
Nvidia compensates by setting GPU and memory clock speeds much higher, and with changes to the Ada Lovelace architecture, namely a much larger chunk of L2 cache, that means fewer trips out to main memory over that relatively slow 128-bit bus. Those changes do their job—most of the time. The 4060 Ti is usually faster than the 3060 Ti by a decent if not awe-inspiring margin, but there are exceptions (as we'll see in our performance section), and as you go past 1080p the performance benefits get even smaller.
Another problem for the card's longevity may be its 8GB of RAM, the same amount in the 3060 Ti, the 4060, and a whole bunch of mid-range GPUs released in the last three or four years. Newer games are beginning to push up against that limit even at 1080p, at least when all the settings are turned all the way up.
A $399 partner card from PNY, with a less-nice-looking cooler but a more-common 8-pin power connector. You can also see how short the board is here—we ought to get some pretty compact 4060 Ti and 4060 cards.


Andrew Cunningham

The 12VHPWR connector makes sense as a replacement for three or four 8-pin connectors; I'm not sure it makes as much sense as a replacement for a single 8-pin connector.


Andrew Cunningham
That said, Nvidia's own cherry-picked performance numbers showed only two games where stepping up to the $500 16GB model made any difference at all (Resident Evil Remake and A Plague Tale: Requiem); most of the time, 8GB won't be a problem right now. There's also some debate about whether "Ultra" settings, a big driver of GPU memory usage, are worth using most of the time.
As for the physical cards themselves, Nvidia's Founders Edition 4060 Ti is the same size and uses the same design as the RTX 4070 version, which means it's a reasonably sized card that should fit in most PCs. The partner card that PNY sent us, already fairly reasonably sized, has a cooler that runs quite a bit past the end of the card itself, so we should hopefully see some quite compact 4060 Ti and 4060 designs for smaller PCs.
The Founders Edition does, however, continue to use the newer 12VHPWR connector—this connector makes a lot of sense when you're using it to replace what would have been three or four separate 8-pin power connectors, but the 4060 Ti only needs a single 8-pin connector to work (as seen in the PNY card). ATX 3.0 power supplies with built-in 12VHPWR connections are still relatively new and rare, and Nvidia's dongle (even with a single 8-pin plug) is on the bulky side. The Founders Edition card's packaging is also pretty bulky—the box is the exact same size Nvidia uses for the RTX 4090.
Performance and power
We've tested the 4060 Ti, 3060 Ti, and other competitors mostly at 1080p and 1440p, the resolutions most people will be buying them for. The results are generally good for the 4060 Ti but not universally so. We try to test stock, non-manufacturer-overclocked cards when we can, though the Zotac RTX 3060 Ti and the MSI Radeon RX 6750 XT cards we tested both have extremely mild GPU overclocks applied out of the box; it shouldn't be enough to change the results significantly.
We've also updated our benchmarking suite a bit, dropping a handful of older and less demanding games and adding a couple of newer titles with ray-tracing effects that also tend to get updated whenever Nvidia, AMD, or Intel make new changes to their respective upscaling technologies. While AMD's FSR 2 and Intel's XeSS work on cards from all GPU manufacturers, we prefer to test each manufacturer's upscaling tech with its own GPUs.
Gaming tests run at 1080p.


Andrew Cunningham


Andrew Cunningham


Andrew Cunningham


Andrew Cunningham


Andrew Cunningham


Andrew Cunningham
In DirectX 12 games at 1080p, the RTX 4060 Ti's average frame rates are right around 15 percent faster than the 3060 Ti, just like Nvidia said it would be. Hitman 3 improves even more, by around 30 percent. This is true in games with and without ray-tracing effects enabled.
But there were exceptions. Red Dead Redemption 2 and Assassin's Creed Odyssey had similar average frame rates, with AC Odyssey's low frame rates regressing quite a bit on the 4060 Ti. Grand Theft Auto V, probably the oldest game in our test suite, does a bit worse. Whether these hiccups are related to the other non-DirectX 12 APIs (Vulkan for RDR, DirectX 11 for the others), the reduction in memory bandwidth, or something else is hard to say.

Andrew Cunningham


Andrew Cunningham


Andrew Cunningham


Andrew Cunningham


Andrew Cunningham


Andrew Cunningham


Andrew Cunningham


Andrew Cunningham


Andrew Cunningham
There's good and bad news at 1440p. The good news is that the GPU ought to be able to run many games at a 60 fps average at 1440p, especially with some settings tweaking or DLSS enabled (Cyberpunk 2077 is an outlier, as it often is). The bad news is that its performance advantage over the 3060 Ti shrinks to around 10 percent in the same games where it was 15 percent faster at 1080p (the games that held steady or regressed at 1080p did the same at 1440p). I would guess that this is where the reduction from a 256-bit to a 128-bit memory interface is making more of a difference.
As for the competition, AMD is still way behind Nvidia's pace in rolling out its RX 7000 cards. Although the RX 7600 is supposedly coming soon, it looks like more of a non-Ti 4060 competitor, and Intel's fastest Arc A770 is in that general performance class too.
As such, AMD's previous-generation RX 6000 series is stuck competing with the 40-series, with mixed results. The RX 6750 XT is AMD's closest competition—models start at around $380 at this writing—and its 12GB of RAM immediately addresses the biggest concern about the 4060 Ti's long-term performance.
Across the board in rasterized gaming tests, the RX 6750 XT matches or outperforms the 4060 Ti, beating it by around 15 to 17 percent in the best-case scenario. But as usual, the numbers flip once ray tracing gets switched on. The 4060 Ti does a solid job with our ray-traced test games at 1080p and can stretch to 1440p with DLSS and/or DLSS FG turned on; the 6750 XT will need to lean on FSR upscaling to hit 30-to-60 fps at 1080p. Some people care about ray-tracing and some don't; it's pretty straightforward to choose which numbers matter to you more.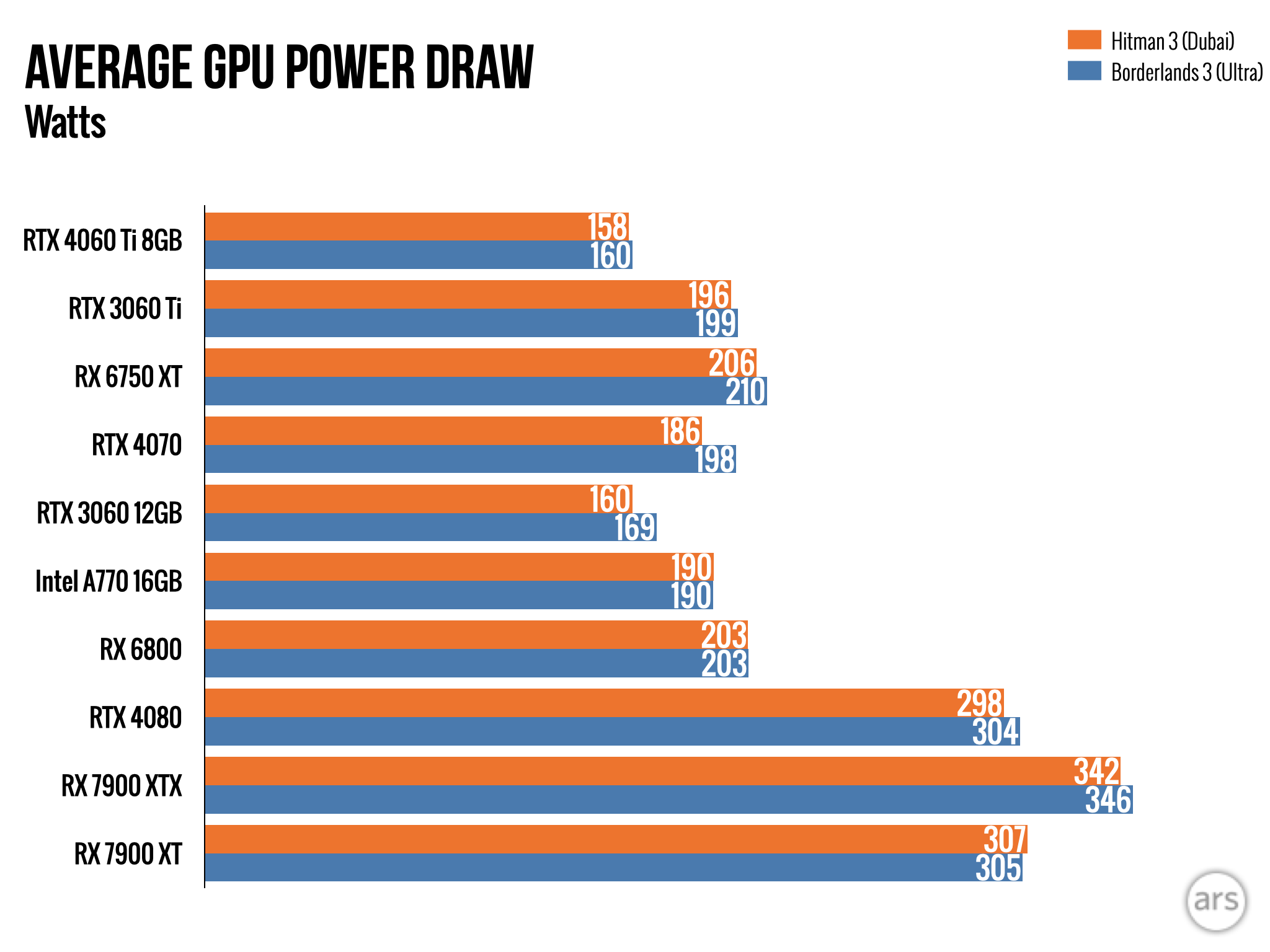 Overall, this is still more flattering for AMD than the 4070-versus-6950-XT comparison a month ago. Most 6950 XT models are physically huge and consume between 150 and 160 W more power than the 200 W-ish 4070. The 6750 XT and 4060 Ti are in the same size class, and AMD's card uses just 50 W more than the 4060 Ti. There are certainly fewer reasons not to consider it as an alternative.
In general, I'd have a hard time recommending that anyone go out and buy a 6750 XT right now, though. That's partly because the 4060 Ti is the more versatile card (even aside from ray-tracing and DLSS support, Nvidia's GPUs are generally better supported in AI software, rendering apps, and other kinds of pro apps). And it's partly because AMD will likely introduce a newer, faster, more efficient 7000-series card at around the same price in the next few months. The 6750 XT is a perfectly fine card if you need something right this minute and you refuse to give Nvidia money; for most people looking to spend $400, I'd say either get the 4060 Ti or wait a bit for AMD to respond.
The 4060 Ti's power use is down a fair amount from the 3060 Ti, from close to 200 W to around 160 W. This isn't super exciting but it is a fringe benefit for people who skipped a 3060 Ti.
On DLSS 3 and Frame Generation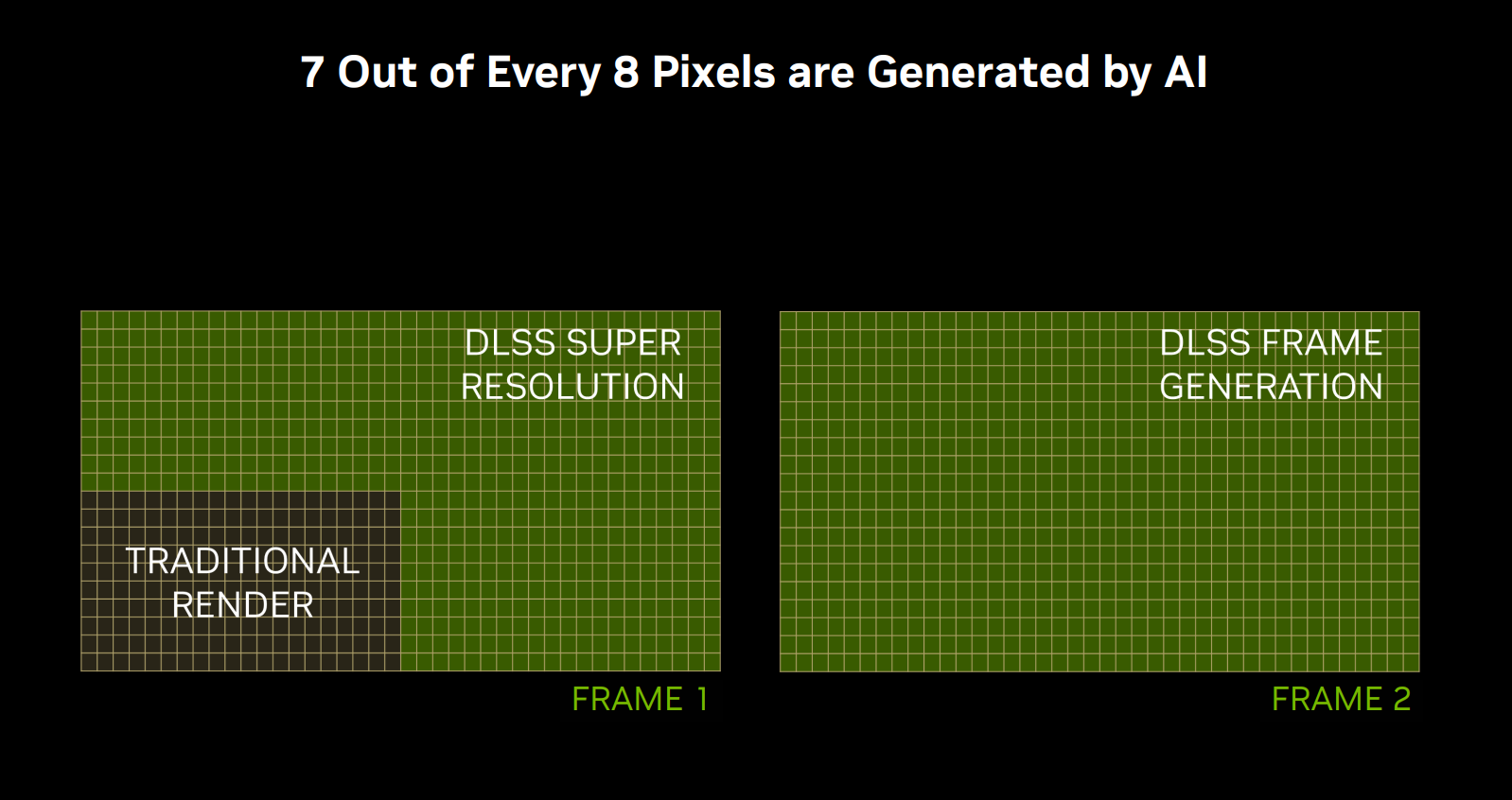 As you might recall from previous GPU reviews, the 4000-series-exclusive DLSS FG "doubles" your frame rate by creating one AI-interpolated frame for every frame that the GPU renders. DLSS FG works in concert with typical DLSS upscaling—Nvidia says that "seven out of every eight pixels" can be generated by AI when DLSS and DLSS FG are both enabled. The result can be a clean-looking, high-resolution, high-frame-rate image rendered using just a fraction of the GPU performance needed to render the same scene natively.
Nvidia has always leaned on DLSS FG in its presentations to make the 4000-series GPUs look like even larger leaps than they were, but in the case of the 4090, 4080, and 4070 series, the cards also had considerably better non-DLSS-related performance gains it could fall back on. The story is a bit different for the 4060 Ti, where Nvidia relies almost exclusively on its DLSS FG performance numbers to make the 4060 Ti look like as big a leap over the 3060 Ti as the 3060 Ti was compared to the 2060 Super.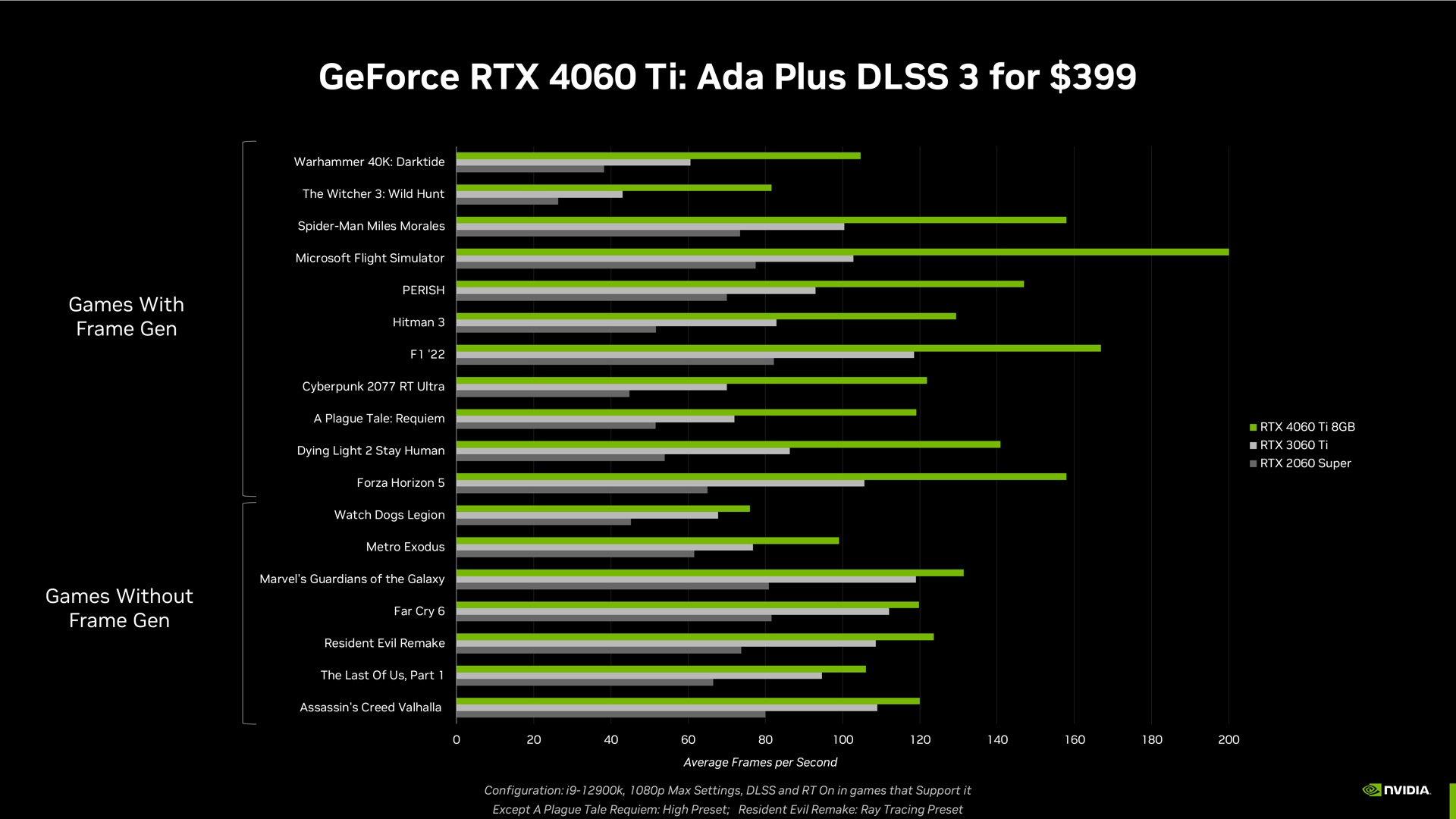 Here's the thing: It's not a lie! DLSS FG did markedly improve both average and 1 percent low frame rates in all the games we tested it in, and it can be a handy way to push past 60 fps in a demanding game if you're trying to enjoy the high-refresh-rate monitor you dropped extra money on. But it's not without consequence; DLSS FG can also create extra input latency that can make fast-paced shooters or action games feel less responsive, particularly with V-sync enabled.
One of the new games in our test suite, Housemarque and Sony's Returnal, also shows how DLSS FG can impact visuals in a way that DLSS supersampling doesn't. A driving rain falls through the entire benchmark, and between the unpredictable paths that the raindrops take and the way the rain refracts the light that passes through it, which means DLSS FG can have issues predicting where each drop is going to end up and what it will look like in the interpolated frames it creates.

Andrew Cunningham


Andrew Cunningham


Andrew Cunningham


Andrew Cunningham
The effect is a visible flickering as the rain phases in and out of existence, even though Returnal's base frame rate on the 4060 Ti is reasonably high (56 fps with DLSS and FG off, 78 fps with DLSS on and FG off, 103 fps with DLSS and FG on; the effect is still visible but less distracting on the faster 4070). The rest of the scene, at least to my eyes, looked mostly fine, and DLSS FG does boost the average and 1 percent low frame rates. But depending on what you play, you might run into situations where the effect looks subtly wrong or strange in a way that I don't particularly notice or care about with DLSS 2.
Add to that the latency issues that you can experience, and it feels like DLSS FG performance numbers still need an asterisk after them. It's a handy tool when you're experimenting with different settings to make a high-end game playable on a midrange PC. I would rather have the option than not have it. But I wouldn't say it's a slam-dunk selling point.
The cost of keeping the price the same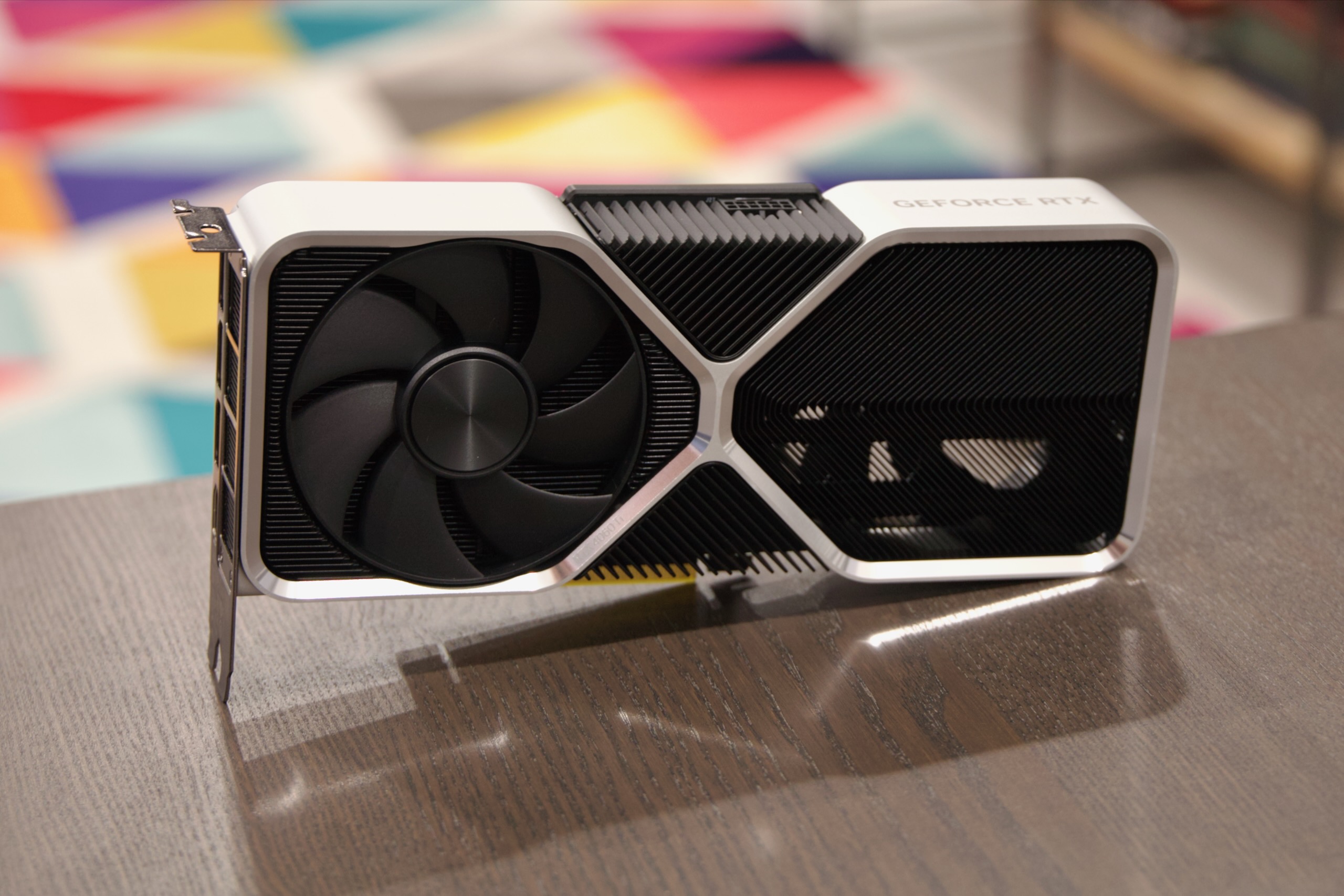 So now we've seen two kinds of RTX 4000-series GPUs: ones where the performance boosts are significant and the price goes up, and ones where the price stays the same but the performance boosts are smaller and harder to notice. The RTX 4060 Ti is in the latter group.
That's not to say it has to be this way; this is clearly a choice Nvidia has decided to make, whether it's trying to preserve cryptocurrency-craze-level profit margins or because the sputtering of Moore's Law is actually making it harder to keep prices going down as performance goes up.
The 4060 Ti is, by many measures, the best graphics card you can get for $400, depending on how you value power efficiency, AV1 encoding support, DLSS Frame Generation, and ray-tracing performance. If you're using a 1060 or 2060-class card and you've been avoiding a 3060 Ti, the 4060 Ti is usually faster, and it costs the same amount. But it's still a bit of a letdown compared to the 3060 Ti, especially given how big of a step up the 3060 Ti was over the 2060 Super. Nvidia leans on DLSS FG to close that gap and make the 4060 Ti look more impressive, but even in the games that support it, the claims need to be taken with a grain or two of salt.
The good
(Mostly) improved performance over the 3060 Ti at the exact same price
Good for higher-than-60-fps gameplay at 1080p and can usually hit 60 fps at 1440p with some tweaking
Lower power consumption than the 3060 Ti or AMD's Radeon RX 6750 XT
AV1 encoding support and DLSS Frame Generation support
The bad
Performance improvements less pronounced at 1440p
The 6750 XT gets you better performance in non-ray-traced games for a bit less money, though you still might want to wait for an RX 7700
8GB of RAM could eventually prove limiting
DLSS FG is a nice tool to have, but it's not a magic wand
The ugly
In some games, performance holds steady or even drops a little from the 3060 Ti


2023-05-23 13:00:02