SACRAMENTO, CA — The Tigers had never seen their head coach cry before Thursday.
No. 7 seed Missouri walked through the Golden 1 Center tunnel full of emotion after beating No. 10 seed Utah State in the first round of the NCAA tournament, 76-65.
"Where's the radio?" Dennis Gates asked when the team reached the locker room, requesting someone to play "California Love" by 2Pac. Gates said in a press conference on Wednesday that he'd invited his old college coach, Ben Braun, who was the head coach at Cal-Berkeley from 1996-2008, to see Mizzou play. Braun made the trip, along with a handful of Gates' former teammates. They all were in attendance as the Tigers' first-year head coach earned his first victory in the tournament and guided his program to its first win in the Big Dance since 2010.
It brought tears to his eyes.
"There's one thing in life that you sometimes have to be prepared for, and that's the unpredictable," Gates said. "Nobody in the country, nobody in the basket world, expected, first of all, us to be here … The only people that believed we could do what we did was the guys in our locker room, obviously, our crowd, our fan base, those that have been by our side from day one. I'm extremely proud of the results."
The results came after a run that was single-handedly put together by Mizzou's two leading scorers. With 10:46 remaining in the second half, USU senior forward Dan Akin threw down a dunk to give the Aggies their first lead since the opening minutes of the game at 49-47. A minute later, senior forward Kobe Brown responded.
The All-SEC First Team selection stole the ball, then took it down near the right block on the opposite end of the floor. He sized up Akin for a few dribbles, spun to his left to drive down the baseline and rose to cram down a reverse dunk. Senior guard Tre Gomillion asked Brown in the locker room after the game how he would rate the dunk. Fellow senior guard Ben Sternberg answered for him — a 23 out of 10.
Brown had been limited to six points in the first half after picking up two fouls in the first eight minutes. After his dunk, however, he scored all of the Tigers' following 10 points, draining a trio of 3-pointers and sinking a free throw.
After Brown drilled his second triple, he turned to the Missouri bench and locked eyes with Gates.
"I'm here," Brown told him.
"Yes you are," Gates said back.
Senior guard D'Moi Hodge kept the team rolling by scoring the team's next eight points. On one play, Hodge took the ball on the right sideline for an out-of-bounds throw-in and called for the attention of senior forward Noah Carter. Hodge tossed him the ball, then zoomed down the baseline. Carter bounced it right back to him and Hodge slammed down the give-and-go dunk.
"I know Noah's a great passer," Hodge said. "I try to do that with Noah every time because I know I'm faster than most of the players that guard me. I just try to give him the ball and run fast. We tried it against Alabama and it wasn't open, so he didn't give me the pass. Today, I said 'Noah!' and gave him the ball before he even saw it."
Hodge followed up with a 3-pointer on the next possession to make it a 20-7 run and take a 67-56 lead with 3:55 remaining. The Aggies (26-9, 13-5 MWC) could never trim the deficit down to fewer than eight, suffering the first-round elimination.
Brown finished the game with 19 points, eight rebounds, two assists, two steals and a block. Hodge added a game-high 23 points and four steals to go along with four rebounds and two assists. Gates became the first Mizzou head coach in program history to win his first tournament game in his debut season with the Tigers.
California knows how to party, but Gates said there's no time to celebrate. The team has to prepare for its second-round game right away — there's more season to go. Not everyone thought they'd be playing this late in the year. But the Tigers always did.
"I think our philosophy is not blinking," Gates said. "We didn't blink no matter what the crowd noise was, no matter what the response or the plays that Utah State made. They're a good team. They were supposed to go on a run. We're a good team as well and we were supposed to respond. Our guys stepped up and responded … The big picture is this: our team is balanced, and I'm proud of the way we respond in adverse situations."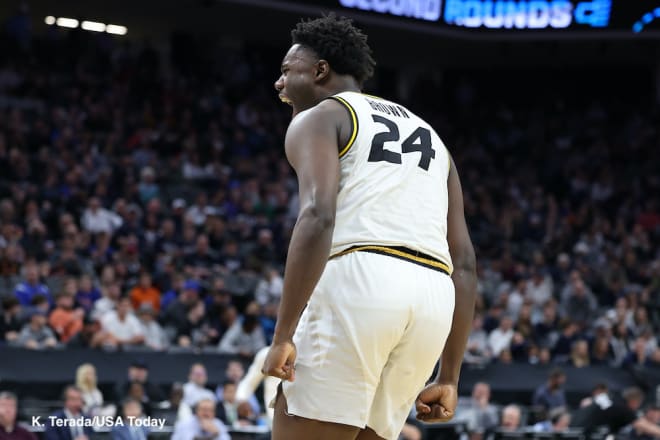 "Coach Gomillion" emerges in March
Tre Gomillion's teammates approached him on the sideline roughly 15 minutes before tip-off, hoping to console him. Gomillion warmed up with the team when they first came out of the locker room but Gates chose it was best to hold the team captain out against Utah State while he continues to recover from a groin injury he sustained in January.
It was the third game in a row Gomillion's missed. He was miserable — he wanted to be out there for his teammates.
"It's tough, but that's the cards I was dealt," Gomillion said. "So I just got to deal with it and give what I can."
Gates told the Cleveland State transfer he needed Gomillion just as involved as any other assistant coach on the staff. Gomillion did his best. At one point during Thursday's game, Gomillion got up from his seat and walked over to Gates. He thought the head coach was upset with a call or something else that didn't go Mizzou's way. Gomillion reminded him to remain calm. The players on the floor were looking to Gates for confidence in the moment.
"His disposition, IQ is impactful to a locker room. Sort of reminds me of myself when I was in college," Gates said. "I didn't ask about playing time, how many minutes, how many shots. I asked about leadership. Tre Gomillion is the same way … You can see him walking up to me, making suggestions. That's what I anticipate and that's what I expect of him."
Gomillion was all smiles after the win. He was proud that his teammates got the job done. He'll have another opportunity play in the second tournament game of his career.
"There was only one way we could pick him up, which was to win," senior guard DeAndre Gholston said. "You know, buy him some time to get back and contribute like he always does. And on the sidelines, everyone knows he's a coach. He communicated the whole game, he's calling out sets. He helped us out when we needed to get better and everything he said was true. Everything he said, we executed and he helped us get a win."
Up next
No. 15 seed Princeton upset No. 2 seed Arizona in the game that followed Mizzou's inside the Golden 1 Center on Thursday, setting up a second-round matchup for the pair of Tigers squads. Missouri (25-9, 11-7 SEC) will go up against Princeton (22-8, 10-4 Ivy League) on Saturday with a game time to be determined.
Stay up to date on all the Mizzou news with your premium subscription
Talk about this story and more in The Tigers' Lair
Make sure you're caught up on all the Tiger news and headlines
Subscribe to our YouTube Channel for video and live streaming coverage
Everyone on here already has insurance (or they should). Everyone on here also cheers for the Tigers (or they should). In college sports the hot button issue is NIL. A school can no longer compete the way they did just a few short years ago without a robust NIL collective. In our economy, the hot button issue is inflation. Here's your opportunity to see about saving money on something that the state requires you to have on your car and your lender requires you to have on your house. Oh and by the way, just a quote from James's office will get a donation on your behalf to PowerMizzou's fund with Every True Tiger Foundation, Mizzou's preferred NIL collective. Blink if you like saving money. Blink twice if you want to do everything you can to position your favorite college program to be as competitive in the SEC as possible. Give James's office a call at 314-961-4800 or get a quote online at carltoninsurance.net.
"If your insurance costs a leg and an arm, call James Carlton State Farm."





2023-03-17 05:21:27