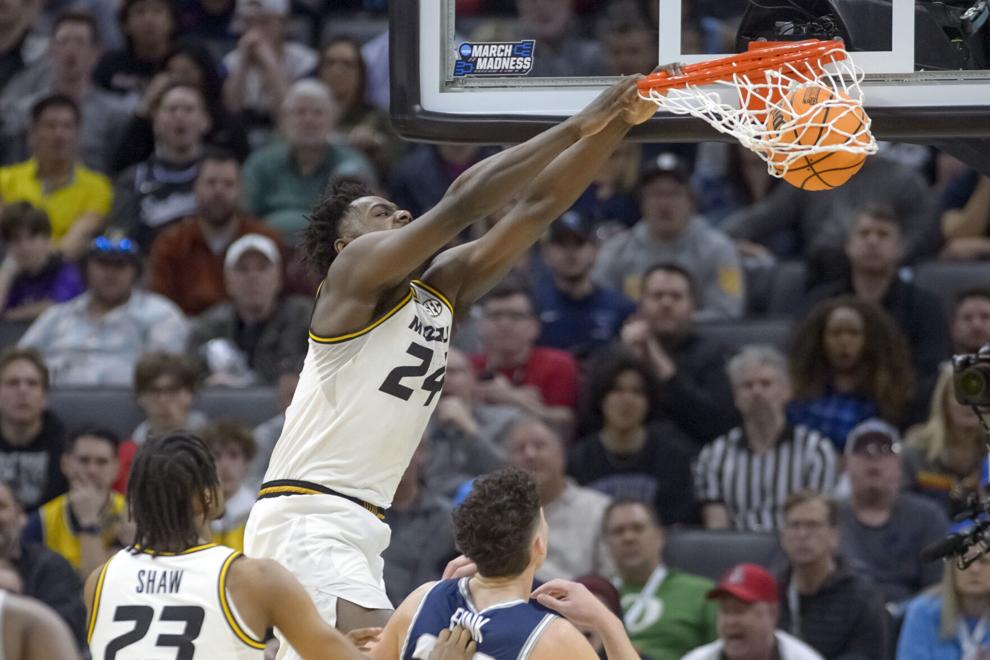 The headline on the excellent FiveThirtyEight website asked the following question:
"The Stats Told Us to Pick Utah State? Were The Wrong?"
The short answer is, of course, "yes." Missouri beat Utah State 76-65, defying the predictive metrics that suggested it was doomed to defeat.
This is just one more time that the Tigers got a better outcome than the computations deemed possible.
Writing for FiveThirtyEight, Santul Nerkar and Neil Paine addressed the Missouri victory:
Wait, that doesn't sound like a big deal, does it? After all, the Tigers were the higher seed and played in the tougher conference — and had more marquee victories than the Aggies. But that's just one piece of the puzzle. According to a variety of advanced metrics — pick your poison — Utah State was the clearly superior side. Yes, FiveThirtyEight's model was the most bullish on the Aggies pulling the "upset," at 64 percent odds, but statistical handicappers like Jeff Sagarin, ESPN and Ken Pomeroy all agreed with our evaluation — and still do . . .
So does this mean that the numbers were all wrong? Not necessarily. Among the 11 non-power conference teams seeded No. 10 or worse and underseeded by at least one seed (according to the implied seeds from Pomeroy's rankings) since 2016, five have won at least their round of 64 game — though the Aggies' defeat today marked six straight losses for the analytics darling."
Those teams that lost despite glittering predictive metrics were Utah State twice, San Francisco, Loyola Chicago, Saint Mary's and Davidson.
The randomness element of the NCAA Tournament has nailed a lot of teams, including the analytics darlings.
Missouri plays a unique style, gambling to create steals in bunches and launching some quick 3-pointers which they can hit in streaks. They can win game with surges, something that predictive metrics don't fully account for — so that's a factor too.
The computer never seemed to fully get Missouri this season.
But here's the biggest thing: Comparing the statistical profiles of teams playing at the mid-major level to teams at the power conference level is inherently problematic.
That was glaringly evident when Utah State played Missouri. The Tigers were hardened by the physical play of the Southeastern Conference and they came out playing a physical style.
The Aggies spent much of the afternoon (or late morning California time) bouncing off more muscular Tigers while looking for foul calls. And a lot of those fouls went uncalled, which allowed Missouri to disrupt the Utah State offense again and again.
And so the Tigers, widely considered an underdog despite their superior seed and fourth-place SEC finish, won the game. Go figure.
Here is what folks were writing about March Madness:
David Cobb, CBSSports.com: "When Princeton beat UNLV 69-57 in the first round of the 1998 NCAA Tournament, a player named Mitch Henderson scored 19 points and dished out six assists for the Tigers. Almost 25 years to the day, the Tigers finally won another game in the Big Dance as No. 15 seed Princeton turned into March Madness' best story Thursday with a stunning 59-55 defeat of No. 2 seed Arizona. Princeton's coach today? Mitch Henderson. Now 47 and a Princeton basketball institution, Henderson out-dueled one of the sport's rising stars on the opposite sideline in Arizona coach Tommy Lloyd as Princeton held the Wildcats to a season-low in points and made 3-pointers. The outcome marked the third straight season in which a No. 15 seed has defeated a No. 2."
Lindsay Schnell, USA Today: "The Tigers are looking to become just the second Ivy League team to make the Sweet 16 since the tournament expanded in 1985. Cornell made the Sweet 16 in 2010 with defeats of Temple and Wisconsin . . . On Thursday, Arizona did not score for the final 4:43 of the game, missing its last seven field goals and making just two of its final 11 attempts, with four turnovers in the final 6:10. In perhaps the most shocking stat of the day, Princeton finished with six blocks while Arizona, one of the biggest and best defensive teams in the Pac-12, swatted away just one shot. The Tigers also outscored the Wildcats 42-34 in the paint."
Jason Owens, Yahoo! Sports: "Virginia secured its first-ever NCAA championship in 2019. Outside of that pinnacle achievement, it's been a rough few years for Tony Bennett and the Cavaliers in tournament play. Thursday brought more pain to Charlottesville as No. 13 Furman upended No. 4 Virginia in stunning fashion. An errant pass by fifth-year senior Kihel Clark set up Furman's JP Pegues to sink the Cavs with a 3-point dagger in the game's final seconds. Pegues' shot secured a 68-67 Paladins win and marked Virginia's third first-round exit in its last four tournament appearances. All three of those exits arrived as massive NCAA tournament upsets. The 2018 loss as a No. 1 seed to No. 16 seed UMBC remains the biggest seeding upset in NCAA history. Thursday's loss to Furman rivaled 2021's to Ohio in another first-round 13-4 matchup. Bennett's teams play and win by unleashing a swarming defense next to a grind-it-out offense that runs deep into the shot clock. It's a style designed to frustrate and befuddle opponents. It also leaves the Cavaliers open to upsets in games where neither team breaks away."
Jeff Borzello, ESPN.com: "Virginia jumped out to an early lead, but its deliberately slow tempo isn't suited to burying opponents under a barrage of points. Furman was able to get a few baskets before the Hoos had a chance to set their defense, which gave the Paladins some momentum and let them back in the game. And, as has been the case for much of the season, Virginia really struggled shooting the ball. The Cavaliers haven't made 40% of their 3s in a game since January, and went just 2-for-12 from behind the arc on Thursday."
Dan Wolken, USA Today: "The athletics director issued a statement at halftime. The most scrutinized 20-year-old in basketball couldn't make a shot before eventually going to the bench to rest a sore groin. The walk-on nobody had heard of before Wednesday night threatened to sue the New York Times. And the coach is losing his mind on every dribble for two straight hours of a game he didn't come close to losing.  In other words, it was just another day in Alabama basketball. The Crimson Tide comfortably won its first NCAA Tournament game Thursday as the No. 1 overall seed, beating Texas A&M-Corpus Christi 96-75 and advancing to face No. 8 seed Maryland on Saturday. Maybe Alabama can keep going on like this, dancing through the raindrops of controversy as questions mount and new allegations are lobbed at them weekly. In a strange way, it's impressive how well the Crimson Tide has compartmentalized chaos off the court and been all business when the ball is tipped. But can any team, even one as good as Alabama, survive 2½ more weeks of this without eventually paying the price? The latest dramatic turn came Wednesday night when the New York Times reported that Kai Spears, a freshman walk-on who has not appeared in a game this season, was also at the scene of a shootout along with three other Alabama players in the early hours of Jan. 15 that resulted in the killing of Jamea Harris, a 23-year-old mother.  One of those players, Darius Miles, has been charged with capital murder. But it wasn't until weeks later that the incident drew national attention when testimony in a preliminary hearing revealed that freshman star Brandon Miller had transported the gun to the scene in his car after receiving a text from Miles asking him to bring it, and that Miller's car had ended up with bullet holes in the windshield."
Nancy Armour, USA Today: "That backfired in spectacular fashion.  Just five days after Marcus Sasser strained his groin in the American Athletic Conference tournament semifinals, he was back in the Cougars' starting lineup Thursday night. For a first-round game against a No. 16 team. In a surprise to pretty much no one, Sasser didn't even make it to halftime. Now top-seeded Houston might not make it to the second weekend, let alone to the Final Four in its hometown . . . Sasser said the decision on whether he plays Saturday will depend on how much pain he can tolerate. Even if he does play, there's no guaranteeing how long he'll last – in that game or any others. If there are any others. Houston needs Sasser to make a deep run in the tournament. He's the AAC player of the year, and he leads Houston by averaging more than 17 points a game. But the Cougars did not need Sasser in a game against a No. 16 seed." 
"You sit here in my seat. You have an All-American big guy, an all-conference big guy, you go inside over and over and over and over again and shoot seven free throws," he said. "I don't know if they're fouls or not, but — they must not have been because obviously they didn't get called. When the game is reffed like that, it makes it tough. You have an advantage that gets — either they're really physical and not fouling or they're not calling the fouls."
Arizona coach Tommy Lloyd, on Princeton manhandling his team inside. 


2023-03-17 12:06:00