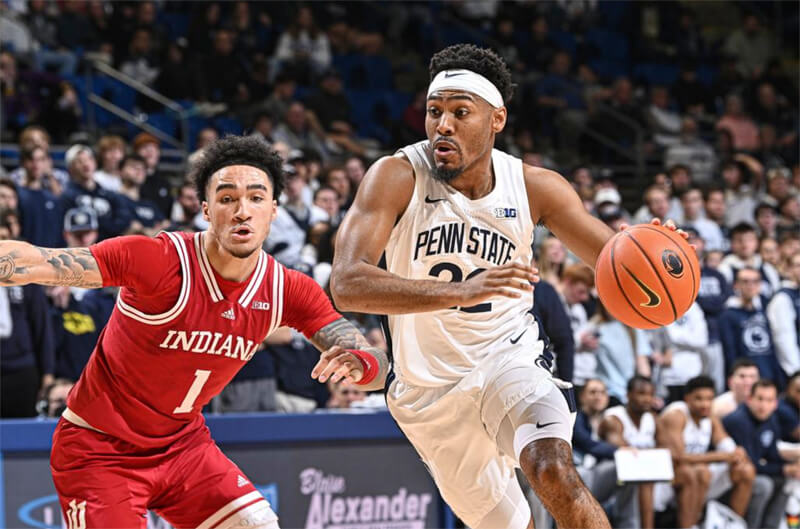 Indiana bowed out in the Big Ten tournament semifinals with a 77-73 loss against Penn State on Saturday at the United Center. The loss dropped the Hoosiers to 22-11 ahead of Sunday's NCAA tournament selection show.
Here are five takeaways from the loss:
Surprisingly, Penn State's offensive rebounding was a significant factor
Penn State is not a strong offensive-rebounding team. The Nittany Lions are indifferent when it comes to crashing the offensive boards. It's not an emphasis for Micah Shrewsberry, who prefers his team get back on defense for the next possession than risk giving up points in transition.
On Saturday however, Penn State corralled nine offensive rebounds and scored 12 second-chance points.
Penn State's offensive rebounding percentage of 28.1 percent against Indiana was its second-highest output of the season. Some of the offensive rebounds came from badly missed 3-pointers, but freshman big man Kebba Njie also grabbed four of them.
Defensive rebounding has been an issue at times for the Hoosiers this season. In Big Ten play, Indiana ranked just 12th on the defensive glass with opponents grabbing 29 percent of their misses.
Free throw differential pivotal for Penn State
A major weakness in the Indiana defensive profile this season is opponents getting to the free throw line.
In Big Ten play, the Hoosiers were last in the Big Ten in opponent free throw rate (FTA/FGA) at 32.6 percent. Penn State, which was last in the league in terms of getting to the line this season, turned that weakness into a strength against the Hoosiers.
Penn State shot 26 free throws in the win, finishing with a free throw rate of 45.6 percent.
It was the seventh time Indiana allowed an opponent free throw rate north of 40 percent this season. The Hoosiers are 3-4 in those games.
The Nittany Lions finished 23-for-26 from the line in their victory and outscored Indiana by 14 points from the stripe.
Indiana had no answer for Jalen Pickett
Jalen Hood-Schifino looks headed for a first round spot in June's NBA draft, but first team All-Big Ten selection Jalen Pickett looked like the best guard on the floor on Saturday.
Pickett, in his second season at Penn State after transferring from Siena, has been one of the best additions for any school in the transfer portal era.
On Saturday, he went for 28 points, eight rebounds, four assists, a blocked shot and just one turnover in 37 minutes. He even scored on Trayce Jackson-Davis in the post at one point in the first half.
Indiana didn't send much help at Pickett because of Penn State's shooters and how the first matchup went, so Pickett often went to work in one-on-one situations.
"They were kind of staying home on shooters," Pickett said postgame. "We played them earlier this year. We shot bombs away from three. So we kind of figured they were going to stay home, so I was really able to get into the gaps and get deep to where I wanted to to be able to just rise up and shoot it."
Indiana's perimeter starters all struggle
It was a poor afternoon for Indiana's perimeter starters. Jalen Hood-Schifino shot 4-for-13, Miller Kopp was 3-for-9 and Trey Galloway went 1-for-5 from the field.
Each player struggling has a different impact on the IU team. With Hood-Schifino, the Hoosiers need him to be the team's second scoring option behind Trayce Jackson-Davis. But Hood-Schifino never got going and missed a lot of long 2-point attempts.
Kopp missed all three of his 3-point attempts and appeared to pass up some looks that were open on the catch.
Galloway scored just two points after going scoreless against Maryland on Friday. He's been in a rut since scoring 13 points at Purdue on Feb. 25. Over IU's last four games, Galloway has scored just 13 points.
The one bright spot on the perimeter was Tamar Bates, who came off the bench and scored 13 points in 24 minutes. Bates was assertive in looking for his shot and was 6-for-12 from the field. He hit both of Indiana's 3-pointers in the loss.
Two-big lineup makes it difficult for Indiana to cover teams that space the floor
Indiana's two-big lineups featuring Trayce Jackson-Davis and either Race Thompson or Malik Reneau struggle to cover teams that can stretch the floor effectively.
Penn State typically has at least four players on the floor that can shoot the 3-pointer, which means one of Indiana's big men is forced to cover a shooter on the perimeter.
That shooter on the perimeter is often Seth Lundy. Lundy made a pair of 3-pointers on Saturday and was fouled on another attempt. Lundy did miss five of his 3-point attempts, but he scored a total of 41 points against Indiana in two games this season.
It's also worth noting that Penn State's pure volume of 3-point attempts starkly contrasts Indiana's indifference to taking perimeter shots.
After being outscored 54 to 12 in a loss to Penn State at the Bryce-Jordan Center earlier this season, Indiana was outscored 24 to six from the perimeter on Saturday. Indiana's perimeter shooting percentage this season is vastly improved, but it doesn't move the needle because IU is the bottom ten nationally in attempts.
(Photo credit: Penn State Athletics)
Filed to: 2023 Big Ten tournament, Jalen Hood-Schifino, Miller Kopp, Penn State Nittany Lions, Tamar Bates, Trey Galloway


2023-03-12 14:18:08