May 20, 2023 • 12:06 pm ET
Experts react: A 'game changer' G7 summit in Japan
Leaders of the Group of Seven (G7) countries are gathering in Hiroshima, Japan, for a three-day summit in which they will try to come together on some of the world's biggest challenges. Throughout the summit, Atlantic Council experts are taking stock of the gathering of leaders from the United States, Canada, the United Kingdom, Germany, France, Italy, and Japan—plus the European Union. On Saturday, Ukrainian President Volodymyr Zelenskyy joined the G7 leaders in Japan, an appearance French President Emmanuel Macron called a "game changer" for Ukraine's international support. Already the summit in Hiroshima is shaping up to be a game changer in a number of areas as leaders address issues ranging from artificial intelligence to Russia and China.
Read on to find out how these powerful democracies are tackling some of the world's thorniest problems.
This post will be updated as news develops and more reactions come in.
Click to jump to an expert reaction:
Daniel Fried: The G7 brought good news for Ukraine and strong new sanctions on Russia
Josh Lipsky: Unthinkable two years ago, G7 countries are addressing China together
Parker Novak: Biden skipping Papua New Guinea was a missed opportunity
---
The G7 brought good news for Ukraine and strong new sanctions on Russia
The G7 summit generated a lot of support for Ukraine, again demonstrating that persistent predictions of eroding support are off. The G7 Leaders' statement on Ukraine was strong and, critically, did not push Kyiv toward negotiations on Russian President Vladimir Putin's terms (a common recommendation from a certain school of thought that seems resigned to Russian victory even as the battlefield seems to favor Ukraine). The rapid coming together of a European coalition to provide Ukraine with F-16 fighter jets, an initiative that the United States in a policy reversal has now joined, was a major step in intensifying military assistance for Ukraine—a big G7 deliverable, as the saying goes. 
There were also new sanctions announced, outlined thematically in the G7 statement and in detail by the United States. These were also a big deal, even as the new sanctions did not include some ambitious proposals. For example, there was no lowering of the oil-price cap, no across-the-board ban on trade with Russia with exceptions (a so-called "white list," as opposed to the current "black list" approach), and no decision to use the immobilized Russian sovereign assets for Ukraine.
But the announced US sanctions package was broad, well-prepared, and impactful. To cite only a few of the new measures, the Biden administration targeted sanctions evaders from around the world, a labor-intensive process that may hinder Russia's efforts to escape the vise of restrictions on high-tech exports to Russia. It went after future Russian energy production and export capacity, a clever move that seems intended to lock in pressure on Russia's critical energy sector for the longer term. The new US sanctions also targeted Russian gold sales (and the European Union seems prepared to target Russian diamond exports), good examples of going after Russian foreign-exchange earnings. 
This was solid work. Sanctions theory usually asserts that sanctions are intended to change behavior. The Russian sanctions regime, however, seems intended to weaken the Russian economy generally, and rightly so. The current sanctions recall (and are more sophisticated than) the Cold War–era sanctions that contributed to the decline and fall of the Soviet Union. Putin, who seeks by war to recreate the Soviet and Russian empires, may yet learn that democracies, for all their messiness, are not as weak and feckless as he supposes.
—Daniel Fried is the Weiser Family distinguished fellow at the Atlantic Council. He was the coordinator for sanctions policy during the Obama administration, assistant secretary of state for Europe and Eurasia during the Bush administration, and senior director at the National Security Council for the Clinton and Bush administrations. He also served as ambassador to Poland during the Clinton administration.
Unthinkable two years ago, G7 countries are addressing China together
China is not mentioned a single time in the G7's new special statement on economic security—but make no mistake, it is all about China. Japanese Prime Minister Fumio Kishida made the issue of combating China's economic coercion a priority for Japan's G7, and with this unified statement the leaders achieved what will likely be the lasting legacy of the summit. The big question coming into Hiroshima was: Could the leaders maintain unity against Russia and harness that collective power in addressing China? The statement is the first concrete sign that the answer is yes. Two years ago, during the United Kingdom's G7 summit in Cornwall, it would have been hard to believe that European leaders would sign on to a statement that was so specifically directed at Beijing. But after China targeted Lithuania for its support of Taiwan, the calculus on the continent began to shift. Now, all G7 leaders have committed to a new rapid response coordination platform if another country is targeted. They are also speeding up their push for new supply chains and trying to leverage the Partnership for Global Infrastructure Investment as an alternative to the Belt and Road Initiative. 
The statement doesn't specify what other specific steps the group will take to combat what they describe as the "disturbing rise in the incidents of economic coercion." And you can be sure that other participants at the G7, including India's Prime Minister Narendra Modi, will stay away from associating with this statement. Many countries will ask privately, what about the West's use of sanctions and other tools of economic statecraft? The answer from the G7 is that those tools have a legal basis and are a justified response to violations of international law. The bottom line is that the G7 has shown it will increasingly focus on China and will try to maintain a coordinated policy approach. That's a major development.
—Josh Lipsky is the senior director of the Atlantic Council's GeoEconomics Center and a former adviser to the International Monetary Fund.
Biden skipping Papua New Guinea was a missed opportunity
First, let's acknowledge the things that the United States has gotten right as it's stepped up its engagement in the Pacific Islands over the past year. It is following through on promises to expand its diplomatic footprint, opening new embassies in the Solomon Islands and Tonga and reestablishing the US Agency for International Development's regional mission in Fiji. Senior officials have lavished attention on the region with high-level visits, and last September's United States-Pacific Islands Country Summit was the first ever hosted in Washington. Crucially, compacts of Free Association with the Federated States of Micronesia and Palau are also being finalized.
US President Joe Biden's now-scrapped visit to Papua New Guinea (PNG) was meant to be a culmination of these efforts and send a powerful signal to Pacific Islanders about the US commitment to the region. Instead, it underlines skepticism about the United States' ability to follow through on the promises it has made and its staying power. The concurrent cancellation of Biden's visit to Australia for the Quad summit only reinforces this; as a headline in the Sydney Morning Herald put it, "Biden's 11th hour Quad snub a disappointment, a mess, and a gift to Beijing."
Will this do long-term damage to US efforts in the Pacific? Perhaps not. But, in the immediate term, the optics are dreadful. After the visit to PNG was canceled, National Security Adviser Jake Sullivan said Biden plans to host a major summit with leaders of the Pacific Islands "within this calendar year." It is important to follow through on that promise. In addition, Secretary of State Antony Blinken announced a visit to Port Moresby on May 22.
This episode showcases a key challenge bedeviling the United States on the world stage—that of internal political dysfunction hindering its conduct of a consistent foreign policy and projecting an unappealing image across the world. If the United States is going to succeed in the Pacific—and elsewhere, for that matter—it not only needs to deliver on its assurances, but also get its domestic house in order. 
—Parker Novak is a nonresident fellow with the Atlantic Council's Global China Hub.
---
Further reading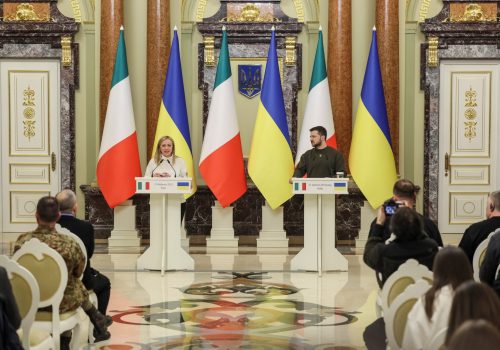 Fri, May 12, 2023
Andriy Yermak: Italy is defending common European values in Ukraine
UkraineAlert
By
Andriy Yermak
Italian Prime Minister Giorgia Meloni is right to say that helping Ukraine defend itself against Russian invasion is about freedom, justice, and common values, writes the head of Ukraine's Office of the President, Andriy Yermak.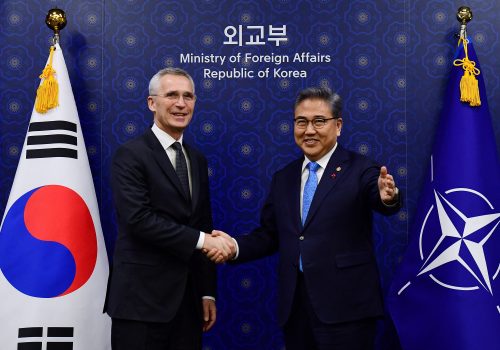 Mon, Feb 6, 2023
NATO is entering a new phase in the Indo-Pacific
New Atlanticist
By
Sara Bjerg Moller
NATO Secretary General Jens Stoltenberg's visit to Japan and South Korea trip was striking both for its timing and for its messaging shift on China.




2023-05-20 16:06:00