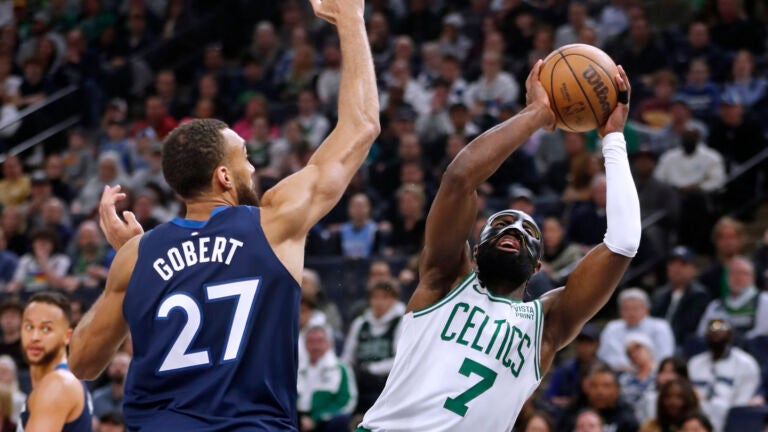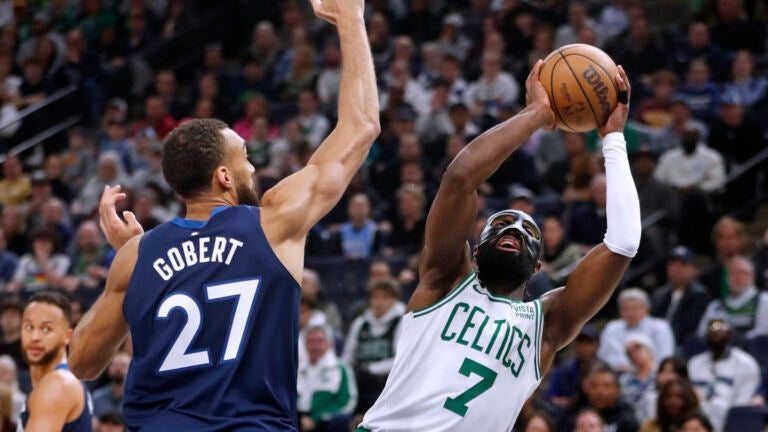 The Celtics claimed a hard-fought — and somewhat controversial — win over the Timberwolves on Wednesday, holding off a fourth-quarter charge for a 104-102 victory.
Here are the takeaways.
1. In 10 games since the All-Star break, Jaylen Brown has been the Celtics' best player, averaging 28.1 points and shooting 50 percent from the field. Importantly, he's up to 38.3 percent from 3-point range over that stretch — significantly better than his season average of 33.8, which is his lowest career total so far.
On Wednesday, Brown was excellent was once again — 35 points on 12-for-24 shooting, 5-for-8 from three and 10 rebounds. Meanwhile, his star power offset another tough night by Jayson Tatum, who shot 4-for-16 and 0-for-8 from deep.
"Whatever it takes to get a win," Brown told NBC Sports Boston's Abby Chin after the game. "Whether it's scoring, whether it's rebounding, whether it's guarding, as we get closer to the playoffs, it's whatever we have to do to get a win. Be a Swiss army knife. Some nights I'm a scorer, some nights I'm not, and I just have to accept that and just play basketball."
Brown is shooting 68.1 percent inside five feet this season, and he's shooting 58.2 percent on 11.2 drives per game. Out of 48 players averaging 10 or more drives per game this season, Brown is seventh in shooting percentage — trailing only Luka Doncic, De'Aaron Fox, Donovan Mitchell and DeMar DeRozan, as well as Zion Williamson and Kawhi Leonard, who have both missed significant time. Brown adds an essential element to the Celtics' offense.
2. Grant Williams played 26 minutes and was in the game down the stretch in place of Derrick White and Malcolm Brogdon. Williams rewarded Joe Mazzulla for his trust by making two enormous plays down the stretch: first diving on an offensive rebound after Marcus Smart missed an open 3, and then winning a jump ball against Rudy Gobert (more on that in a minute).
"It was a big-time play," Mazzulla said. "We have a deep team. We have the ability to play different ways. Grant's humility and professionalism to be ready to play and make a play like that is the reason we have a chance to be a good team. So that was a big-time play."
Williams admitted that this recent stretch has been hard, even as he tries to have a good attitude through it.
"I try my best to false-front in a way," Williams told reporters. "It's funny, because I'll be the first one off the bench [supporting others] and high-fiving and everything. Teammates will be like, 'We see you're dying inside, but you're doing your best to make sure that everyone else is taken care of.'"
3. The controversial finish on Wednesday percolated throughout the evening. Naz Reid fouled Marcus Smart, which caused Kyle Anderson to complain until he got a technical. Rudy Gobert twice drew the Celtics' ire: once for elbowing Brown in the mask and once for nudging Jayson Tatum in mid-air.
The former play angered Brown enough to draw a technical foul.
"I probably needed to get hit in the face to get me going a little bit," Brown told reporters after the game." I felt like Gobert was being a little bit reckless. I already got a broken cheekbone from JT, so when I got hit in the face, I reacted. I'm just glad we got the win."
The foul Gobert committed against Tatum earned the Wolves a flagrant just seconds after he received a technical for flexing on the Celtics after a big slam.
The flagrant against Gobert appeared well-earned (the technical, perhaps, was less so), but the Timberwolves got a tough whistle down the stretch. After Williams made his spectacular play to snag a loose ball, he won the jump but pretty clearly stole it by tapping it before the ball reached its peak, and Tatum tracked it down. His free throws essentially iced the game.
After a timeout, Anthony Edwards made a comment to an official and was ejected. Anderson then earned his second technical and joined Edwards on his walk to the locker room.
Per official Brian Forte, Edwards "was ejected on one technical for directly questioning the integrity of the officiating crew." Anderson, meanwhile, earned his technicals "for multiple profanities directed at the officiating crew."
"I just thought it was just rough," Timberwolves coach Chris Finch said. "You know, it was really rough out there. A little unbalanced at times."
It's probably worth noting that Mazzulla traversed the length of the court attempting to call a timeout when Williams jumped on the ball, but that the officials didn't give him the timeout. Whether that had anything to do with their decision not whistle Williams for stealing the jump ball is anyone's guess.
4. To Mazzulla's credit, he kept his extreme deadpan sense of humor following the game when a reporter asked about his timeout.
"Don't ever say I didn't call one," he quipped. "… I don't know if they didn't see me. I couldn't tell if Grant had the ball. I was just trying to call one."
5. Marcus Smart had a lackluster shooting night, finishing 4-for-12 from the field, but he finished two crucial layups down the stretch that helped the Celtics hold the Timberwolves at arm's length. A few hours after calling his defensive performance this year "mediocre," Smart was solid on that end as well.
6. Brown told reporters he and Tatum have been spending more time together as the season winds toward the playoffs, partly in an effort to improve their communication.
"It's improved and improved down the line," Brown said. "We [are] all in this together, man. It's not about who's scoring the most points. It's about who's getting the win at the end of the night, especially this time of year, so I think that's all we're really focused on, and we've just got to keep that the emphasis."
The Celtics take on the Trail Blazers on Friday.
Loading…




2023-03-16 12:36:00