On the opening night of the Cannes film festival the guests gather for the premiere of Jeanne du Barry, a historical romp. It is the tale of a courtesan (played by the film's director, Maïwenn) who catches the eye of a libidinous king and thereby flies in the face of propriety and good taste. The palace, we learn, is a place thick with intrigue, byzantine protocols and ridiculous rules that make no discernible sense. "It's grotesque," says one character. "No, it's Versailles," says another.
The royal court has its troubles – and so too does Cannes, where the traditional grand unveiling was all but derailed by the arrival of Johnny Depp, a Hollywood star dogged by allegations of domestic abuse whose performance as King Louis XV is his first leading role in a little over three years. Most critics were outraged but the festival was unmoved. Cannes shrugs off cancel culture and tends to lean into a fight. It figures that controversy is good for business and keeps us all on our toes.
"I first came to Cannes in 1992, accidentally," Depp told reporters after he had toured the red carpet. "And it was an absolute circus like nothing I'd ever seen. And it remains that today – which is a good thing, I think."
Peer from one Croisette balcony and the place is a palace. Peer from another and it's Barnum and Bailey's big top, with all of the clowns falling out of their car and the elephant dung piled high, centre stage. Some people detest it, which is a perfectly valid response, because it's chaotic, enraging and wilfully perverse. But it is also bracing and challenging and quite often sublime. I love it, I hate it: sometimes within the same breath. It's always struck me as amusing that Cannes once clutched its pearls and kicked out Lars von Trier. If Von Trier were a festival, he'd be this one right here.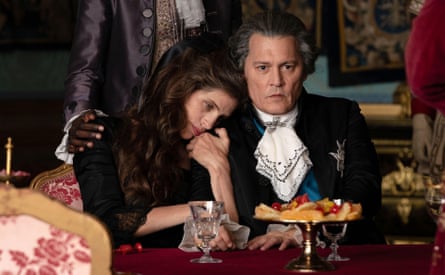 The first days are a gallop. The guests are toiling to keep pace. The schedule seems at pains to cater to every taste, every time frame. Those with a spare four hours on their hands can immerse themselves in Steve McQueen's Occupied City, a monumental, cross-cutting portrait of Amsterdam which shows the ghosts of the war years still haunting the canalside streets and picnic spots of today. Those on a stopwatch are better served by Pedro Almodóvar's Strange Way of Life, a 30-minute queer western. Dancing in the shadow of Brokeback Mountain, this casts Ethan Hawke and Pedro Pascal as ill-starred lovers in the one-horse town of Bitter Creek.
This year's jury president is the Swedish director Ruben Östlund, a two-time Palme d'Or winner for 2017's The Square and 2022's Triangle of Sadness. He tells me that Cannes is unique in the way it's able to balance both sides of the industry: the multiplex and the arthouse, the large with the small. "So you have this big commercial presence here on the Croisette. But then you also get the small Iranian film shot on a cheap DV camera – and the organisers will give it the exact same amount of attention."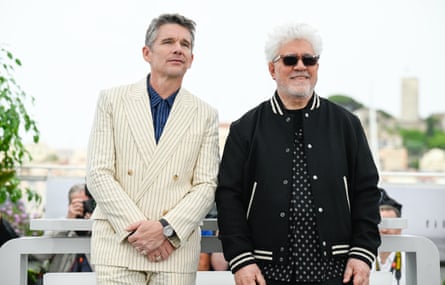 No doubt Östlund's right. A random glance at the programme throws up some wild juxtapositions. On the first Friday, for instance, blockbuster fans happily fill their boots at the premiere of Indiana Jones and the Dial of Destiny, in which 80-year-old Harrison Ford prepares to join battle with a band of ex-Nazis. Anyone requiring a more shaded and troubling film on a similar subject, though, would be advised to beat a path to Jonathan Glazer's The Zone of Interest, a romantic drama that incongruously plays out on the edge of Auschwitz. Turn one way, you're in heaven. Turn the other, it's hell.
First off the rank in hunt for the Palme d'Or comes Catherine Corsini's Homecoming, a decent bantamweight contender, uncovering buried family trauma on the island of Corsica. It's crisply performed and engagingly handled, gently tackling themes of gender, race and class politics. All the same, I fear that Corsini's picture may finally be too tasteful and underpowered to properly trouble the judges.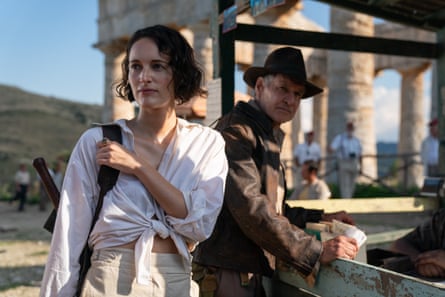 Then we have Jean-Stéphane Sauvaire's Black Flies, a musclebound New York paramedic drama that cruises the same terrain that Martin Scorsese mined more effectively with Bringing Out the Dead. Tye Sheridan plays Cross, the sensitive young rookie who they say won't last two weeks. Sean Penn is Rut, gravel-voiced and leather-skinned, who's hellbent on teaching the new kid the ropes. Setup complete, Sauvaire proceeds to follow these two on their nocturnal rounds, keeping the red lights spinning and his handheld camera up close. But his film suffers from a virulent case of sentimental machismo. Fetch the jump-leads, by God, it's losing energy by the mile. "You can't save everyone," Penn rasps at one point. Judging by its symptoms, I don't think Black Flies is going to make it.
Monster, by contrast, boasts a more robust constitution. Hirokazu Kore-eda's film hinges on an altercation between a troubled student and a callow schoolteacher; an event that quickly threatens to consume everybody involved. But having initially established the crisis, Kore-eda pulls back; repositions. He frames the action from the perspective of the mother, the child and the teacher, so that his intimate human drama takes on the properties of a procedural thriller. Who's lying, he's asking. What is the real story here? Monster is at its most powerful during its fraught opening half, when we're lost in the thicket, trying to make out the woods from the trees. Arguably it becomes less charged and successful when it belatedly steps in to explain. Sometimes the great mysteries are the ones that remain unresolved.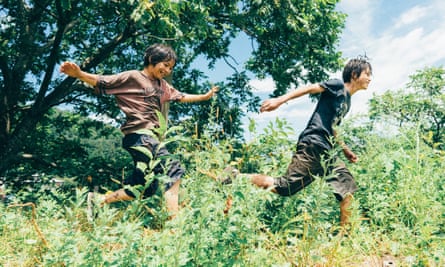 Out on the press terrace, writing this piece, I'm waylaid by an amiable, wiry man by the name of Sy Sabata. Sy explains that he's of Romany heritage and a former Mr Universe, in town to raise funds for a big-screen biopic. He's come to discuss the project with a Norwegian producer but he's not exclusive and besides, the deal's not yet set in stone. He sizes me up and makes a snap decision. He says: "Would you like to write the story of my life?"
I've covered Cannes for years and I still can't pin it down. Great movies reveal fresh layers of mystery every time we see them. The best characters surprise us; that's what makes them so compelling. And if we applaud complexity in our films, why shouldn't we require that of our film festivals, too? Screenings thunder by like stampeding wildebeest on the plain. The scrum is so thick, I'm smelling 10 different armpits. This event contains multitudes. It contradicts itself and keeps going. It's dreadful and it's gorgeous. It's grotesque, it's Versailles.
Coming attractions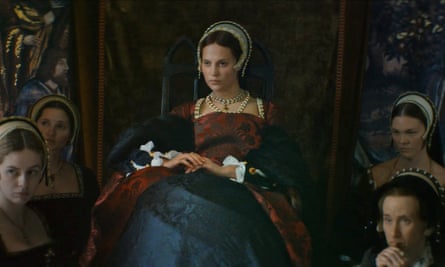 Firebrand, screens today
Jeanne du Barry, thank heavens, isn't the only royal saga in town. Karim Aïnouz's movie is reputedly a psychological horror dressed up in ermine, pitting Alicia Vikander's Catherine Parr against Jude Law's corroded, controlling King Henry VIII.
Phony Wars
Jean-Luc Godard – the festival's favourite son and its occasional tormentor – died last September but was working to the end. Cannes' equivalent of a state funeral is a screening of footage of the director's unfinished documentary, teasingly billed as "the trailer for a film that will never exist".
Close Your Eyes, tomorrow
Anyone who's seen Spirit of the Beehive will be agog with excitement over Víctor Erice's return. Close Your Eyes is the reclusive Spanish director's first feature in two decades and, fittingly enough, concerns a mysterious disappearance and the fevered speculation that follows.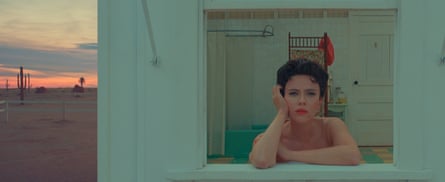 Asteroid City, Tuesday
Another Cannes, another perfectly mounted, freeze-dried diorama from writer-director Wes Anderson, this one about a stargazing convention in a dust-blown desert town. The ensemble cast provides a celestial spread of big names, from regulars Tilda Swinton and Ed Norton to new recruits Tom Hanks and Margot Robbie.


2023-05-20 12:00:00