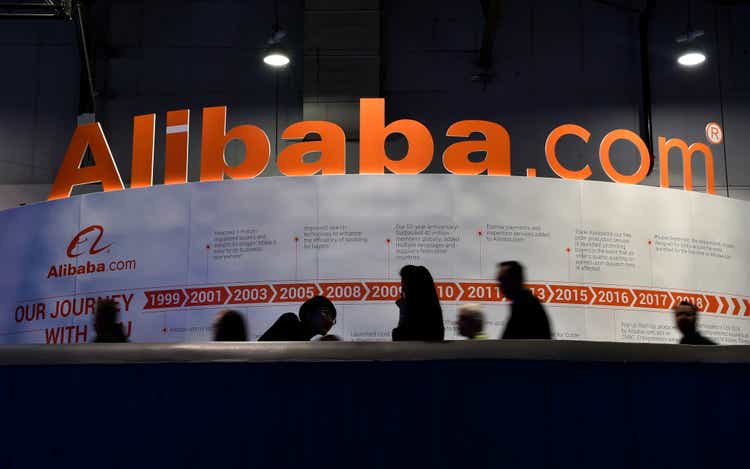 Article Thesis
Alibaba Group Holding Limited (NYSE:BABA) has reported its most recent quarterly earnings results on Thursday morning. The company beat estimates easily and showcased a big profitability improvement. Factoring in this underlying progress and its very low valuation, Alibaba Group stock continues to look attractive, I believe.
What Happened?
Alibaba Group reported its most recent results, for its fiscal fourth quarter and the full year 2023 on Thursday. The headline numbers can be seen here:

Alibaba's revenues came in at marginally above $30 billion, up slightly compared to the previous year's quarter, which was better than expected. At the same time, the company generated earnings per share of $1.56 (on a per-ADR basis), which was a lot stronger compared to what analysts had predicted, as the consensus estimate was beaten by around 15%.
Despite the double beat and the huge outperformance of profit estimates, Alibaba's shares did not move meaningfully following the earnings release. In pre-market trading, shares have been mostly flat.
Alibaba's Profitability Is Improving Quickly
While business growth has been valued highly during the pandemic, when money was very cheap and when many investors were chasing growth without looking at valuations, things have changed over the last year. Tighter financial markets and a steep increase in interest rates have made investors less growth-hungry and more focused on valuations and underlying profitability. While Alibaba's business growth isn't as strong as it was at times in the past, its profitability is improving rapidly.
During the fourth quarter, Alibaba Group saw its EBITA, or earnings before interest, taxes, and amortization, soar by 60% year-over-year. Note that depreciation expenses are accounted for here, unlike in the EBITDA metric. Alibaba's management also notes that adjusted EBITDA, where depreciation expenses are backed out, was up 37% year over year, climbing to $4.7 billion.
Like many other major tech companies, including US-based ones such as Alphabet (GOOG, GOOGL), Amazon.com, Inc. (AMZN), and so on, Alibaba Group had felt some profitability headwinds in the recent past. Over-hiring, rising compensation for engineers, and so on resulted in margin compression. But while the large U.S. tech companies are just turning around, Alibaba has been making considerable progress for a couple of quarters already, and its fourth-quarter results were way stronger than those from one year earlier.
Alibaba's adjusted net profit was up by an attractive 38% year-over-year, climbing to $4.0 billion, or $16 billion annualized. For a company that is valued at $230 billion, that's a pretty solid result. The story gets even better when we account for the fact that Alibaba's fiscal Q4 was a seasonally weaker quarter, however. During the last four quarters, i.e., during Alibaba's fiscal 2023, the company generated adjusted net profits of $21 billion. That makes for an earnings multiple of around 11. Alibaba's net profits during the fiscal year were up 4% compared to the previous year. The growth rate thus was stronger during the most recent quarter, indicating that momentum is on BABA's side. If that trend remains intact, Alibaba could generate substantially higher profits this year, all else equal.
On a per-share basis, Alibaba earned $7.94 during the last twelve months, which was up 4% year over year – in line with the company-wide net profit growth rate. That was a somewhat underwhelming result, considering Alibaba is currently authorized to buy back $25 billion worth of its own shares, or more than 10%. At least so far, Alibaba's buybacks have not lowered the share count meaningfully, thus all they do is offset dilution via share issuance to employees and management. While offsetting dilution is a good thing as well and helps prevent the share count from climbing, investors generally want to see a pronounced reduction in a company's share count when a big buyback program is in place. At least so far, that has not happened at Alibaba.
During the most recent quarter, Alibaba Group has spent $1.9 billion on share repurchases, equal to $7 billion to $8 billion per year. The vast majority of the current buyback authorization – $19.4 billion – is still in place and available for repurchases in the coming two years.
Since Alibaba generates around $25 billion of free cash per year (the result for fiscal 2023), Alibaba could easily ramp up its buyback pace from the current level. On top of that, the company also has a significant sum of dry powder that could be used to finance share repurchases going forward. At the end of the fourth quarter, Alibaba Group's cash and equivalents totaled $82 billion. That does not only cover the current buyback authorization several times, but it also equals to a massive 35% of Alibaba's current market capitalization, making BABA's cash position one of the largest in relative terms in the broad tech industry. Apple Inc.'s (AAPL) famed cash position, for example, is just in the 10% range relative to the company's market capitalization.
Valuation And Macro Uncertainties
Alibaba's revenue growth isn't very pronounced, but that can likely be attributed to the fact that the company is prioritizing profitability right now. When a company spends less on acquiring new customers, revenue growth slows down, but margins can expand, for example. In the current environment, where investors have become less growth-hungry and want to see strong and resilient profitability, that seems like a good strategic move, I believe.
Based on its trailing results, Alibaba Group is pretty inexpensive – shares trade for around 11x net profits, which makes for an earnings yield of around 9%. Looking at free cash flows, the numbers look even better, as the 9x free cash flow multiple makes for an 11% free cash flow yield.
In order to factor in Alibaba's cash position, we can also look at the enterprise value to EBITDA multiple, which is pretty low as well: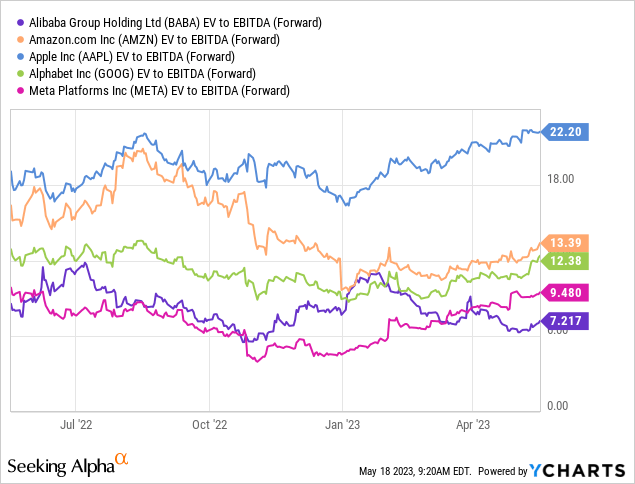 With a 7x EBITDA multiple, Alibaba looks very cheap, both in absolute terms and compared to how other tech mega-caps are valued. Meta Platforms, Inc. (META) trades at a single-digit EBITDA multiple as well but is around 30% more expensive. Alphabet, Amazon, and Apple are way more expensive.
Of course, the macro situation is different for Alibaba relative to its American peers, which justifies at least some valuation discount – although I do not believe the discount should be as large as it is. With the looming Taiwan conflict and other China-related macro risks, Alibaba could be negatively impacted in case the macro situation worsens. That being said, at least some American companies would be very hard hit by an escalating Taiwan conflict as well, such as Apple, which depends on China for manufacturing and as an end market – but Apple's stock is not subject to a macro risk discount at all. The same could be said about Tesla, Inc. (TSLA), which is also very China-dependent, and which still trades at a very elevated valuation. Seemingly, the market believes that China-related macro risks should be factored into BABA's share price, but not into the share price of other companies that would be hit hard by the same macro risks.
Takeaway
With the planned split-up of the company, the foreseeable future will be eventful for shareholders of Alibaba Group Holding Limited. It remains to be seen how this will ultimately play out, but generally, I like the idea of splitting up the different businesses in order to unlock hidden value. I believe that the sum of the parts is worth a lot more than the $230 billion Alibaba is trading at right now.
While the upcoming split-up and news surrounding that theme will likely be important for Alibaba Group Holding Limited's share price, it's pretty nice to see that the company is also performing well operationally. Q4 results were strong on a profit basis, and the company also generated higher sales than expected.
The buybacks were a bit of a letdown, however, as Alibaba Group Holding Limited's share count didn't really shrink, and since BABA has spent a lot less on buybacks than it could have, considering its massive cash flows and hefty cash hoard.
Editor's Note: This article discusses one or more securities that do not trade on a major U.S. exchange. Please be aware of the risks associated with these stocks.


2023-05-18 14:30:01