There has been a cavalcade of interest in St. Louis' Major League Soccer expansion franchise, which by all accounts has been a smash success at the gate, in merchandise sales and in fan appeal.
City SC's popularity as a television draw, however, has remained a secret because all 11 of its matches have been streaming-only productions, shown on Apple TV+. Some have been available for free to Apple customers, but others have been behind a paywall. Nielsen, which measures television viewership, does not track any of these Apple games — and neither Apple nor MLS say how many people are watching.
But City SC won't remain a TV mystery much longer for many of its fans, or potential fans, who still have cable. Its match Saturday, at home against Kansas City, will be shown on a familiar channel — FS1 — as well as being available for free on Apple TV+.
The same feed for City's match will be used on both outlets, but with different announcers. For Apple, Jake Zivin has the play-by-play and native St. Louisan Taylor Twellman is the commentator, joined by Jorge Perez-Navarro and Marcelo Balboa. For FS1, Nate Bukaty does the play-by-play with former U.S. national soccer team goaltender Tony Meola providing commentary.
The contest starts more than an hour later than usual for a City SC home contest, probably not until 8:55 p.m. That's because FS1 has NASCAR coverage before that, starting at 6 p.m. with qualifying for Sunday night's Cup Series All-Star race, followed by a lengthy soccer pregame show.
City SC will be making the first of its three appearances this season on a conventional television channel. Also on tap is June 11, a noon contest against the Los Angeles Galaxy (on KTVI, Channel 2) and the Aug. 20 game, at 8:30 p.m. against Austin (on FS1). Those also are home contests.
MLS has moved its games to Apple this season under a 10-year deal, with a handful of its contests also sprinkled across FS1 or Fox (Channel 2 locally).
In addition to not releasing ratings figures for individual matches, the league and Apple have not said how many people are buying the MLS package — for which Apple TV+ customers are charged $12.99 per month or $79 for the season ($14.99/$99 for those who do not subscribe to Apple TV+).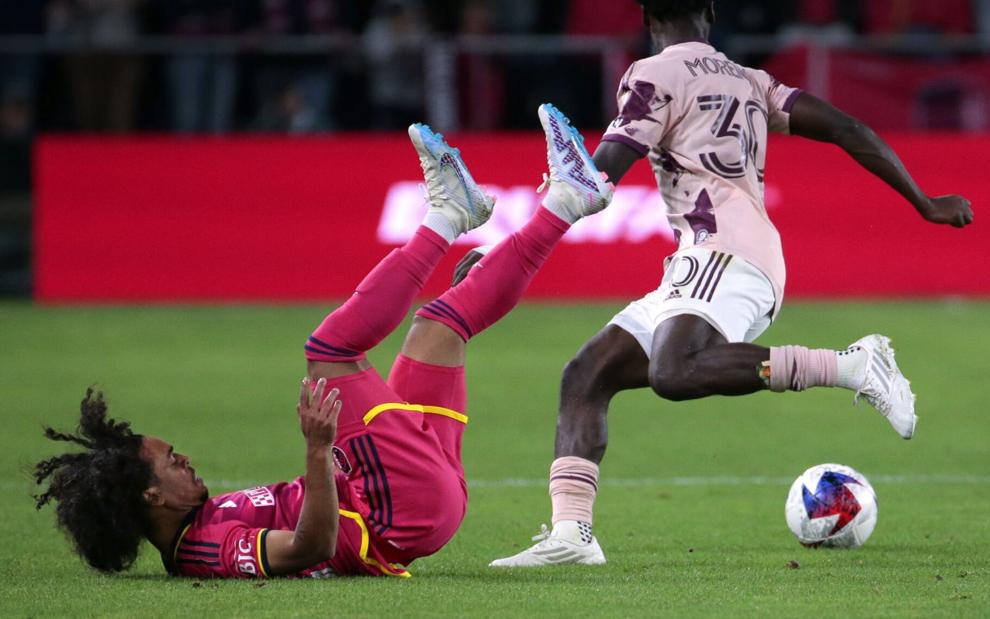 But Apple announced a few days ago that it is offering a one-month free trial of the package, something that many industry observers see as a sign that it could be concerned about how sales have gone.
THE STREAM RAPIDLY RISES
Streaming is here to stay for a long time and continues to grow — massively.
Major League Baseball, the NHL and European soccer have streaming-only games, with the biggest firestorm created locally by such coverage being the outcry last season when Albert Pujols' milestone 700th career home run took place in a Cardinals game available only on Apple TV+, not any conventional television outlets.
Then last season the NFL sent "Thursday Night Football" from Fox to Amazon under an 11-year deal that reportedly is worth $1 billion annually to the league. Until this week that was the biggest such move yet by any American sports league. But on Monday the NFL announced that a playoff game next winter will be shown only on Peacock, the streaming platform of NBC Sports, other than in the markets of the teams involved in the contest where it also will be shown locally.
It will be a wild-card game on Jan. 13, 2004, a Saturday, played in prime time. That will be the first time an NFL postseason game will be shown only via streaming to the vast majority of the nation. Peacock also has an NFL regular-season game exclusively — Buffalo-LA Chargers on Dec. 23.
"Expanding the digital distribution of NFL content while maintaining wide reach for our games continues to be a key priority for the League," NFL executive vice president and chief operating officer of NFL Media Hans Schroeder said in a statement. "And bringing the excitement of an NFL playoff game exclusively to Peacock's streaming platform is the next step in that strategy."
Peacock has exclusive streaming rights to some MLB games, Notre Dame and Big Ten football and Big Ten basketball contests, Premier League soccer matches as well as some tennis, golf, cycling and IndyCar events. But an NFL playoff game will be the biggest coup for not only that platform, but for any streamer.
"As Peacock continues to grow, nothing says 'must-have' programming more than live NFL games," Peacock president Kelly Campbell said in a statement.
BSM's PANG SEEKS NEW DEAL
Lead Blues television analyst Darren Pang's contract with Bally Sports Midwest has expired, and he's hopeful of receiving a new deal that he and his agent are seeking.
"We have not received an offer at this point," Pang said Thursday. "Our expectation is that we will, and that could be any day now."
BSM officials would not comment about contract talks, but it is believed they hope to have their entire Blues broadcast team back next season.
Bally Sports Midwest parent company Diamond Sports Group, a division of Sinclair Broadcasting, is in bankruptcy but it has been business as usual in St. Louis despite troubles elsewhere. BSM is one of 19 Sinclair regional sports networks.
"I'm optimistic," Pang said. "But I do understand business."
BSM Blues play-by-play announcer John Kelly is under contract for next season. The radio broadcasters work for the team.
Pang, a popular figure in St. Louis for the nearly decade and a half he has been broadcasting the Blues, said he has been contacted by other organizations about his availability. But his goal is to stay put.
"Absolutely," he emphatically said. "My No. 1 priority is staying in the city and being with the team I've been with for 14 years."
Pang has moonlighted as a national NHL broadcaster for many years and currently is with TNT. He said he is close to signing a three-year extension there, and his next job with a team must allow him to continue filling that role.
"No matter what I'm doing, it will be tied to TNT," he said.
Pang is not part of that network's coverage of the Eastern Conference finals that are taking place now, but was involved in the first two rounds of the playoffs and will be on the crew covering the Stanley Cup Final in a variety of capacities.
"That will be a lot of fun," Pang said.
XFL FINALE
St. Louis led the XFL in attendance and television viewership in the regular season, but with the Battlehawks falling just short of making the playoffs the Gateway City came in 13th nationally in ratings for the league title game.
Nielsen, which measures viewership, says that 1.3% of the market tuned in to KDNL (Channel 30) to see Arlington upset (Washington) D.C. for the crown.
Interesting, the two top-rated markets for ABC's telecast do not have XFL teams — Oklahoma City (3.6) and Tulsa (3.1). But there is a caveat. Arlington was coached by Bob Stoops, a favorite son in Oklahoma who coached the Sooners for many years and led them to the national title for the 2000 season. Washington was third, at 2.3.


2023-05-19 12:00:00