LAS VEGAS — In back-to-back seasons, the Arizona Wildcats will compete for a Pac-12 Tournament championship. 
Second-seeded Arizona took down rival and No. 6 seed Arizona State 78-59 in the Pac-12 Tournament Friday night, the first meeting in postseason play between the Wildcats and Sun Devils since 2009. 
Here are five takeaways from the Wildcats' latest triumph as they turn their focus to the championship game against No. 1 seed UCLA on Saturday night at T-Mobile Arena.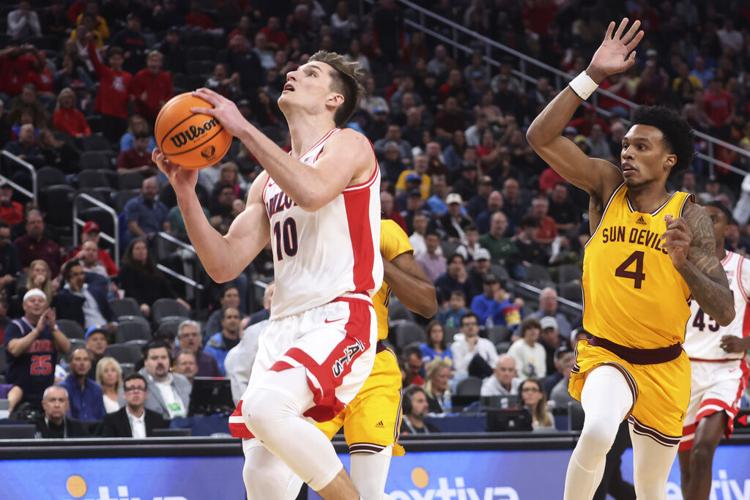 1. Learning from past, dominating paint
Just call them the Arizona Avengers. 
In revenge games against Pac-12 opponents this season, the Wildcats are 5-0. After falling to ASU in Tucson just a couple of weeks ago courtesy of Desmond Cambridge Jr.'s 60-foot buzzer-beater, the Wildcats handed their in-state rival a 19-point loss. 
"We have a great coaching staff that's willing to adapt," said Arizona wing Pelle Larsson, who finished with 11 points on 4-for-7 shooting. "We don't want to be grumpy and stick to our ways. Every time we lose, we watch film and learn something, and that shows how we're willing to adapt to win."
Arizona smothered ASU 40-22 in points in the paint, adding to the Wildcats' 54-22 advantage over Stanford on Thursday; the UA is plus-50 in paint points in two Pac-12 Tournament games. In those two games, Arizona's frontcourt duo of Azuolas Tubelis and Oumar Ballo have combined for 75 points on 34-for-46 shooting from the field and 33 rebounds. 
"Obviously it's how we like to play, and when you got two bigs like we have, I think the smart thing is to feed 'em," Arizona coach Tommy Lloyd said. 
Up next: another revenge game; Arizona faces top-seeded UCLA for the conference championship on Saturday night. 
"We lost to them and we felt like we made a lot of mistakes, so limiting those mistakes in this game would be great," Larsson said. 
"We're playing for a championship, not just revenge, so we're very excited."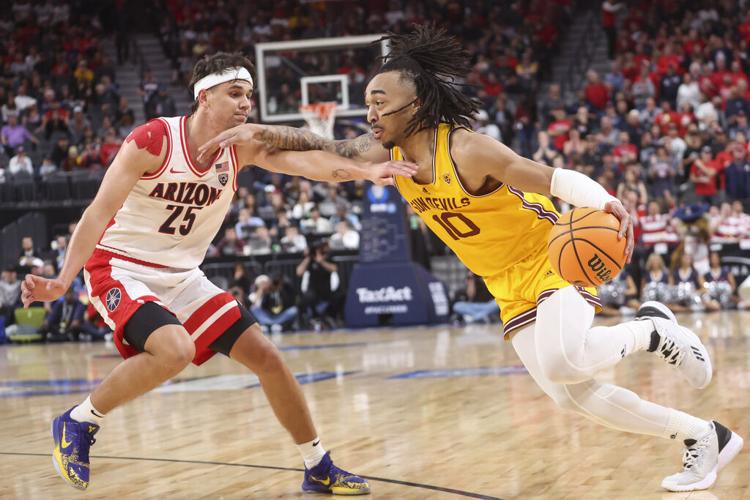 2. Kriisa: tape but no turnovers
Arizona point guard Kerr Kriisa wore red "KT tape" on his right shoulder after enduring an injury in the first half of the Wildcats' quarterfinal win over Stanford. 
"It holds it a little bit better, but honestly I just do whatever my medical staff tells me," Kriisa said. 
Kriisa, who shot a free-throw left-handed late against Stanford, scored five points on just 1-for-7 shooting from 3-point range. However, he added seven assists, three rebounds and no turnovers. 
"This time of the year, you put the team ahead of yourself," Kerr said. "If I started being moody, then it would've let the whole team down, so I just went out there and did the best I could." 
Once the adrenaline from Thursday wore off, Kriisa's shoulder "was definitely sore, especially in the morning." 
"In the morning, it wasn't the best," he said. "But I have the best training staff and medical staff here."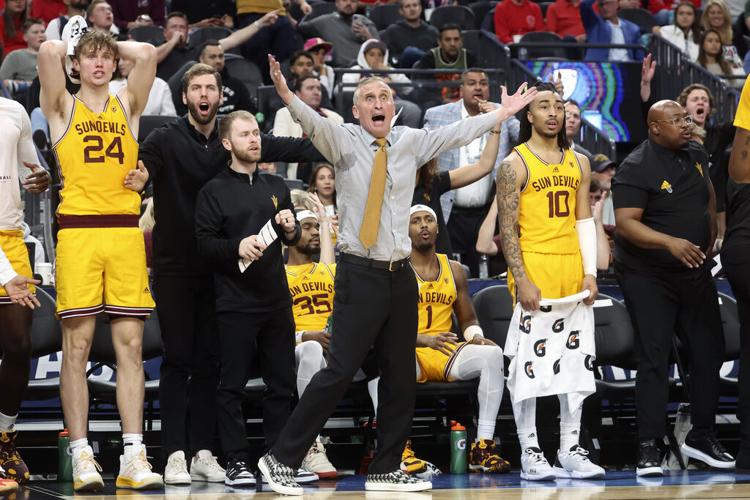 As a "bubble" team, the Sun Devils fought for their postseason lives in the Pac-12 Tournament, and it just might be enough to qualify for an at-large bid for the NCAA Tournament. 
ASU (22-12) is currently projected as the "last team in" in the NCAA Tournament, albeit being listed as "too close to call," per ESPN bracketologist Joe Lunardi. As of Friday night, Lunardi has ASU, Utah State, Pittsburgh and Rutgers as the last teams to secure at-large bids for the NCAA Tournament.
Lloyd believes the Sun Devils are a "tournament-worthy" team. 
"I know this … if you match up with them in the NCAA Tournament, you're not going to sleep good," he said. "They are a difficult team to play against, and I think that's a team that can win NCAA Tournament games without a doubt in my mind." 
ASU coach Bobby Hurley pleaded the Sun Devils' case as a team worthy of making the NCAA Tournament during his postgame news conference Friday. 
"We've demonstrated that we could go away from our home court and win, and that's a major priority in the NCAA Tournament. We have seven true road games, road wins, we're 5-1 on a neutral court. (And) we won 22 games in a power conference," Hurley said. "How much more do you really have to do? … So I'm hopeful with all the things I stated that we would have a really, really good chance to get in the NCAA Tournament."
4. 'Vegas Ced' rises in postseason play
Arizona forward Cedric Henderson Jr. is averaging 18.5 points and four rebounds in the Pac-12 Tournament.
Lloyd dubbed Henderson, the graduate transfer from Campbell, "Vegas Ced." 
"He's been awesome. He's been great. … He's one of those guys you wish you had for a couple years," Lloyd said. "But he kept climbing, and he's earned everything he's gotten in our program. He just keeps getting better and better and better. I know this: I'm super comfortable and confident when he's on the court."
Henderson said "pressuring the ball" has led to his impactful production on the offense end. 
"Being aggressive defensively and crashing the board hard allowed me to be more aggressive," Henderson said. "Kind of puts you in a mindset to play as hard as possible. And it just works out."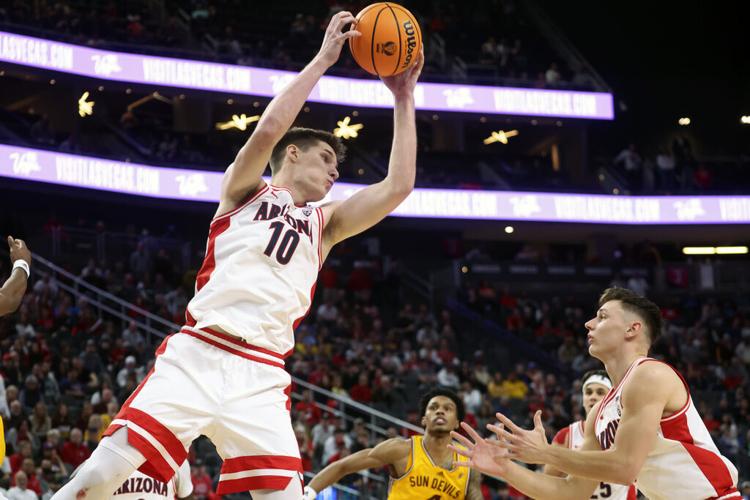 Arizona and UCLA: the two inseparable (for now) West Cast powers meeting up in the Pac-12 Tournament again. Together, the Wildcats and Bruins have won a combined 12 conference tournament championships — and are about to make it 13 on Saturday in the championship bout between the two top-seeded Pac-12 teams — going back to 1987. 
Since the Pac-12 Tournament was moved from Los Angeles to Las Vegas in 2013, Arizona and UCLA have battled each other six times in the postseason, with Saturday marking the seventh.
The first contest in '13 was UCLA's controversial 66-64 win, when Arizona point guard Mark Lyons was called for a double-dribble. But film showed UCLA's Jordan Adams knocking the ball away, resulting in UA coach Sean Miller's famous "he touched the ball" rant in the postgame news conference. The following year, the Bruins beat the Wildcats in the Pac-12 Tournament championship game. Since then, Arizona has won four straight against its longtime conference rival in Las Vegas, including the come-from-behind victory in the 2022 title game.  
"Everyone wants to see it, not going to lie," Jaquez said. "UCLA and Arizona, two top dogs in the Pac-12, and it's always a show. It's always fun to play. I love playing them."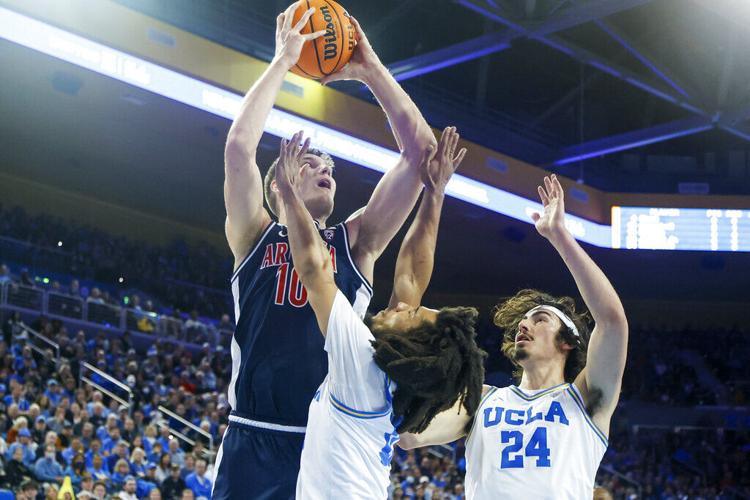 Saturday's conference title game is also the first matchup between the Wildcats and Bruins since Jaquez edged Tubelis for Pac-12 Player of the Year, despite Tubelis leading the conference in scoring and rebounding, the first player to accomplish that feat since Leon Powe (Cal) in 2006. 
Jaquez, who's averaging 17.4 points and eight rebounds per game this season, said Tubelis is "a hard player to guard, because he's underratedely fast." 
"He's very quick, and a lot of people don't give him enough credit for his quickness and how he catches, rips and runs the floor. The way he gets his buckets is a lot different," Jaquez said. "He runs the floor and gets into open spots. He's good at getting open, and his teammates are really good at finding him. It's hard to guard.
"He's unique. He's 6-11, but he's mobile — very mobile. A lot of guys that height, you can just stick him in the post, but he can rip and drive — and he's a really good driver." 
Said Tubelis of the matchup with Jaquez: "He's a really good player, and he's really crafty. It's hard to stop him, because if you make a small mistake, he'll shoot over you. If I remember correctly, he guarded me at UCLA, so it was pretty hard. He pressured me every time I got the ball. … He gives you a lot of contact, he spins and has a great shot. I mean, he's the Pac-12 Player of the Year."

Tommy Lloyd, Cedric Henderson and Azuolas Tubelis discuss Arizona's win over Arizona State in Pac-12 Tournament
Photos: No. 2 seed Arizona Wildcats vs. No. 6 seed Arizona State Sun Devils in Pac-12 Tournament semifinals
P12 Arizona Arizona St Basketball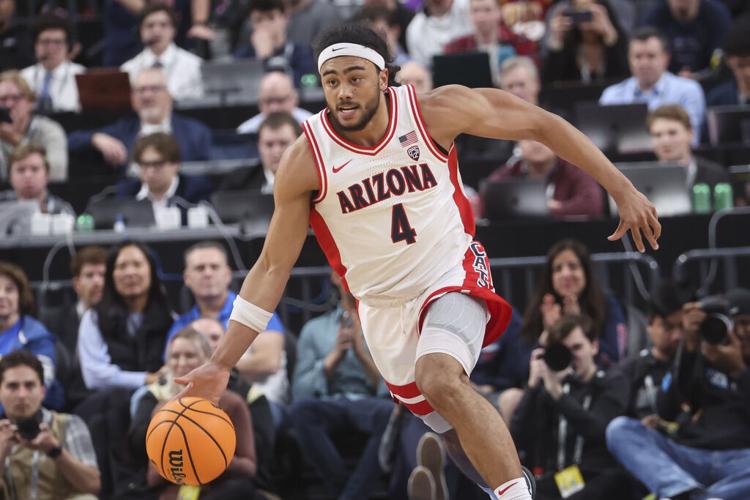 P12 Arizona Arizona St Basketball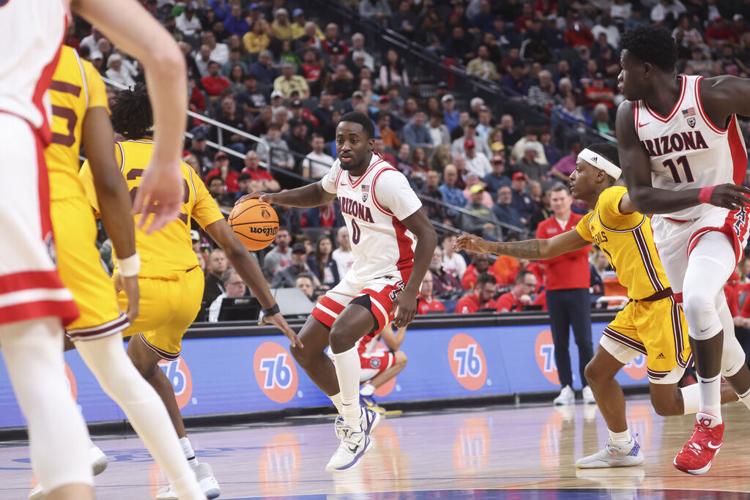 P12 Arizona Arizona St Basketball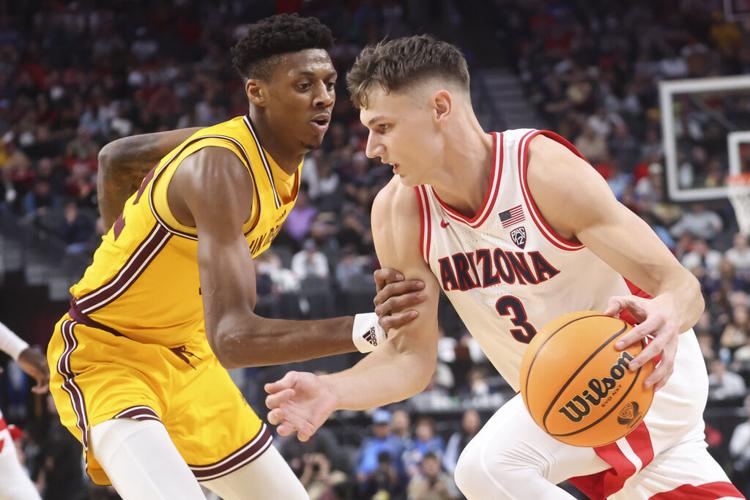 P12 Arizona Arizona St Basketball
P12 Arizona Arizona St Basketball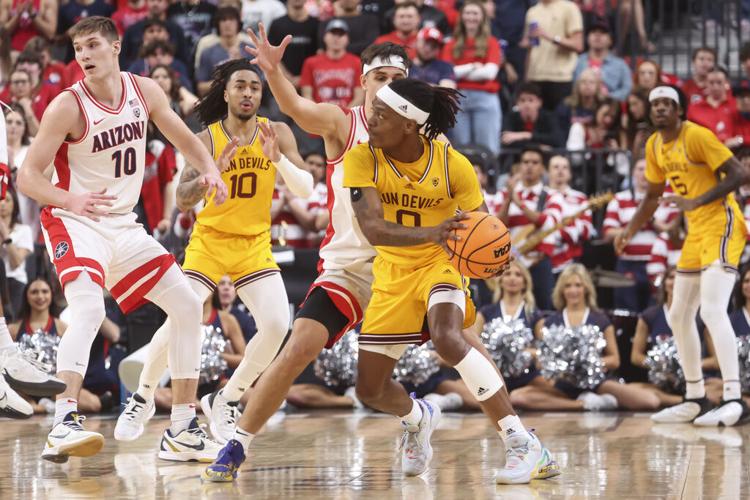 P12 Arizona Arizona St Basketball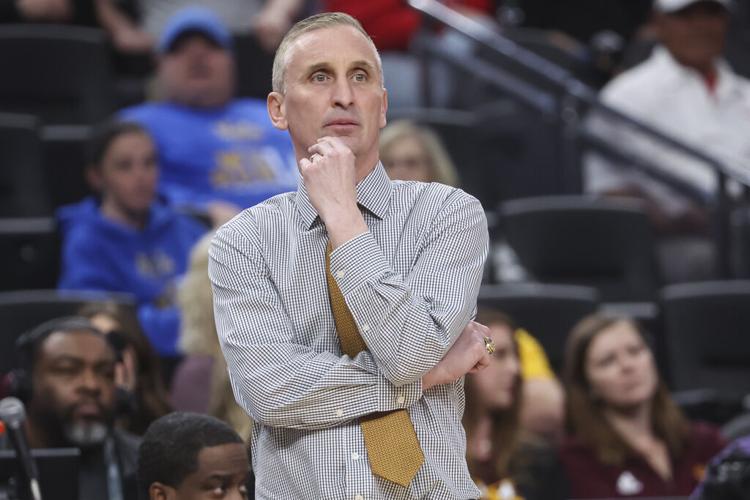 P12 Arizona Arizona St Basketball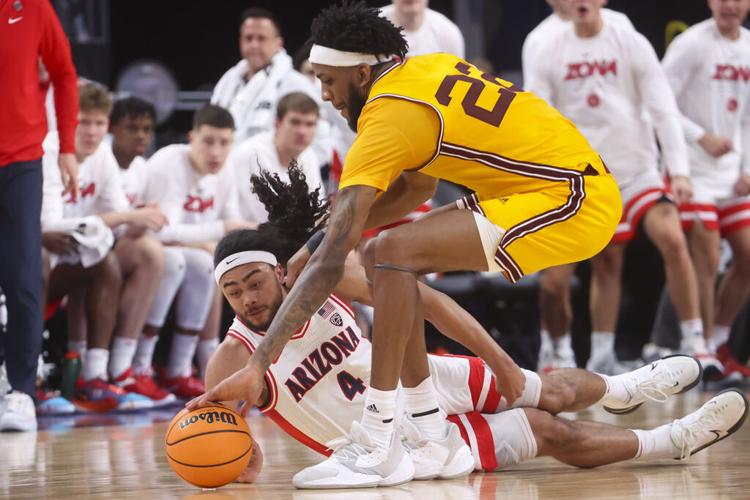 P12 Arizona Arizona St Basketball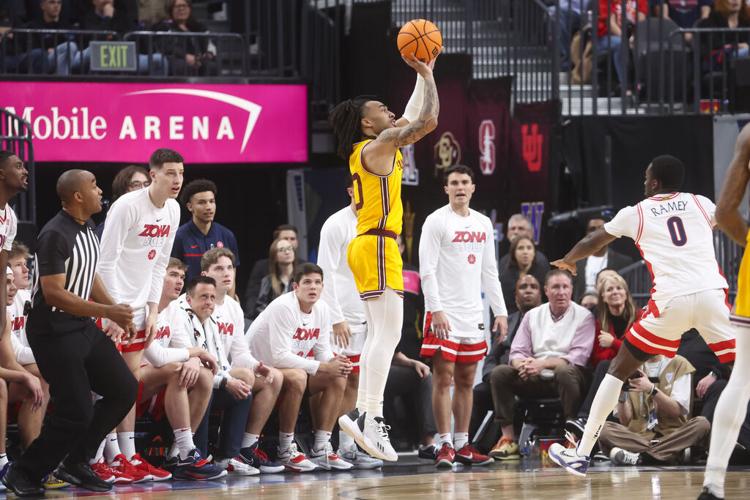 P12 Arizona Arizona St Basketball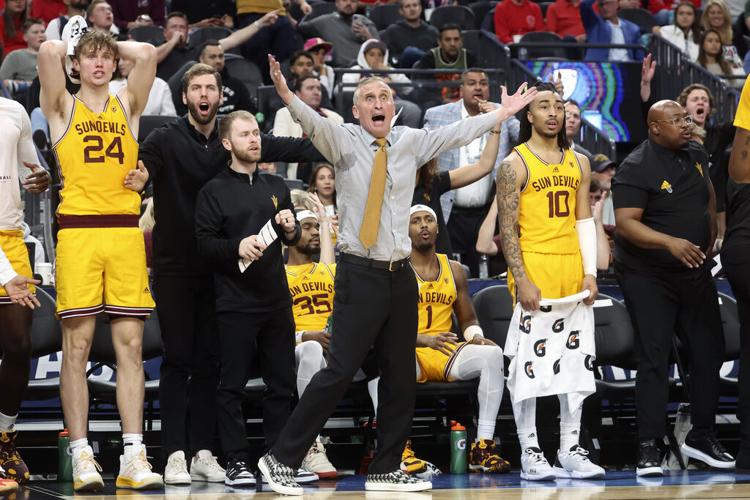 P12 Arizona Arizona St Basketball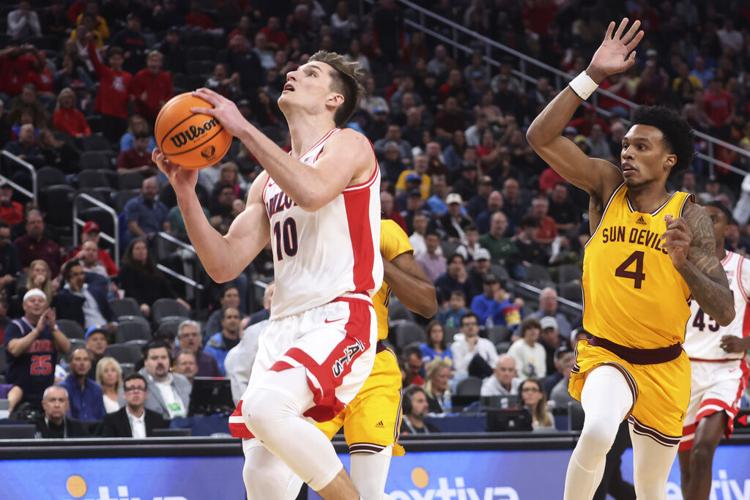 P12 Arizona Arizona St Basketball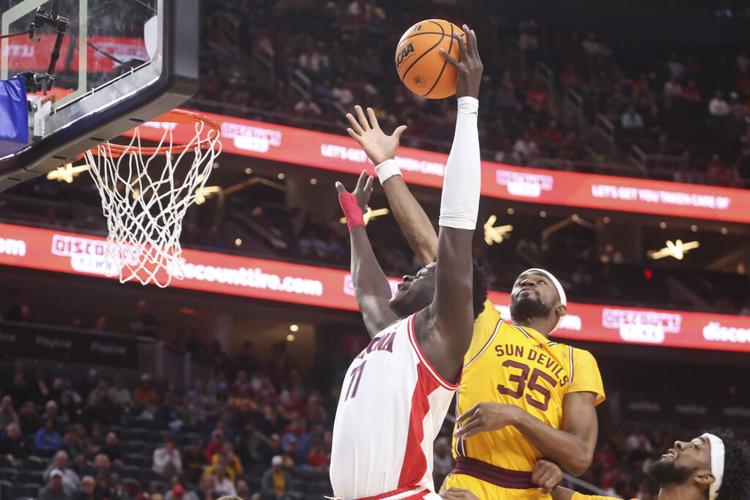 P12 Arizona Arizona St Basketball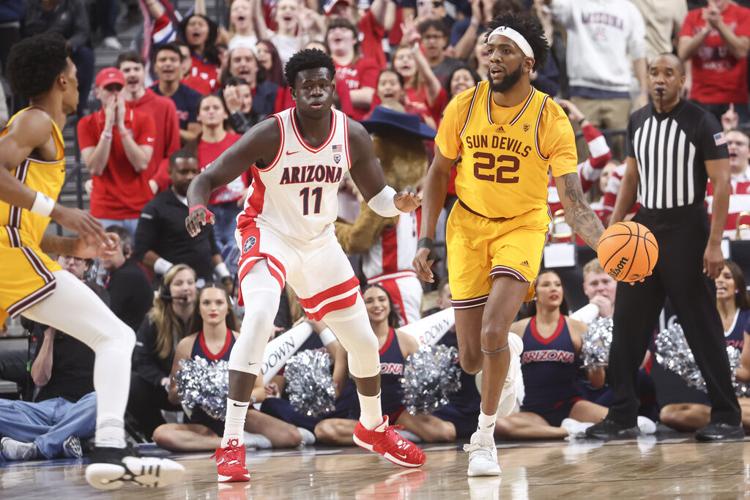 P12 Arizona Arizona St Basketball
P12 Arizona Arizona St Basketball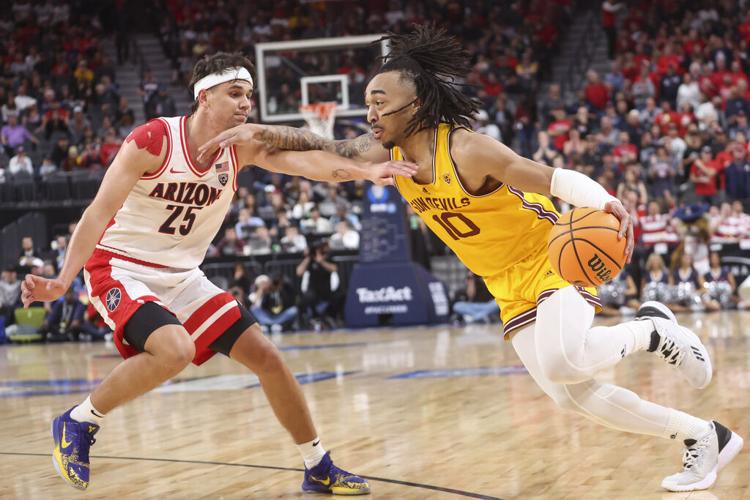 P12 Arizona Arizona St Basketball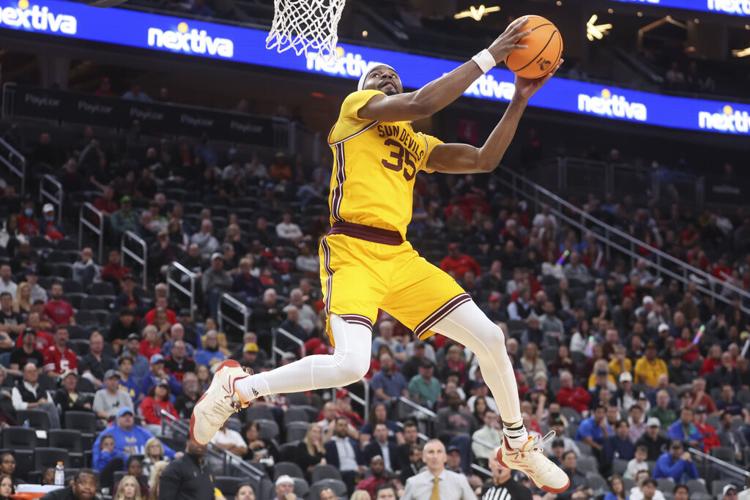 P12 Arizona Arizona St Basketball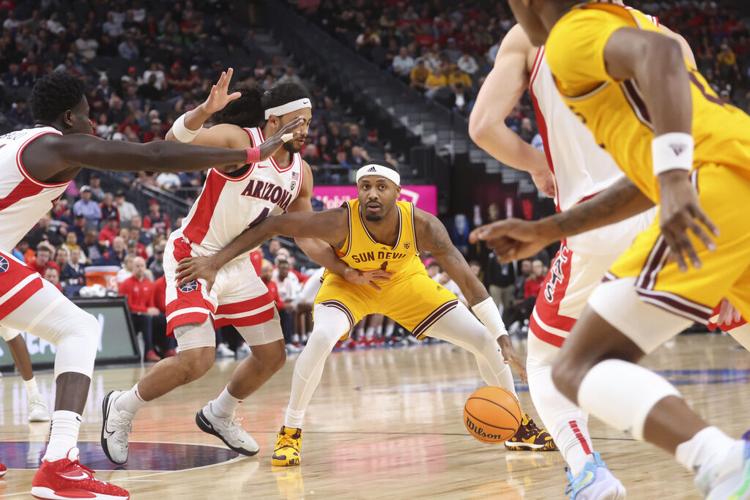 P12 Arizona Arizona St Basketball
P12 Arizona Arizona St Basketball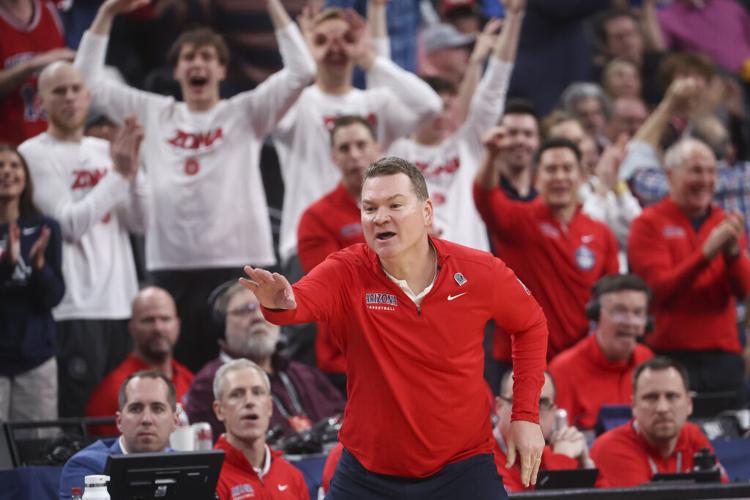 P12 Arizona Arizona St Basketball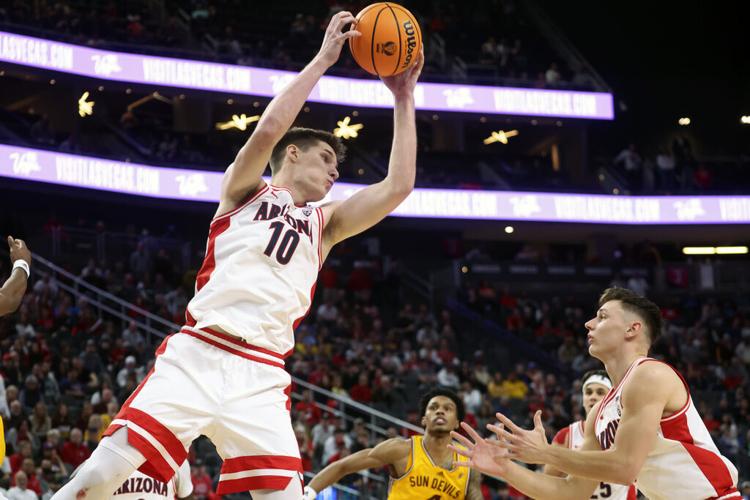 P12 Arizona Arizona St Basketball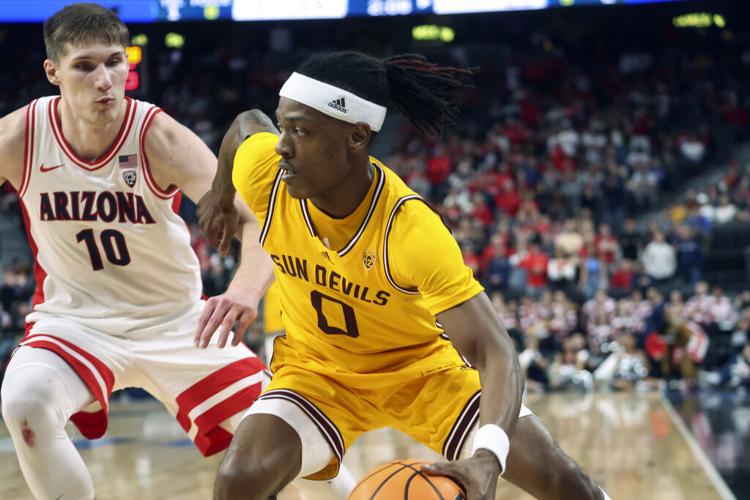 P12 Arizona Arizona St Basketball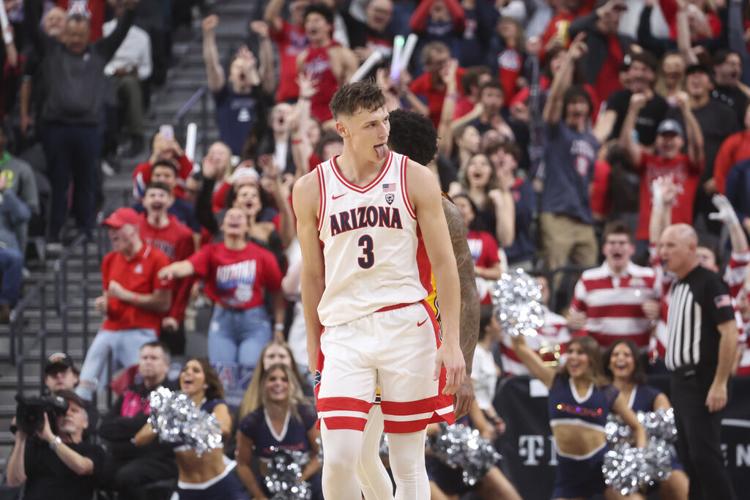 P12 Arizona Arizona St Basketball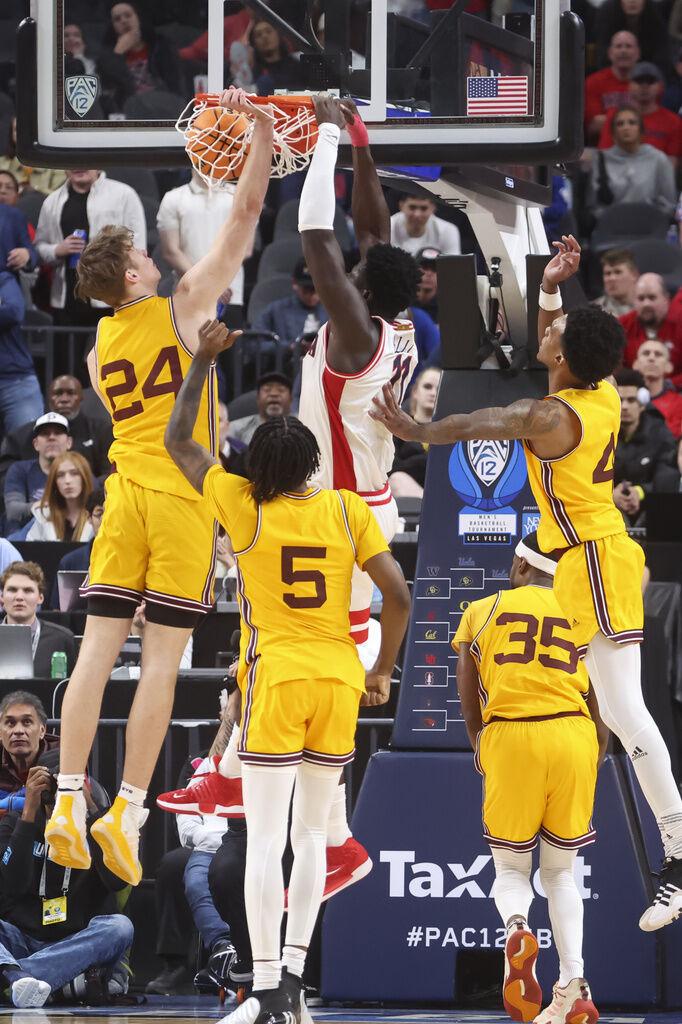 P12 Arizona Arizona St Basketball
P12 Arizona Arizona St Basketball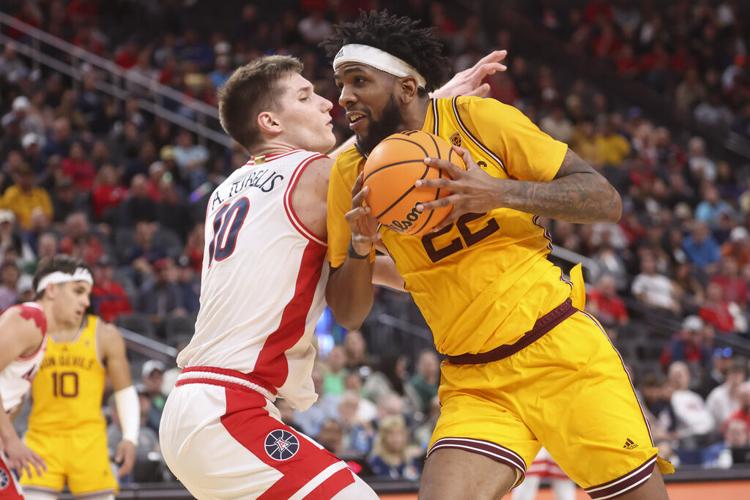 2023-03-11 16:45:00