Had a soundbar on your wish-list for a while but not sure whether it's really worth a spot in front of (or below) your TV? After all, TVs do have speakers, right? 
The thing is, the drivers and amplification modules squirrelled away within the razor-thin bezels of even the best TVs for sound can't handle your movie soundtracks, action scenes and whispered moments of intense dialogue anywhere near as well as a standalone speaker product. They can be good, they're just not that good – look at the size difference alone between a thin TV and a beefy soundbar. 
A simple and easy way to level up the sound coming from your TV is by selecting of the best soundbars we've tested – don't worry, there are budget models in the list. But take note, not all of these support Dolby Atmos. And Atmos is here to stay, folks… 
Dolby Atmos 'bars are a simple way to invite more cinematic magic into your home without a bunch of dust-gathering speakers cluttering it up. We've tested some of the best Dolby Atmos soundbars on the market, too, and although you will need to pay a little more for those overhead just-missed-me bullet effects, it's worth it. 
Oh you need more? Here's why a Dolby Atmos soundbar should be on your wish-list.
1. A soundbar is hands-down the easiest path to Dolby Atmos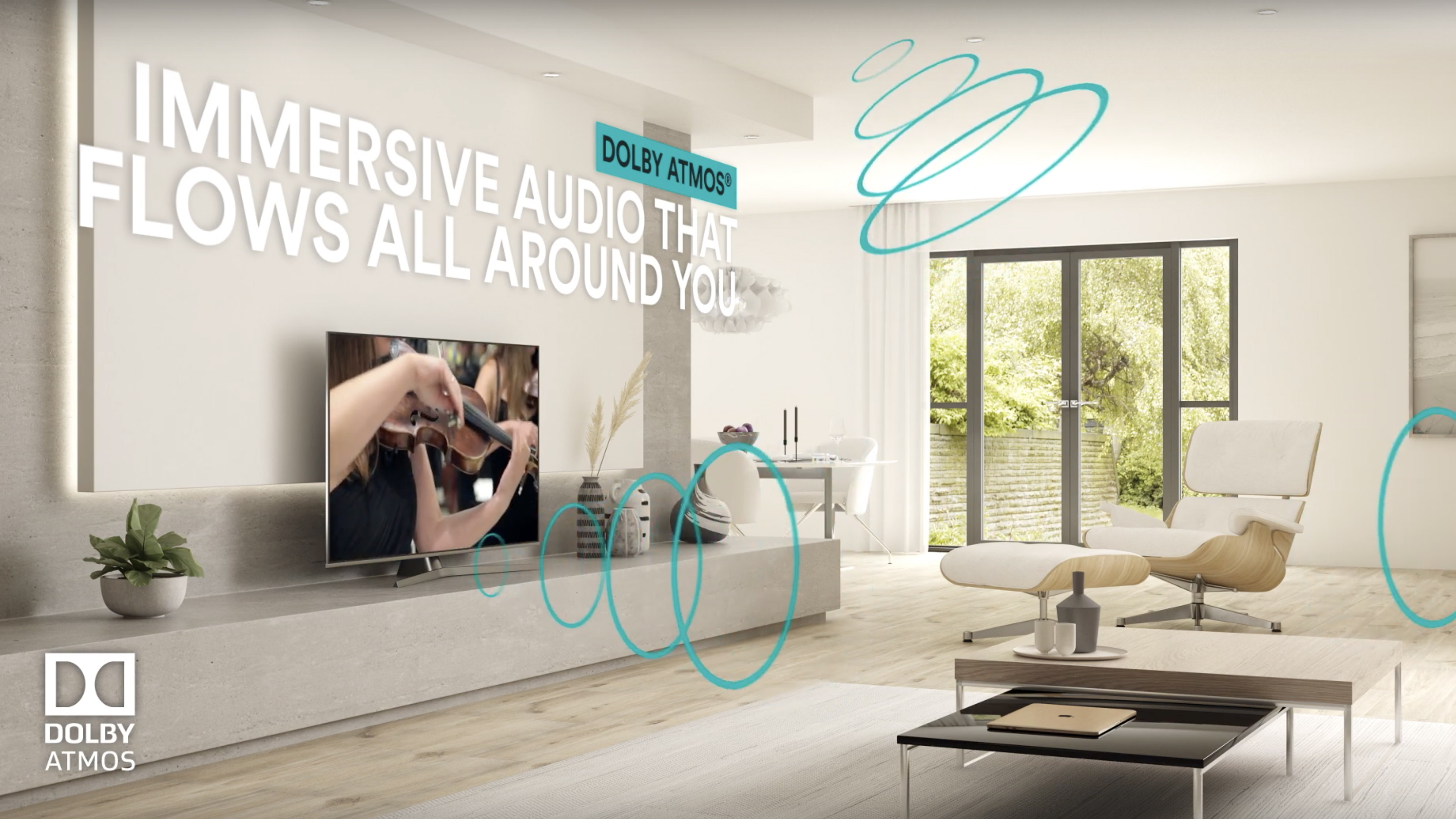 Unlike a surround-sound speaker package that requires an AV receiver, a load of cabling, a bit of concentration, and some careful positioning for the ideal configuration… the entire setup of a soundbar is really just two cables into the right two ports, and away you go with spatial sound. An HDMI port handles the Dolby Atmos sound, and you'll need power. It really is that simple – and for all other tweaks, a companion app is usually on hand. Even if you have a subwoofer or rear speakers, they're usually wireless and pair automatically.
So it's the easiest, but is it the best? That depends. We're not going to sugar-coat it: if you want the very best in Dolby Atmos home theater sound, you really need to think about those aforementioned Dolby Atmos surround-sound packages with upfiring speakers, along with one of the best AV receivers. But that's another level price-wise as well as effort-wise – and these days, there are myriad excellent one-box soundbar solutions bearing the coveted Dolby Atmos certification.
2. …And also the cheapest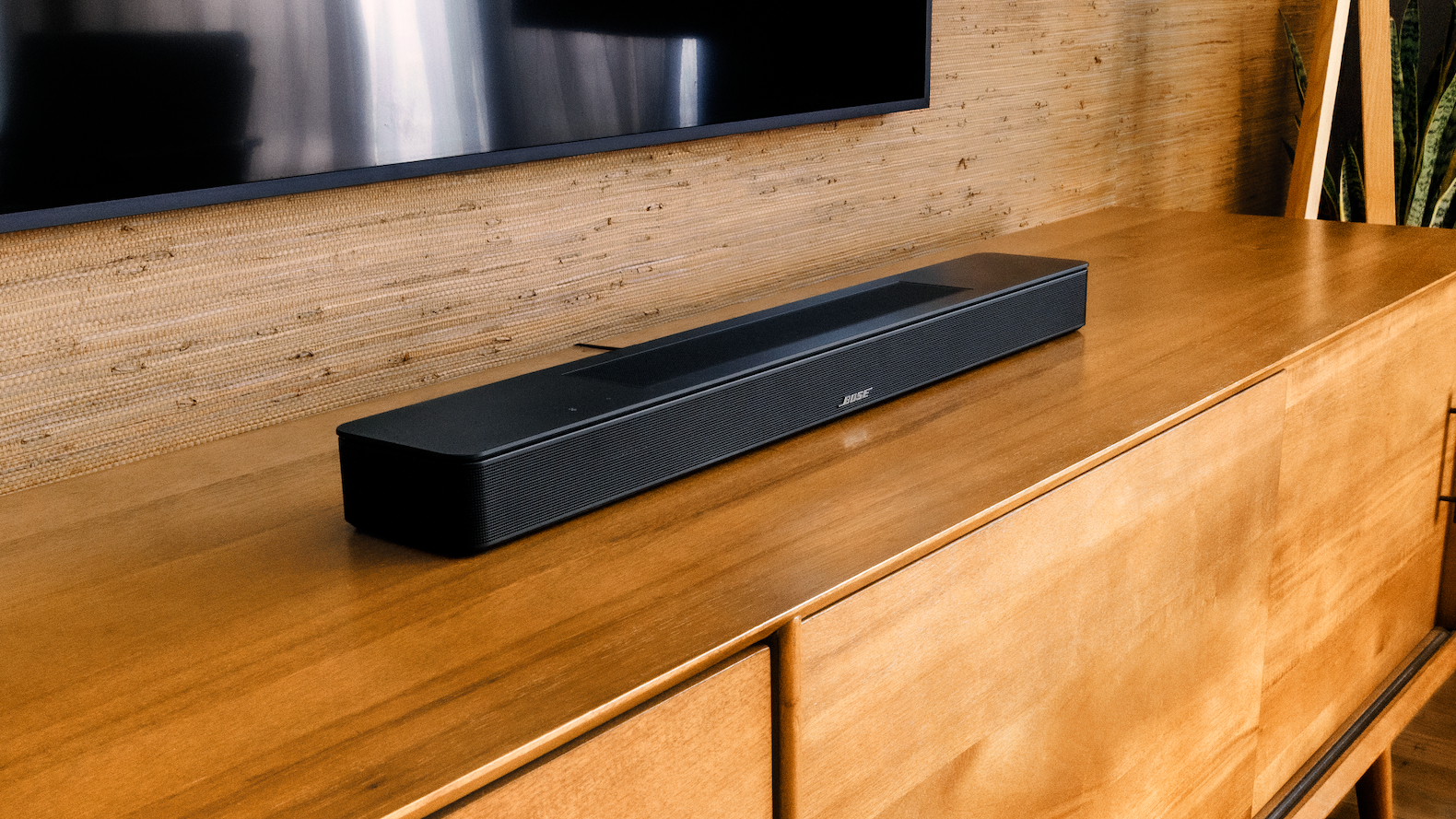 Soundbars are almost always cheaper than surround-sound speaker packages, and they'll usually undercut the best stereo speakers on price too – see AV-focused stereo speaker options from Cabasse, Audio Pro and Elac for reference. 
Even Dolby Atmos soundbars don't have to cost a packet either. Two options for you: the slightly older but still excellent Sony HT-8500 and the Bose Smart Soundbar 600 (pictured, above) – but there are plenty more in our best Dolby Atmos soundbars roundup. 
OK, so soundbars (which sometimes come with their own subwoofer, but are often just that – a 'bar' of speakers housing either two, three, five or seven speakers inside, some of which may be rear- or upward-firing to get that immersive Dolby Atmos audio) cannot compete with stereo speakers in some areas – see our feature on 5 things speakers can do better than Dolby Atmos soundbars for further information. 
But that is why stereo speakers are considered the upgrade. And I'm here to tell you that if wallet-friendly Dolby Atmos and vastly improved sound coming from your TV is what you chiefly need, a soundbar should be your first port of call. 
3. You probably already have movies in Dolby Atmos you're missing out on – and you shouldn't! 
Dolby Atmos content is everywhere right now! In all likelihood, you're already paying for Dolby Atmos content anyway – so why not enjoy it? 
The movie streaming service you hold closest to your heart almost certainly has an extensive catalog of movies complete with Dolby Atmos audio. Disney+, Netflix, Paramount Plus, Amazon Prime Video, Apple TV+, HBO Max, Sky and more all offer Atmos titles within their ouevre.
As long as you're a paid-up subscriber to one of the above services and your Dolby Atmos-compatible soundbar is hooked up to your TV physically using an HDMI ARC (via Dolby Digital Plus) or eARC (via Dolby TrueHD) connection, you're all set! 
4. Your TV simply cannot do it alone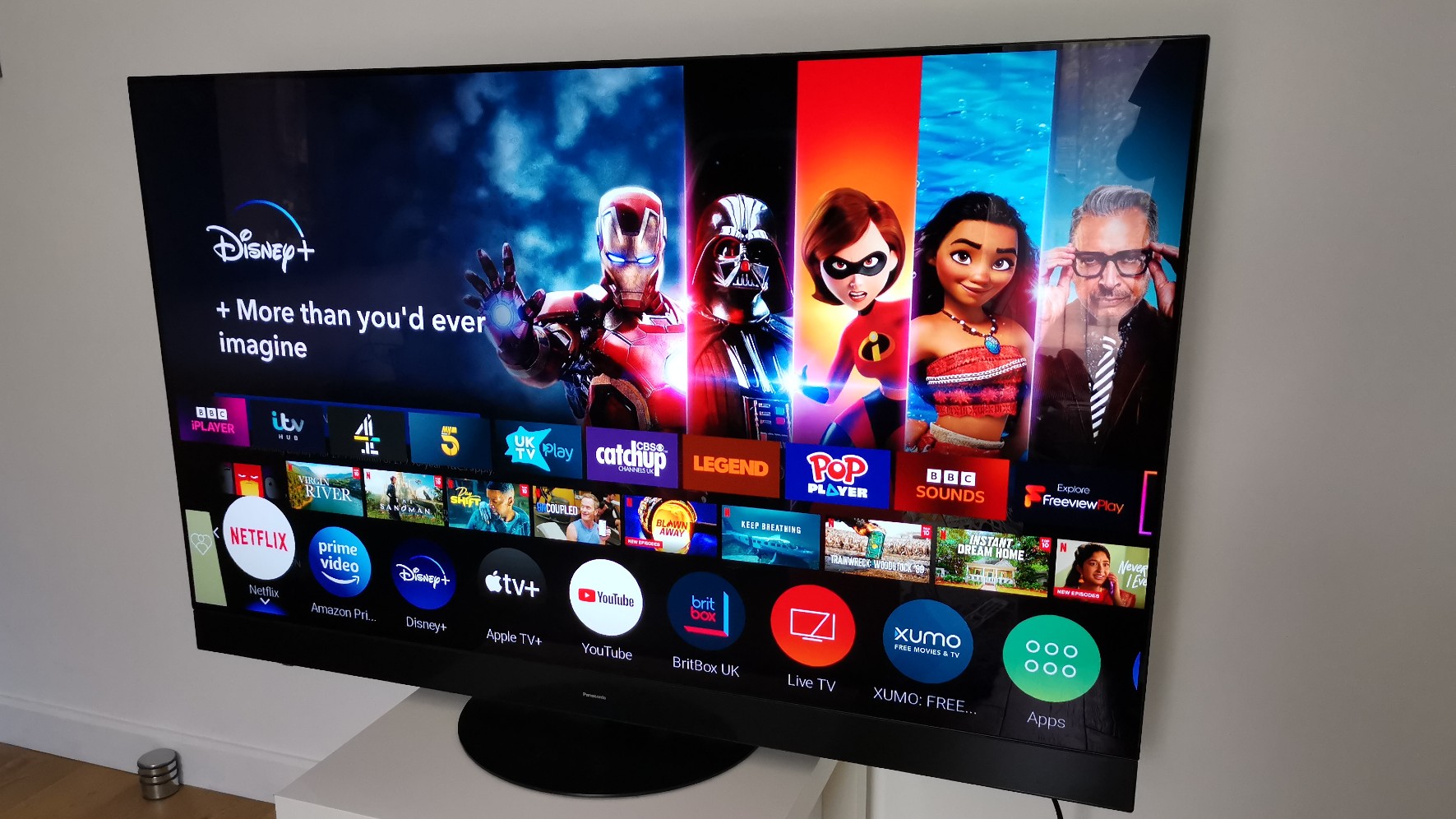 Although most TVs these days are able to support Dolby Atmos passthrough, few can do it natively (ie. without some extra hardware) and those that can will set you back four-figure fees at least – our pick here would be the Panasonic LZ2000 picture above, which as actual upfiring speakers. 
And remember, not all Dolby Atmos is created equal… Case in point: the otherwise-excellent LG C2 OLED. It is listed as a TV enabled with Dolby Atmos on Dolby's own website (opens in new tab), but what you're actually getting is the company's a9 Gen 5 AI Processor, capable of upmixing stereo audio into virtual 7.1.2-channel surround sound – something LG calls AI Sound Pro. 
In reality and in terms of hardware (and as we said in our LG C2 OLED review) "the TV houses a 2.2-channel system, with 40W of power behind them – they're nowhere near as powerful as a separate soundbar, nor as immersive as a true surround sound system, but the LG C2 OLED does a good job of providing a clear and fairly spacious listening experience".
Now, consider how much manufacturers are able to spend on the audio-giving components nestled into your flat-screen TV when making a product readily available in the budget sector. Wafer-thin bezels, OLED panels (or LEDs), processors, operating systems and HDMI eARC connectivity all have to come in at the price-point… so sonic brilliance may not have been a top priority. In a soundbar, all the cash goes on the sound quality.
5. Soundbars are a better solution than speakers if your place is smaller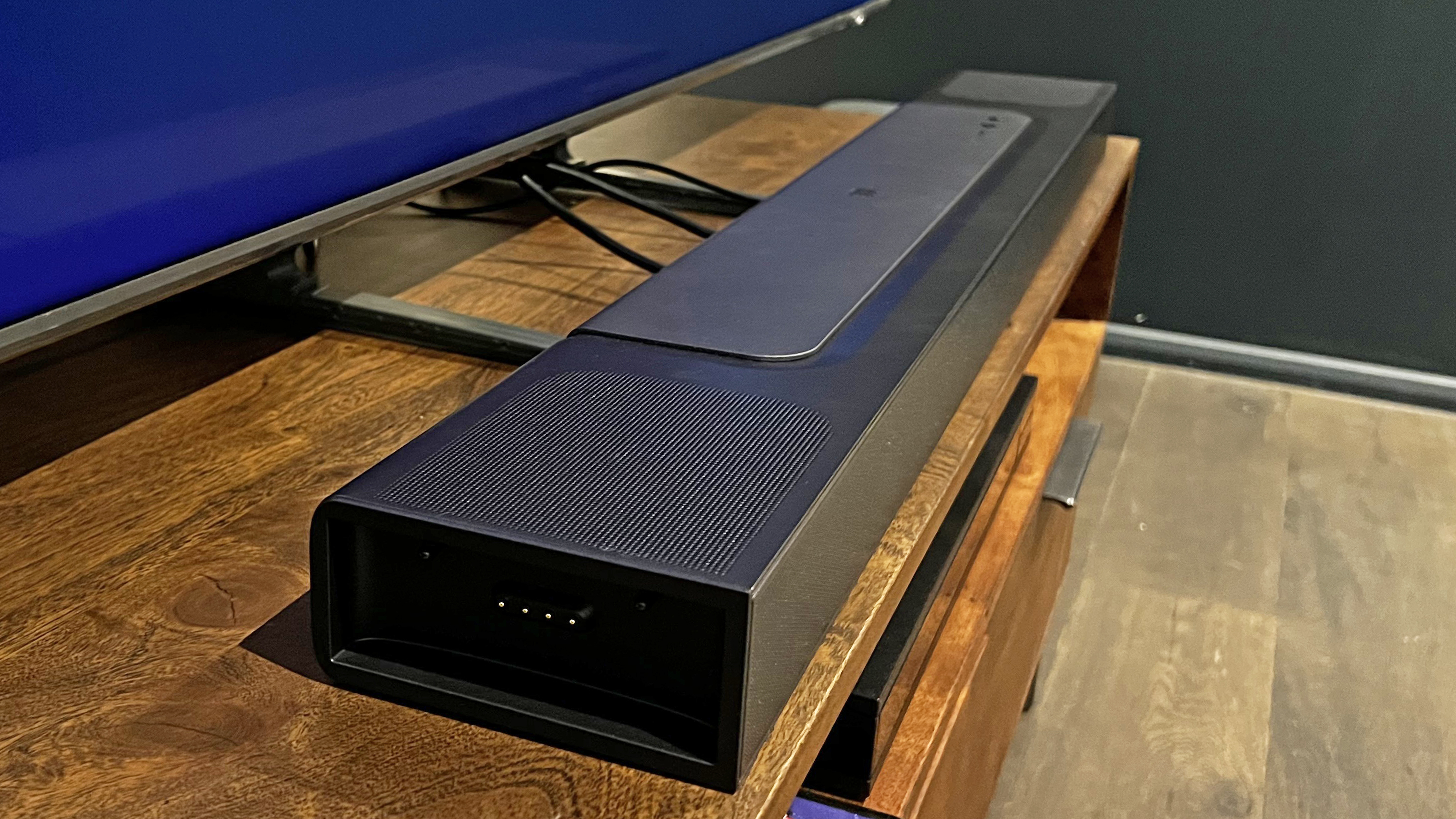 How big is your intended home theater room? We ask because center channels, subwoofers, rear speakers and so on may need a fair bit of room to operate depending on the model. If your standmount or floor-standing speaker pair sports a a rear-firing bass port, it may be a little fussier still, since these beasts should be towed in slightly and placed at a certain distance from a rear wall, to augment the bass (so shoving one on a bookshelf and hoping for the best is not the best move). 
A quick glance at our guide on how to set up stereo speakers for the best sound proves that, at any rate, simply placing a soundbar in front of your TV (or below it, if your screen is wall-mounted) is a much simpler option – and ideal if space is at a premium. 
And smaller Dolby Atmos soundbar solutions tend to be a little bit cheaper also – if not a great deal so. Our pick here might be the Bose Smart Soundbar 600 or the Sonos Beam (Gen 2). Essentially, for smaller rooms a soundbar seems a great shout. I mean, go ahead and buy JBL's Dolby Atmos soundbar with detachable rear speakers if you prefer (pictured above). But that thing does hit like a hammer… 


2023-03-19 08:00:47