With NFL free agency underway, we're seeing team needs evolving as we head toward the 2023 NFL Draft.
With that in mind, let's look at a three-round 2023 mock draft with some of the new team needs across the NFL. We start with the No. 1 overall pick, which the Carolina Panthers use to select Ohio State QB C.J. Stroud.
Click here for more PFF draft tools:
Mock Draft Simulator | 2023 NFL Draft Big Board | 2023 NFL Draft Guide
1. Carolina Panthers (via CHI): QB C.J. Stroud, Ohio State
The Panthers will have their pick of the quarterbacks. Stroud seems to be trending toward the pick, as he is the premier pocket passer who fits what head coach Frank Reich gravitates toward.
2. Houston Texans: QB Bryce Young, Alabama
The Texans can't be too upset about not having the top pick if they end up with Bryce Young. The Alabama product presents true franchise-quarterback playmaking ability, which Houston should jump at.
3. Arizona Cardinals: ED Will Anderson Jr., Alabama
The Cardinals could easily trade down here, but after losing Zach Allen in free agency, they badly need to shore up the defensive line. They won't want to trade down too far, especially when they could have a player like Anderson in the top three.
4. Indianapolis Colts: QB Anthony Richardson, Florida
The Colts will face plenty of pressure to land their quarterback of the future in this draft. We know it won't be at No. 1, and we figure it won't be at No. 2, either. It will be a big win if they can stay at No. 4 and still get a top-tier talent like Richardson.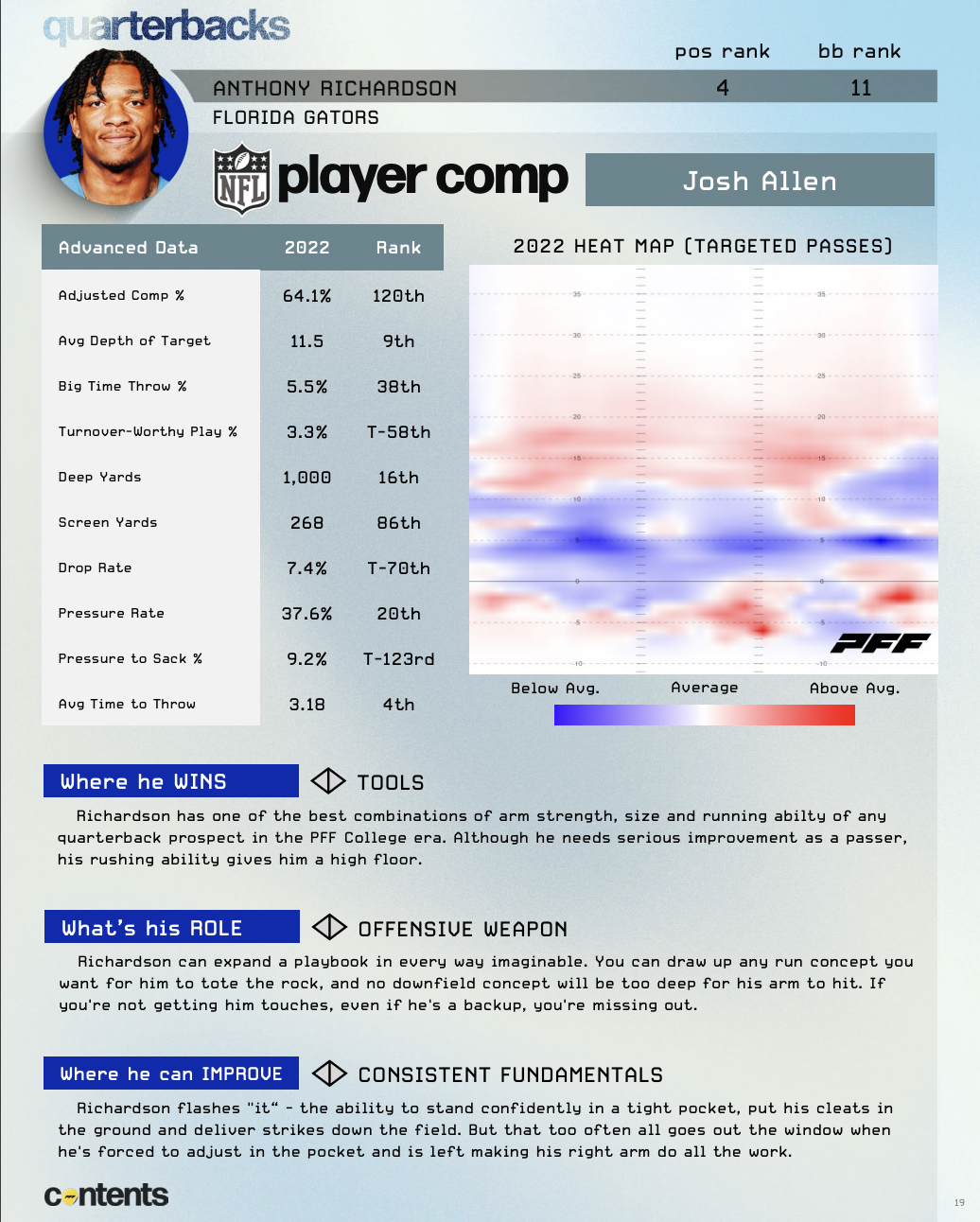 5. Seattle Seahawks (via DEN): ED Tyree Wilson, Texas Tech
Look for the Seahawks to continue to boost the talent on their defensive line, even after free agency. Wilson brings a very unique and alluring skillset at 6-foot-6, 275 pounds. Seattle has a type, and it is big, long athletes.
6. Detroit Lions (via LAR): CB Christian Gonzalez, Oregon
After a stellar showing at the scouting combine, Gonzalez is poised to be the top cornerback taken in this draft. Even after signing a few free-agent defensive backs, Detroit could still look to target cornerback at No. 6.
7. Las Vegas Raiders: QB Will Levis, Kentucky
After signing Jimmy Garoppolo, the Raiders likely won't be trading up for a quarterback. However, there is still a chance they could wait at No. 7 to see if one falls to them. Here, Levis does.
8. Atlanta Falcons: CB Joey Porter Jr., Penn State
The Falcons are looking for the best players they can add. They already brought in Jessie Bates III in free agency, but they still need more talent at cornerback. Porter has the NFL legacy and some unique measurables with his 34-inch arms. He'd create a nice cornerback duo with A.J. Terrell.
---
Subscribe today to download the 2023 NFL Draft Guide
for as low as $9.99
---
9. Chicago Bears* (via CAR): DL Jalen Carter, Georgia
Who knows where Jalen Carter will be picked at this point? His off-the-field situation is clouding his entire draft projection. He's one of the most talented players in this class, but there's a chance he could be picked at the back end of the top 10 or even outside it.
10. Philadelphia Eagles (via NO): CB Devon Witherspoon, Illinois
After some uncertainty, the Eagles are keeping Darius Slay to re-pair with James Bradberry opposite him. That being said, investing in a long-term option who can play inside and outside and cornerback would be smart, and Witherspoon fits that bill.
11. Tennessee Titans: OT Paris Johnson Jr., Ohio State
With Taylor Lewan no longer in the building, the Titans would be wise to invest in the offensive trenches, especially if they have their pick of any in this class. If they do, I expect Paris Johnson Jr. to be their choice.
12. Houston Texans (via Cleveland): OT Peter Skoronski, Northwestern
With rumors of Laremy Tunsil potentially on the trade block — and even without them — the Texans should look to the trenches with their second first-round pick. Whether it's at tackle or guard, Skoronski has the tape to suggest he's a starter at the next level.
13. New York Jets: OT Broderick Jones, Georgia
With all signs pointing to Aaron Rodgers on his way to New York, the Jets will need to make sure the offensive line is as good as it can be. Jones doesn't have a ton of starting experience to his name, but what he's shown has already been promising.
Related: Aaron Rodgers intends to play for the New York Jets: Longtime Packers QB breaks silence on trade rumors
14. New England Patriots: S Brian Branch, Alabama
With the three top offensive linemen off the board, look for Belichick to invest in his secondary with one of the smartest and most reliable players in this class. Branch can be a slot stud and can also give you some good reps on the back end as a true safety.
15. Green Bay Packers: ED Lukas Van Ness, Iowa
The Packers can go a handful of directions here, but if Van Ness is still around, I think he will be high on their board. He has experience playing on the interior and the speed to play on the edge. Given the lack of starting experience, he's a bit green, but he has shown flashes of impact ability.
16. Washington Commanders: OT Anton Harrison, Oklahoma
Even with the Commanders signing right tackle Andrew Wylie, Charles Leno Jr. is 32 years old and is entering the more experienced two seasons of his contract. They could draft his eventual replacement while not having to throw the rookie out there right away.
17. Pittsburgh Steelers: OT Dawand Jones, Ohio State
Mike Tomlin was front and center for Dawand Jones as he was throwing defenders out of drills at the Senior Bowl (in a good way). Drafting him to play right tackle would allow the Steelers to move Chukwuma Okorafor back to left tackle, where he played in college.
18. Detroit Lions: ED Nolan Smith, Georgia
Dan Campbell is going to love Nolan Smith. I know edge rusher isn't their biggest area of need, but if Smith makes it this far in the order, I have a hard time believing he wouldn't be a Lion. Smith is passionate about football, has elite athletic traits and will defend the run until his last breath.
19. Tampa Bay Buccaneers: OT Darnell Wright, Tennessee
With longtime left tackle Donovan Smith no longer on the team, the Bucs will need to make some changes. If they have the chance to draft the talented and tested Darnell Wright, they could play Wright at his natural right tackle spot while sliding their All-Pro offensive tackle Tristan Wirfs over to left tackle.
20. Seattle Seahawks: WR Jaxon Smith-Njigba, Ohio State
Smith-Njigba is one of the smoothest and most productive receivers in this draft class. He would form quite the trio in Seattle with Tyler Lockett and D.K. Metcalf.
21. Los Angeles Chargers: ED Will McDonald IV, Iowa State
The Chargers' lack of depth at edge rusher was exposed this season when Joey Bosa was out of commission. They need new juice in their defensive line, regardless of whether Bosa and Khalil Mack are healthy.
22. Baltimore Ravens: CB Deonte Banks, Maryland
The Ravens could still add some secondary help during free agency. But until they do, the outside corner remains their top need. Banks put on a show at the combine, proving he has the athleticism we see in his tape.
23. Minnesota Vikings: WR Quentin Johnston, TCU
With Adam Thielen officially gone, the Vikings could very well be in the wide receiver market in the first round, especially if a player like Quentin Johnston is available. Johnston is one of the few in this class who gives you a size and speed combination as an outside receiver.
24. Jacksonville Jaguars: CB Cam Smith, South Carolina
With the release of Shaquill Griffin, it became official that CB2 was a top need for the Jags. Even with a handful of cornerbacks off the board, the Jags should still have a chance to select a starting-caliber player at the back end of the first round. They'll love Smith's fearless mentality.
25. New York Giants: WR Zay Flowers, Boston College
Though the Giants would probably like to get a bigger-bodied wide receiver, what they really need is just more playmaking ability from the position. Flowers, while small in size, brings that electric playstyle as an outside receiver and slot player.
26. Dallas Cowboys: RB Bijan Robinson, Texas
The Ezekiel Elliott era is over in Dallas, and though Tony Pollard will be around one more year with the franchise tag, he'll be coming off an injury. Some Cowboys fans might roll their eyes at releasing Zeke just to draft a running back in the first round, but it is certainly possible.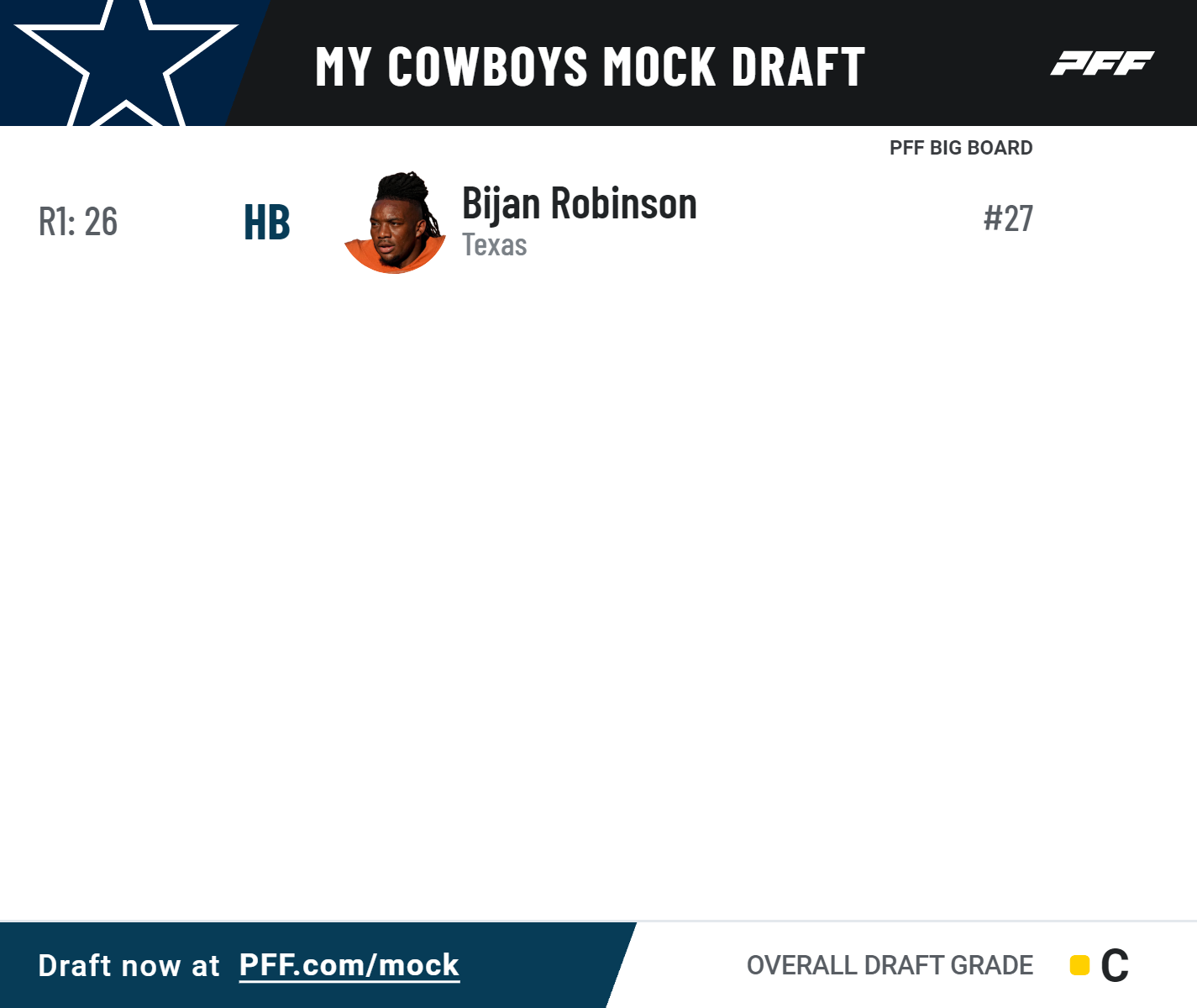 27. Buffalo Bills: OG O'Cyrus Torrence, Florida
Buffalo needs to upgrade the beef up front. They were not as good as they needed to be, especially on the interior. Torrence, as one of the best offensive linemen in the country last year, could be an instant upgrade and will hopefully be a Week 1 starter.
28. Cincinnati Bengals: TE Darnell Washington, Georgia
The Bengals could be looking for some offensive line help at the back end of Round 1, but they'll also need to address the tight end position with Hayden Hurst now out of Cincinnati. They can touch on both needs with the selection of Darnell Washington, a massive 6-foot-7, 270-pound tight end who is a rare athlete for his size and almost like a sixth offensive lineman on the end of the line of scrimmage.
29. New Orleans Saints (via SF): DI Calijah Kancey, Pittsburgh
The 6-foot, 280-pound interior defensive lineman Kancey has one of the most unique scouting profiles. He's incredibly disruptive as a quick penetrator on the interior at the 3-tech position, but he's one 6-foot, 280 pounds. The Saints don't normally go for his type, but his pass-rush ability might be enough for them to make an exception.
30. Philadelphia Eagles: ED Adetomiwa Adebawore, Northwestern
Adebawore was one of the best athletes at the combine. He ran a faster 10-yard split and 40-yard dash than Travon Walker while weighing 10 pounds heavier. His size allows him to play anything from a 3-technique to a 5-technique. Even with Fletcher Cox back, the Eagles gravitate toward such versatile athletes in the trenches.
31. Kansas City Chiefs: TE Dalton Kincaid, Utah
With JuJu Smith-Schuster gone, the Chiefs could try to replace him with one of the wide receivers left. But the best options on this board are players of smaller size, which the Chiefs still have. Instead, they could switch it up and take a chance on a receiving tight end to pair with Travis Kelce. I like the size option with Kincaid.
Click the name to view the PFF player profile
---
32. Pittsburgh Steelers (via CHI): DT Keeanu Benton, Wisconsin
33. Houston Texans: TE Michael Mayer, Notre Dame
34. Arizona Cardinals: RB Jahmyr Gibbs, Alabama
35. Indianapolis Colts: OG Steve Avila, TCU
36. Los Angeles Rams: ED BJ Ojulari, LSU
37. Seattle Seahawks (via Denver): OC Joe Tippmann, Wisconsin
38. Las Vegas Raiders: TE Luke Musgrave, Oregon State
39. Carolina Panthers: WR Josh Downs, UNC
40. New Orleans Saints: ED Myles Murphy, Clemson
41. Tennessee Titans: C John Michael Schmitz, Minnesota
42. Cleveland Browns: WR Jordan Addison, USC
43. New York Jets: ED Tuli Tuipulotu, USC
44. Atlanta Falcons: ED Felix Anudike-Uzomah, Kansas State
45. Green Bay Packers: LB Drew Sanders, Arkansas
46. New England Patriots: OT Matthew Bergeron, Syracuse
47. Washington Commanders: CB Emmanuel Forbes, Mississippi State
48. Detroit Lions: DT Bryan Bresee, Clemson
49. Pittsburgh Steelers: CB Kelee Ringo, Georgia
50. Tampa Bay Buccaneers: LB Jack Campbell, Iowa
51. Miami Dolphins: OC Luke Wypler, Ohio State
52. Seattle Seahawks: DL Mazi Smith, Michigan
53. Los Angeles Chargers: WR Jalin Hyatt, Tennessee
54. Chicago Bears (via Baltimore): ED Derick Hall, Auburn
55. Detroit Lions (via Minnesota): QB Hendon Hooker, Tennessee
56. Jacksonville Jaguars: OL Cody Mauch, North Dakota State
57. New York Giants: LB Daiyan Henley, Washington State
58. Dallas Cowboys: LB Trenton Simpson, Clemson
59. Buffalo Bills: S Jammie Robinson, Florida State
60. Cincinnati Bengals: CB Julius Brents, Kansas State
61. Chicago Bears* (via Carolina): OT Jaelyn Duncan, Maryland
62. Philadelphia Eagles: S Sydney Brown, Illinois
63. Kansas City Chiefs: ED Karl Brooks, Bowling Green
Click the name to view the PFF player profile
---
64. Chicago Bears: RB Zach Charbonnet, UCLA
65. Houston Texans: DL Keion White, Georgia Tech
66. Arizona Cardinals: CB Tyrique Stevenson, Miami
67. Denver Broncos (via IND): S Jordan Battle, Alabama
68. Denver Broncos: WR Cedric Tillman, Tennessee
69. Los Angeles Rams: OT Blake Freeland, BYU
70. Las Vegas Raiders: CB Darius Rush, South Carolina
71. New Orleans Saints: WR Nathaniel Dell, Houston
72. Tennessee Titans: WR Michael Wilson, Stanford
73. Houston Texans (via Cleveland): RB Tyjae Spears, Tulane
74. New York Jets: S Antonio Johnson, Texas A&M
75. Atlanta Falcons: S Chris Smith, Georgia
76. New England Patriots (via CAR): ED Isaiah Foskey, Notre Dame
77. Los Angeles Rams* (via MIA): CB Garrett Williams, Syracuse
78. Green Bay Packers: TE Sam LaPorta, Iowa
79. Indianapolis Colts (Washington Commanders): CB Eli Ricks, Alabama
80. Pittsburgh Steelers: DI Gervon Dexter Sr., Florida
81. Detroit Lions: ED Zach Harrison, Ohio State
82. Tampa Bay Buccaneers: RB Devon Achane, Texas A&M
83. Seattle Seahawks: DI Siaki Ika, Baylor
84. Miami Dolphins: WR Tyler Scott, Cincinnati
85. Los Angeles Chargers: OT Tyler Steen, Alabama
86. Baltimore Ravens: DI Moro Ojomo, Texas
87. Minnesota Vikings: CB Clark Phillips, Utah
88. Jacksonville Jaguars: TE Tucker Kraft, South Dakota State
89. New York Giants: IOL Jarrett Patterson, Notre Dame
90. Dallas Cowboys: DI Jaquelin Roy, LSU
91. Buffalo Bills: RB Chase Brown, Syracuse
92. Cincinnati Bengals: S Ji'Ayir Brown, Penn State
93. Carolina Panthers (via SF): ED Byron Young, Tennessee
94. Philadelphia Eagles: WR Parker Washington, Penn State
95. Kansas City Chiefs: ED Nick Herbig, Wisconsin
96. Arizona Cardinals (Compensatory Selection): OG Andrew Vorhees, USC
97. Washington Commanders (Compensatory Selection): WR Rashee Rice, SMU
98. Cleveland Browns (Special Compensatory Selection): DI Byron Young, Alabama
99. San Francisco 49ers (Special Compensatory Selection): CB Tre'Vius Hodges-Tomlinson, TCU
100. Las Vegas Raiders (via NYG): G Antonio Mark, UCLA
101. San Francisco 49ers (Special Compensatory Selection): C Olusegun Oluwatimi, Michigan
102. San Francisco 49ers (Special Compensatory Selection): LB Ivan Pace Jr., Cincinnati


2023-03-16 10:07:44